Are you looking for Aicok juicers?
Then please, keep reading!
In this post, you can read about the Aicok brand and its most popular juicer models. You will be able to read detailed reviews on those models, and that might help you decide which one you like best.

Aicok Juicer Makers And More
About The Brand
Aicok brand has a strong presence in the USA market, and its influence spread not only to Canada but throughout Europe as well. They have specialized in developing and marketing home appliances, and continue to bring innovative products to their customers.
Products They Offer
Aicok provides home and kitchen appliances, products that make your daily work a little easier, especially concerning cooking. They produce and sell juicers, mixers, coffee makers, kettles, bottle openers, steamers, grinders, and other appliances and accessories.
Aicok Juicer Price
The Aicok juicers are in the lower middle price range, which means they cost just over a hundred US dollars per item, and the price is similar regardless of which site you buy them from.
Where To Buy?
You can find Aicok products in some stores in North America or Europe, but you can also purchase them online, thorough retailers like Amazon (amazon.com), where you can also read the reviews that other buyers have written on the product you are looking for.
Aicok Juicer Cleaning
Every cleaning of an electric device starts with unplugging it. Firstly you should remove all components from the motor housing and throw away and leftover pulp and food pieces. Then, rinse each part with water and brush it clean with mild dish soap, making sure you wash and rinse the strainer well. You can clean the motor housing by wiping it from the outside and then reassemble your juicer following the instruction manual.
Best 5 Aicok Juicer Reviews
Aicok Slow Masticating Juicer Extractor AMR521
Low Noise
The Aicok 521 juicer queen produces a low amount of noise, less than 60 dB, which means you can use it even when your family is sleeping, without fear of waking your baby with the juicer noise.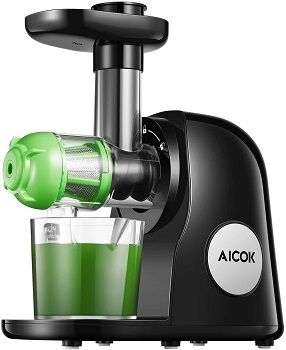 Reverse Function
In case a piece of fruit seed or vegetable gets stuck in the juicer, as it sometimes happens, you can easily extract it by using the reverse function. Simply choose the reverse option on the on/off switch, and watch the device unjam itself.
Easy Cleaning
You can disassemble this Aicok slow juicer by simply pressing a button. The device can be taken apart easily, and the removable parts are dishwasher safe, to further improve your cleaning process. A cleaning brush is included with this product. This juicer's dimensions are 16.1 x 7.9 x 11.6 inches, and it weighs 8.25 pounds.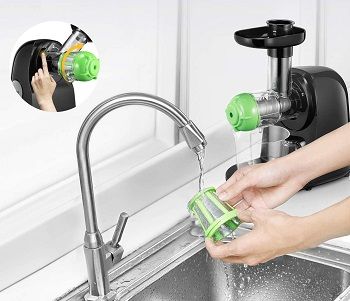 Slow Juicing
Aicok masticating juicer enables you to get a fresh juice with all nutrients from the fruits and vegetables preserved for a healthy dose of vitamins and minerals, as well as fibers and enzymes, which will not oxidize thanks to the slow 80 RPM juicing process.
Greater Juice Yield
Thanks to the upgraded longer spiral system and filter, as well as the 150-Watt motor, the juice extraction is more efficient, with 90% more juice yield and efficient separation from the pulp, resulting in drier pulp and more juice.
Short Description:
150 Watts
80 RPM
dishwasher safe
easy disassembly
reverse function
Aicok Slow Masticating Juicer With Quiet Motor
Slow Healthy Juicing
This 150-Watt juicer works at a speed of 80 RPM and provides a slow juicing process that preserves all the nutrients from the ingredients you are using in the juice. The low speed prevents oxidation, and the non-blade squeezing preserves fibers and nutrients.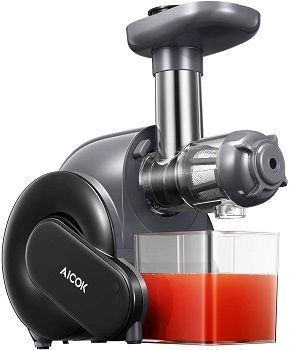 Operating Time 
For this Aicok masticating juicer, the recommended continuous operating time is up to 10 minutes. Also, you should leave the juicer motor to rest for about 10 minutes in between juicing. This means you should probably only use this juicer for household juicing needs.
Reverse Function
The reverse function on this juicer lets you unjam the device in case something gets stuck inside the juicing parts. Simply press the reverse button as if choosing a speed setting and it will help you unjam the device.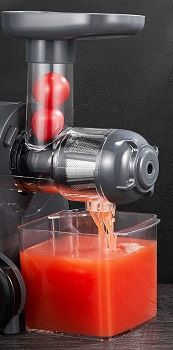 Cooling Port
The addition of a cooling port on the device's motor casing enables the device to cool off faster and with more efficiency than it would otherwise. This prevents damage to the motor and the rest of the device due to overheating.
Other Information
This juicer is easy to clean and disassembles with the press of a button, which releases the mechanism and lets you easily take the device apart. Its dimensions are 13.5 x 11 x 9.8 inches, and it weighs 9.85 pounds.
Short Description:
150 Watts
80 RPM
cooling port
button release
Aicok AMR516 1000W Centrifugal Juicer
Dual Speed Control
Aicok AMR516 juicer has a 1000-Watt motor and two settings of speed you can choose between. The low speed runs between 12,000-14,000 RPM and is good for softer fruits and vegetables and herbs, and the high speed runs from 16,000-18,000 RPM and is suited for processing harder fruits and vegetables and leafy greens.
Easy To Use
Removable parts of this juicer are easy to disassemble and reassemble, easy to clean and even dishwasher safe. Included with this device is also a cleaning brush so that you can properly scrub all the parts before putting them in the dishwasher. This juicer's dimensions are 13 x 9.2 x 16.5 inches, and it weighs 9.1 pounds.
Wide Feeder Chute
The Aicok AMR-516 has a wide feeder chute so that you can put in larger pieces of fruit or even whole fruits and other ingredients, reducing your juicing preparation time for cutting them up.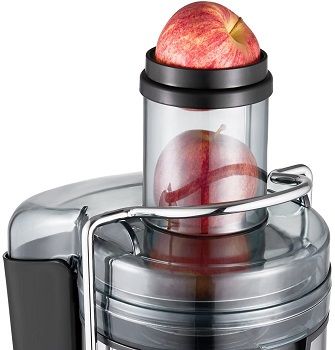 Safety Lock
The safety locking arm ensures proper installation of the device and the juicer won't start until you have assembled it correctly and fixed the locking arm in its place. This prevents damage to the device and potential injury of you.
Stainless Steel
The stainless steel blades and mesh filter basket make for more efficient juicing parts, and the device operates at a lower noise volume than most other high-speed centrifugal juicers.
Short Description:
1000 Watts
dishwasher safe
stainless steel parts
2 speeds
Aicok Slow Masticating Juicer Extractor JE6008
Vertical Design
This Aicok slow masticating juicer extractor has a vertical design to save some countertop space. The juice collector and the pulp collector are separate containers and easy to remove and clean. The juice spout has a cap to prevent dripping.
Overheat Protection
On the bottom of the juicer, there is an overheat protection button, which lets you use the juicer for a longer amount of time, with shorter cooling-off periods in between uses. The motor runs at 80 RPM, for slow juicing to preserve nutrients. This juicer's dimensions are 5.3 x 6.3 x 16.1 inches, and it weighs 7.32 pounds.
3 Screen Filters
You can choose between 3 different filters for achieving different consistencies of juice, depending on which ingredients you are using. You have the sorbet filter, the coarse filter, and the fine filter.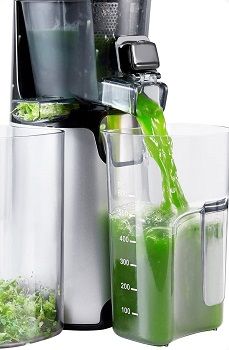 Reverse Function
It sometimes happens that a piece of fruit or vegetable gets stuck in the juicer because it was a big or particularly hard piece. You can unjam this juicer extractor fast and easy by using the reverse function option.
Other Information
This juicer is 80% more silent than other conventional juicers and extracts 30% more juice from an average amount of ingredients. It also has a safety lock that ensures proper installment.
Short Description:
80 RPM
3 screen filters
overheat protection
reverse function
Aicok GS-401 Stainless Steel Citrus Juicer
Two Cone Sizes
This juicer comes with two cones in different sizes. One is small and is meant for limes and lemons, and the other is big and better suited for large citrus fruits, like oranges and grapefruits. Efficient filtration separates all the pulp from the juice.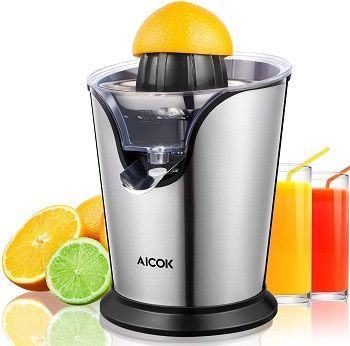 Stainless Steel Parts
Aicok citrus juicer has stainless steel parts and, and the casing body is also made from brushed stainless steel, which makes it durable and damage-resistant. Also, it will not rust nor stain, and it is easy to clean with a cloth. You should never expose the motor to water, wash the housing only from the outside with a cloth.
Easy To Clean
The anti-drip spout saves you cleaning time, as it can be flipped upwards to prevent dripping when it is not in use or when you are switching juice collector containers. The juicer disassembles very easily and can be rinsed under water until clean. The cones are dishwasher safe.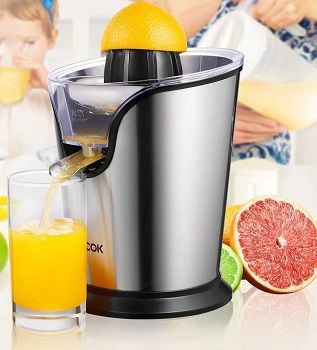 Practical Design
The compact design makes this juicer easy to store and the stable body ensures durability and safe operation. This juicer's dimensions are 3.3 x 3 x 4.3 inches, and it weighs 4.12 pounds.
Powerful And Quiet
This juicer has 1000 Watts of power and produces only 22 dB of noise, which is very quiet for a juicer. This makes it suitable for use anywhere, even at the office or gym, and especially at home.
Short Description:
1000 Watts
silent operation
2 juicing cones
stainless steel
Aicok Juicer Parts
You can find Aicok juicer replacement parts and accessories on the official Aicok website. It is always recommended to replace any missing or broken parts with the same parts from the same manufacturer. In case you have any questions, feel free to contact the manufacturer's customer support or service center. You can also contact Aicok through their website.
Aicok Juicer Manual
If you have any questions about your device or how it works, you can contact customer support or read about it in the manual. One should arrive with your device on purchase. If you are looking for the Aicok Slow Masticating Juicer Extractor JE6008 manual, you can download it in PDF format.
Conclusion: Which Aicok Juicer Should You Buy?
In my opinion, the best Aicok juicers you can buy are the Aicok Masticating Juicer AMR521 and the Aicok AMR516 Centrifugal Juicer. The Masticating juicer provides a slow juicing process that preserves nutrients, but can't always handle tough ingredients. The Centrifugal juicer has a powerful 1000W motor that can crush even harder fruits and vegetables and has 2 speeds to choose from. The centrifugal juicer is also dishwasher safe.
For more information on juicer types, read this post on juicer machines. If you want to learn more about particular types of juicers, read this post on masticating juicers and this one on citrus juicers.