Are you tired of juicing machines that make your head hurt when you start them?
Then you need a quiet juicer!
Read this post to learn more about why some juicers produce more noise than others, and to see detailed reviews on two of the quieter masticating juicers on the market. Hopefully, this will help you choose one for yourself.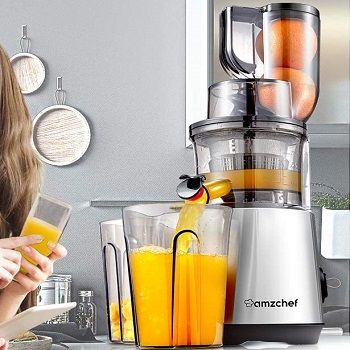 Juicer Loudness And Why It Happens
Why Are Some Juicers Loud?
Some juicers, especially centrifugal ones that work at high-speed and high-revolution count, create vibrations that affect the operation, as well as parts of the device itself, and when objects vibrate, they create sounds. Some sound levels, however, can cause discomfort to people.
Does That Change?
As is the case with most devices, when juicers age and get worn out through years of use, the parts and their screws become looser and they don't fit as snugly to each other as they used to, making more noise as they vibrate against their neighboring parts. So, you must keep in mind that juicers tend to get louder with age and use.
How Do They Compare?
The noise level of a device is measured in decibels (dB), a unit of measurement used for expressing a relative intensity of sounds. The more quiet juicers are masticating juicers with as low as 60 dB, considering their mode of operation creates less vibration than the centrifugal juicers, which can reach a loudness level of up to 120 dB. This level of noise can cause severe discomfort to a person in the direct vicinity of the device.
Why Is That?
Masticating juicers are quieter because they use slow speed squeezing to extract juice from the ingredients. The centrifugal juicers use fast-spinning blades to shred the ingredients into a paste and extract the juice from that. The latter produces much more vibration and therefore more noise.
Soundless Juicer
Considering that the only category of juicers that produce no sound by themselves are the manual citrus squeezers, you should know that completely soundless electric juicers are not present on the market. If it has an electric motor, you will likely hear it work, especially if it works at high power and high speeds.
5 Best Quiet Juicers Reviews
Best Masticating Quiet Juicer
Aobosi Slow Masticating Juicer Extractor
High Juice Yield
Use various fruits and vegetables, as well as leafy greens and herbs, and get the healthiest juice from them in just a few minutes. The slow juicing at 80 RPM preserves the nutrients, like vitamins, minerals, fibers, and others, without oxidizing as some centrifugal juicers do.
Quiet Operation
The 150-Watt motor produces less than 60 dB of noise, which is relatively quiet compared to regular juicers. Masticating slow juicers tend to be quieter, and this one is among the quietest ones even among masticating juicers.
Easy To Clean
This quiet juicer efficiently separates pulp and foam from the juice, which means you can enjoy a clear and soft juice that is healthy and tastes good. Drier pulp also means easier cleaning. You will receive a cleaning brush with this device, but you can also put some removable parts in the dishwasher.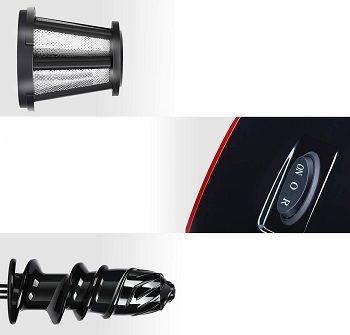 Materials And Dimensions
All detachable parts are made of high-quality material, which is food grade Tritan and BPA plastic. They enable easy cleaning and can be washed in the dishwasher. This juicer's dimensions are 14.4 x 11.7 x 11 inches, and it weighs 11.1 pounds.
Small Mouth
The narrow feeder chute means you can't use whole fruits and vegetables, but rather have to peel them and chop them up. While this might take up more time, the narrow chute also ensures that no one can put their hands down into the juicer and get potentially injured.
Pros:
quiet operation
slow juicing
quality materials
dishwasher safe
Cons:
plastic casing
narrow chute
Best Cheap Quiet Juicer
Amzchef Slow Juicer Professional Cold Press Juicer
What Can You Use It With?
You can use this masticating slow juicer to prepare a juice from various fruits, vegetables, leafy greens, and herbs. You need to wash and cut them up, and you should also remove seeds and pits and peel them for a better-tasting resulting juice.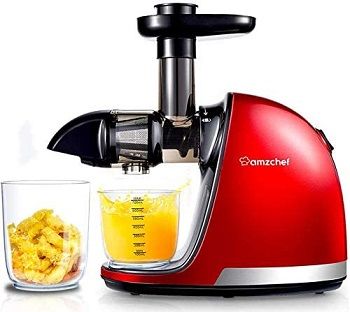 Narrow Feed Chute
The narrow feeder chute prevents accidents from happening and stops people from pushing their hands too far into the juicer and getting potentially injured. However, this also means you will need to cut the ingredients to smaller pieces or else they will not fit into the chute.
2 Colors
The Amzchef Slow Juicer comes in 2 different colors. The model is the same, which means the specifications and details are all the same in both versions, just the color of the housing is different. The two available colors are classic red and ivory white.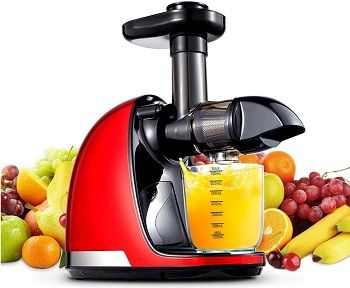 Healthy Juicing
The slow masticating juicing preserves nutrients from the ingredients and ensures you get a healthy juice, that has not oxidized and can even be stored in the refrigerator for up to 2 days. This juicer's dimensions are 14.6 x 7.3 x 11.4 inches, and it weighs 10.05 pounds.
Convenient Features
This quiet juicer has dishwasher safe parts and has a reverse function so that you can unjam it when necessary. It also stops every 20 minutes of continuous operation, in order to preserve power and prevent motor overheating.
Pros:
quiet motor
dishwasher safe
2 colors
slow juicing
Cons:
narrow chute
plastic parts
Best Quiet Cold Press Juicer
Koios Cold Press Juicer Machine
Easy Assembly
This juicer has detachable chamber components making it easy to disassemble and reassemble. The parts of this device are made from food-grade materials, BPA-free. Its dimensions are 15.7 x 10.2 x 8.8 inches, and it weighs 9.9 pounds.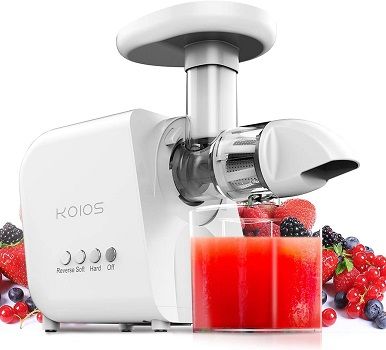 Juice Nutrition Value
The cold press juicing at 80 RPM allows almost all the nutrients from the ingredients to remain in the juice, thanks to the squeezing method of juicing instead of shredding, and so the juice is not exposed to heat or oxidation, preserving vitamins, minerals, enzymes, fibers, and so on.
Quality Guarantee
This silent juicer comes with a short term warranty and a separate warranty for the motor and for the other parts. The motor warranty is longer lasting, which means the motor is of quality making and should be longlasting and reliable.
2 Colors
This device is available in 2 colors: white, and red with black parts. The model in both cases is the exact same device, with the same specifications, just the color of the casing is different. The silent motor produces only about 60 dB.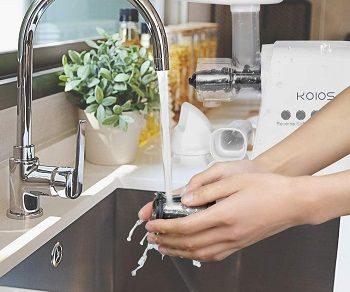 Speed Settings
This juicer has 2 settings for juicing speed. The low speed is more suitable for soft fruits and vegetables, so it is labeled "soft" on the button. The "hard" button is for juicing hard fruits and vegetables at a higher speed. It also has a reverse function and a stop button.
Pros:
slow juicing
silent
2 speeds
Cons:
plastic
not dishwasher safe
Best Vertical Quiet Slow Juicer
Amzchef Slow Vertical Masticating Juicer
Materials And Dimensions
This juicer is made from 100% BPA-free materials, like the safe food-grade Tritan material. The filter is stainless steel, which will not rust or bend easily. This juicer's dimensions are 15 x 13.3 x 7.8 inches, and it weighs 10.55 pounds.
Easy To Clean
Thanks to the 4-step installation, this juicer is convenient, easy to disassemble and reassemble, and easy to clean with a cleaning brush you will get included with the purchase of this device, to make the cleaning simpler.
Silent Juicing
The masticating quiet juicer produces only a low level of noise, about 60 dB, which will not bother people as much as centrifugal juicers sometimes do. This is because the masticating juicer works at a low speed of 56 RPM, squeezing the ingredients.
Big Chute
The wide feeder chute enables you to easily insert larger pieces or even whole fruits and vegetables directly into the juicer. Keep in mind that you will still need to peel off some ingredients and remove the pits and seeds from others.
Drier Pulp
The efficient 304 stainless steel filter has a fine mesh that efficiently separated pulp from the juice, while extracting the maximum amount of juice from the pulp, leaving the pulp drier and easier to clean. The u-shaped pulp spout makes the pulp discharge cleaner and easier.
Pros:
silent
slow juicing
drier pulp
vertical design
reverse function
Cons:
1 juicing speed
plastic parts
Best Professional Quiet Juicer
Aicok Slow Masticating Juicer Extractor
Cold Press Juicing
The cold press juicing in this juicer work at 80 RPM to extract a healthy juice with the maximum amount of nutrients preserved from the ingredients that you used for juicing. Slow juicing ensures more vitamins, minerals, fibers, enzymes, and other valuable nutrients.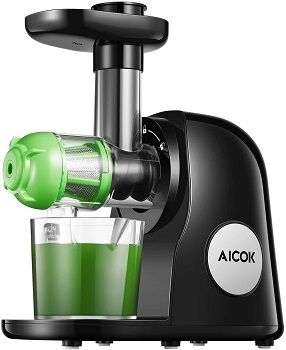 Silent Running
The silent motor produces only about as much as 60 dB of noise, which is very silent in comparison to some of the regular centrifugal juicers, that can go up to as high as 110 dB, which is very loud and can be uncomfortable to people.
Less Pulp
The efficient filter screen separates the pulp from the juice so that the best amount of juice gets extracted while the ejected pulp is dryer. This makes cleaning easier, and the juice yield is better.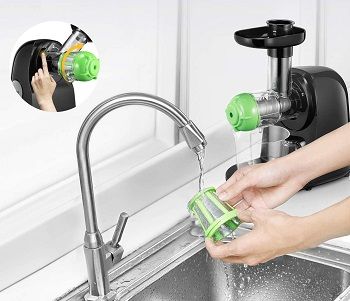 Easy Assembly
Device disassembly has never been easier, with a press of a button the mechanism is released and you can easily take the removable parts and put them in the dishwasher, as they are dishwasher safe. You will also receive a cleaning brush.
Dimensions And Safety
You should let the motor rest after 20 minutes of continuous juicing. Any pits and seeds should be removed from fruits before juicing, and you should not use ice or frozen products. This juicer's dimensions are 16.1 x 7.9 x 11.6 inches, and it weighs 8.25 pounds.
Pros:
silent
slow juicing
BPA-free
Conclusion: Which Quiet Juicer To Buy?
In my opinion, the best quiet juicers are the Aobosi Masticating Juicer or the Amzchef Slow Juicer. Both are slow masticating juicers with quiet motors and narrow feeder chutes. Both have dishwasher safe parts, and their housing is made from plastic.
In case you want to learn more about juicers in general and their various types, read this post on juicer machines. In case you are looking for more information about specific types of juicers, read this post on masticating juicers, and this one on electric juicers.