Are you interested in Brentwood products?
Then read this post!
In this post, you can learn more about the Brentwood brand and the types of products they have on offer. However, the reviews will be focusing on Brentwood juice extractors.

Brentwood Brand And What They Offer
Brentwood Philosophy
Brentwood believes in maintaining a healthy wholesome diet for healthy living. The company believes that preparing food at home is a good way for friends and family to spend time together, and also a way to ensure quality and nutritive meals.
Brentwood History
This company has, for 30 years now, been offering a wide array of readily available small kitchen appliances, which help people prepare healthy wholesome meals and beverages at home.
What Do They Produce?
They produce kitchen appliances with advanced designs and also small kitchen appliances. However, they also offer fans and cooler boxes and even insulated water bottles.
What Is Their Price Range?
The products Brentwood offers are priced at a low-cost range among kitchen appliances. Most products reviewed in this post are priced under 100 US dollars, which makes them one of the most affordable juicers out there.
Where Can You Buy Their Products?
Their products are available for purchase at online vendors with included delivery service, which brings the product right to your doorstep. Recommended sellers are Amazon (amazon.com) and similar services.
Top 4 Brentwood Juicer Reviews
Brentwood JC-452B Juice Extractor
Powerful Juicer
The powerful blades are powered by a 400 Watt motor, and they can pulverize fruits, vegetables, leafy greens, and herbs, and turn them into juice. The separated pulp can then also be used for cooking and baking.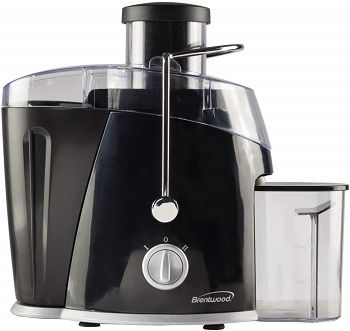 Wide Feeder
Brentwood juice extractor has an extra-wide feeder, which can fit most whole fruits and vegetables into the juicer without you needing to cut them up. This will save you some time you would need for preparing the juicing ingredients.
Two Speeds
You can adjust the juicing speed by turning the speed-adjustment knob with 2-speed settings. This allows you to choose and optimize the processing speed according to the ingredients you are using.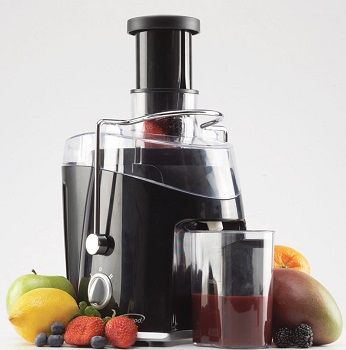 Dishwasher Safe
The Brentwood power juicer extractor can be disassembled and several pieces can be removed, and all removable pieces are easy to wash and safe for cleaning in the dishwasher. This means simpler and faster cleanup after juicing.
Safety Lock
The juice extractor will not start until the safety interlock is in place, which can prevent accidents in case you miss something while reassembling the device. The juicers dimensions are 12.5 x 10.7 x 8.5 inches, and it weighs 5.8 pounds.
Short description:
400 Watts
2 speed settings
wide feeder
safety lock
natuknica
Brentwood JC-550 Two Speed Juice Extractor
Two Speed Juicer
When you turn on this juicer you can choose to use it in one of 2 speed settings, low and high (indicated by numbers 1 and 2). You can make the easy adjustment by turning the speed setting knob to the preferred speed and that is it.
Stainless Steel
Brentwood JC-550 juicer has a stainless steel housing, as well as stainless steel filter and juice dispensing spout. The sturdy housing will not rust and is easy to clean and wipe with a cloth.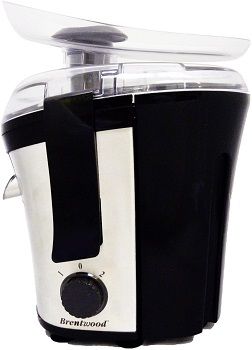 Secured With Clamp
This juicer has a clamp you can fasten it with to improve the stability of the device on counters. This will ensure the juicer never tips over or falls, or moves and scratches your counters.
Standby Mode
This model has a standby mode, which is indicated with a backlight. This means you can leave it plugged in and it will be conserving energy and not be working needlessly until you use it again.
400 Watts
Brentwood 400 Watt power juice extractor has two speed settings you can choose for your juicing, depending on what you wish to make. It uses a standard household electric powering of 120 V at 60HZ. The juicer's dimensions are 11.5 x 8.5 x 10.5 inches, and it weighs 5.6 pounds.
Short description:
400 Watts
stainless steel
2 speed settings
standby backlight
securing clamp
Brentwood J-17 Electric Citrus Juicer
Make Healthy Drinks
You can use the Brentwood citrus juicer to prepare healthy beverages, like smoothies made of pure fruit, dense milkshakes, protein shakes, as well as others. This is a useful and compact tool to improve your lifestyle with.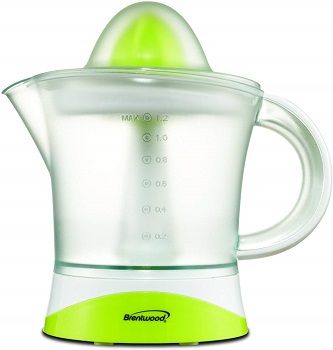 180 Watts
This model has a weaker motor than the previously mentioned models, but that does not mean it will not do its job. It can crush ice and create delicious blends of fruits and juices and other ingredients.
Simple To Use
This fast and efficient Brentwood citrus juicer operates on a one-touch basis. Thanks to the compact space-saving design it fits on every counter, taking up little space and is easy to store elsewhere when you don't need it.
Easy To Clean
For easy cleaning and washing, the blade assembly is removable from the device, and the jar and lid are safe to be washed in the dishwasher. This means you don't have to do all the washing yourself, provided you have a dishwasher.
Durable Materials
The blades in the blade assembly of this juicer are made from stainless steel, and the BPA-free frosted plastic jar has a volume capacity of 14 ounces, and the lid is also BPA-free plastic. This juicer's dimensions are 9.6 x 7.3 x 7.2 inches, and it weighs 2 pounds.
Short description:
BPA-free frosted plastic
180 Watts
small and compact
parts are dishwasher safe
stainless steel blades
Brentwood JC-500 2-Speed 700w Juice Extractor
Brentwood 700w Juicer
Brentwood JC 500 juice extractor has a power of 700 Watts and can pulverize fruits and vegetables and produce healthy and fresh juice from whole fruits, vegetables, herbs, and leafy greens.
Juice Jar With A Lid
The 15-ounce graduated plastic jar lets you enjoy your juice immediately and comes with a foam separator just in case you want nice, clean juice every time. The jar has a lid and you can use it to store the juice in a refrigerator for later use.
Stainless Steel
This juicer is made from stainless steel with a brushed finish and black plastic accents. This makes it durable and means it will not rust and you can safely and easily wash it with a cloth. The pulp container is plastic and separable. The removable parts of the juicer are mostly stainless steel or plastic, but all are safe for cleaning in the dishwasher.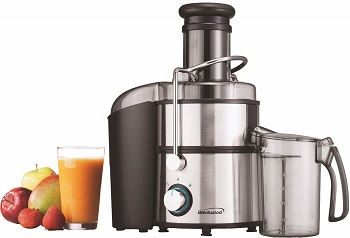 Countertop Safe
Brentwood 500 juicer can only be powered and used when the safety interlock is in place, which means it won't start until you reassemble it properly, to prevent any potential accidents. The juicer has many tiny feet that absorb some of the vibrations and prevent the device from scratching your counter.
Adjustable Speed
This juicer also has a control knob that lets you choose between 2 speeds in which you can operate this device, and they are marked as I and II. This device comes with a limited warranty, and it's dimensions are 8.6 x 6.5 x 2.1 inches, and it weighs 1.55 pounds.
Short description:
700 Watts
stainless steel
15-oz. jar with lid
dishwasher safe
2 speeds
Conclusion: Which Brentwood Juice Extractor To Buy?
In my view, the best Brentwood juicers are the Brentwood JC-550 Two Speed Juicer and the Brentwood JC-500 700w Juice Extractor. The JC-550 juicer has 2 operating speeds, powered at a maximum of 400W, and has a stainless steel housing and filter and spout. The JC-500 juice extractor has a power of 700W, and comes with a graduated jar with a lid, and also has 2 operating speeds. The JC-500 is also made fully from stainless steel and has dishwasher safe removable parts.
In case you are interested in juicers, read this post on juicer machines. To learn more about specific types of juice extractors, read this post on masticating juicers, and this one on electric juicers.