Have you heard about the Smeg brand?
Let me tell you more about it!
In this post, you can learn more about the Smeg brand, like who they are and what they offer. Here you can also read reviews on some of their products, focusing mainly on smeg juicers.
Information About The Smeg Brand
What Is Smeg Brand?
They are producers of Italian-style home appliances, based in the North of Italy, but with subsidiaries and offices worldwide. They team up with renowned designers and architects to offer you high-quality working products in elegant and contemporary designs.
History Of The Brand
SMEG was founded in the 19 century by the Bertazzoni family of blacksmiths. They started this business by building cookers and stoves at first, and then they slowly started taking on the task of producing other, more complicated kitchen appliances, like dishwashers and built-in ovens. Their name SMEG still stands for the original "Smalterie Metallurgiche Emiliane Guastalla", which means "Guastalla Emilia Enamel Works".
What Do They Offer?
They offer a range of products in the area of household appliances, namely kitchen equipment. They offer a range of ovens, cookers, refrigerators, freezers, toasters, as well as coffee makers, mixers, and yes -juicers. They also make dishwashers, laundry washing machines, and hoods. Their 50's retro fridges were widely popular.
Home And Professional Appliances
Now that they have established a name for themselves in the home appliance sector, this brand has decided to expand into new branches with producing professional restaurant-grade products as well as instruments for medical applications and purposes.
They Respect The Environment
Smeg is determined to show its commitment to environmental sustainability and ecological approach. They have taken steps to ensure they reduce energy consumption and preserve natural habitats around their sites. Their decision to use quality but recyclable materials in a sustainable production only proves that further.
Smeg Juicer Price And Where To Buy
You can buy their products on online platforms, like Amazon (amazon.com). This brand's price range is difficult to determine because it varies between the simpler products and the more designer ones. The simpler are mostly middle-range prices, but the stylish ones tend to reach the costly side.
Best 5 Smeg Juicers Reviews
Smeg SJF01 Slow Juicer
Benefits Of A Slow Juicer
A slow juicer is a type of device that slowly squeezes the fruits and vegetables, instead of slicing them. This ensures the active ingredients and nutrients remain intact and get delivered into your final product, the juice.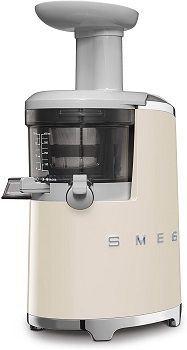 How Does It Work?
The Smeg cold press juicer does not use blades to slice through the fruit and vegetables but instead squeezes them with a slow rotation of a screw pump. That way the ingredients are not oxidized or destroyed, which preserves nutrients like vitamins and minerals.
Retro Slow Juicer Design
This juicer has a sleek curvy retro design, which greatly complements 50's-style kitchens and is a part of the same retro line as the Smeg fridges, which were popular worldwide for their design. The juicer's dimensions are 10.6 x 6.7 x 16.2 inches, and it weighs 12 pounds. This model is cream-colored, but there are 4 options in total.
Healthy Juice Extraction
Thanks to the motor that rotates only 43 RPM, it enables cold juicing with no oxidizing, where the nutrients and vitamins remain at their freshest form, so drinking your juice is just as healthy as biting into the fruits and vegetables.
Why Is Smeg Electric Special?
The Smeg SJF01 slow juicer has a density regulator, which means you can adjust the thickness of the juice. It fits on counters, and won't fall from them, thanks to anti-slip feet. The stainless steel strainer and BPA-free extraction chamber ensure healthy results from a durable device.
Short Description:
150 W
Retro design
4 colors to choose from
cold juicing preserves nutrients
Smeg SJF01 Other Colors Available
Smeg Slow Juicer Red
The Smeg SJF01 is one model that comes in 4 retro colors you can choose from, like this red one. You are sure to find one to fit right into your kitchen, especially if the decor is retro-styled.
Smeg Slow Juicer Black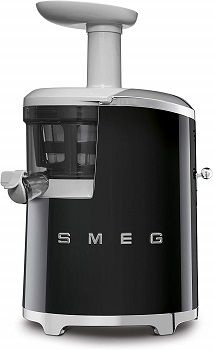 The Smeg SJF01 also comes in the color black. This model is exactly the same as the original version and these ones with other colors variations.
Smeg Slow Juicer Pastel Blue
The Smeg SJF01 also comes in pastel blue, matching the cooler-toned kitchens perhaps a little better. This model is also the same, just colored in pastel blue.
Smeg CJF01 Citrus Juicer
Smeg Retro Citrus Juicer
This small retro citrus juicer has a transparent Tritan cover to protect it from dust, which it can also serve as a bowl when turned upside down, and be used to keep fruits and peel in one place. The body of the appliance is cast aluminum with powder coating.
Stainless Steel Strainer
The strainer and reamer are made from stainless steel and anti-corrosive materials, which make them premium juicer components. They ensure that both large and small fruits will be completely squeezed and used up.
How Does A Smeg Citrus Press Work?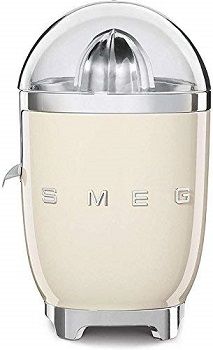 All you need to do is open the juicer and start squeezing a fruit on it. This Smeg fruit juicer is primarily recommended for squeezing citrus. The pressure is applied manually, which means you do not have the luxury of having the device do everything for you with this juicer, but it does rotate to ensure efficiency.
Anti-Drip Spout 
The juice spout is also made from stainless steel, and designed to dispense juice directly into a glass you put under. It can be lifted upwards to prevent any dripping on your table or counters. The entire device's dimensions are 6.5 x 6.5 x 11.1 inches, and it weighs 5.51 pounds.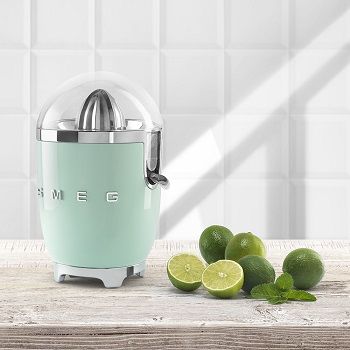 Motor And Sensor
The powerful motor uses 80 Watts of power for rotation. This juicer also has a sensor, which detects pressure on the reamer and starts automatically, to minimize effort and strain you would have to apply.
Other Colors Available
Smeg CJF01 Citrus Juicer comes in 6 colors. This one is in cream color, but there are also others. It is all the same model, with the same specifications, just a different body color. This juicer comes in black, red, pink, cream, pastel blue, and pastel green.
Short Description:
80W motor
pressure sensor
the cover cap can be used as a bowl
comes in 6 retro colors
Conclusion: What Smeg Juicers To Buy?
In my view, you can choose either the Smeg SJF01 Slow Juicer for slow squeezing whole fruits or the Smeg CJF01 Citrus Juicer for squeezing citrus. Both are high-quality appliances, designed in the 50's retro style, and come in several colors you can choose from. The multiple versions of one model are all the same, only the body color is different.
For more information on juicer devices in general, read this post on other juicer machines. If you want to learn more about specific types of juicers, you can read these posts on cold press juicers and bullet juicers.