Have you been wondering about Black & Decker juicers?
Wonder no more!
In this post, you will be able to learn more about Black And Decker juice extractors and read detailed reviews on 5 different models of Black & Decker juicers.
About The Black & Decker Brand
Who Are They?
Black & Decker Corporation is an American-based manufacturer of appliances, tools, hardware, and accessories, and its headquarters are located in Maryland, Baltimore County. The brand started with two men, Mr. Black and Mr. Decker who originally started in 1910. with designing machinery for factories, but they expanded since then.
What Do They Offer?
They sell a wide variety of products. They have various kinds of small kitchen appliances, large house appliances, house cleaning devices, and even power tools and garden tools and equipment.
Black And Decker Juicer Price Range
Black & Decker appliances are in the low-cost category, their juicers mostly costing under 100 dollars. That makes them very affordable and easily available, as this brand becomes even more popular.
Where Can You Buy Them?
You can look for their products on their official website, but you can also purchase what the offer through online retailers, like for example, Amazon (amazon.com). Amazon allows you to read reviews and ratings that the other customers and users of the same device wrote about it.
Customer Support
Some of the devices Blac & Decker sells comes with a limited warranty. In case something goes wrong with the installation or the device is not functioning properly, you should call their customer support or service center to answer any questions you might have.
Best 5 Black And Decker Juicer Reviews
Black + Decker CJ625 Citrus Juicer
Adjustable Pulp Control
This juicer features a very versatile pulp filter, which allows you to regulate the amount of pulp that gets included with the juice. You can choose between 5 settings for pulp output, which is more than most juicers allow for.
Two Cone Sizes
With this Black & Decker citrus juicer, you can choose between two juicing cone sizes. The smaller one is recommended for use with smaller citrus fruits, like limes and lemons, while the bigger one is better suited for larger citruses, like grapefruits for example. The 30-watt electric motor will help you get the juice out.
Built-In Cord Storage
When it comes to this juicer on practical terms, you will like the fact that it has built-in cord storage, which keeps the power cord out of the way and neatly gathered. This is convenient to have in a small kitchen storage space. This juicer is made from plastic, and its dimensions are 7.7 x 7.7 x 9.5 inches, and it weighs 2.42 pounds.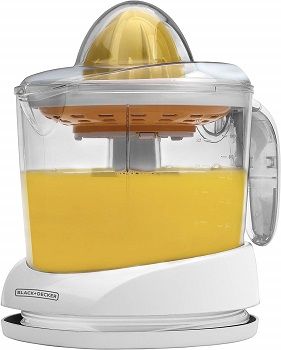 Marked Juice Container
The markings on the juice collector are easy to read, and that is sure to help you while making measurements for recipes, whether you are cooking or baking or just juices and refreshing desserts. The capacity of the container is 34 fluid ounces.
Dishwasher Safe
All removable parts of this juicer are easy to remove and reassemble. They are safe for cleaning in the dishwasher, which means you won't have to wash each part separately or try to remember which parts are dishwasher safe or not.
Short description:
30 Watts
5 setting pulp control
cord storage
34-oz marked juice collector
dishwasher safe
Black & Decker CJ650W Citrus Juicer
Self-Reversing Cone
The juicing cone rotates in the opposite direction each time you press down on it. That ensures the maximum amount of juice is extracted from the citrus fruit. All you need to do is press the halved fruit down on the cone and the juicer will activate.
Adjustable Pulp Control
This Black and Decker juice extractor you can control the amount of pulp that goes out in each batch of juice. The four settings let you create the perfect juice for everyone's taste each time. The leftover pulp is contained in the strainer, so you can always use it later for some other recipe.
Pitcher Juice Collector
The durable juice container has the capacity to gather up to 32 fluid ounces of juice. It also has a handle and funneling spout on the top, which means you can easily carry it with you and use it as a pitcher, pouring juice from it where you want it.
Clear Container
The transparent clear-view plastic juice collector has volume markings on one side, which help you take accurate measurements of juice amounts at any time. This will be convenient while making juices and desserts by recipe.
Easy Cleaning And Storage
Being made from plastic, this Black And Decker's citrus juicer is easy to wipe when necessary, and some parts are dishwasher safe. The cord storage and protective lid will help you put this juicer safely away when you're not using it. Its dimensions are 5 x 8 x 9.5 inches, and it weighs 1.75 pounds.
Short description:
reversing juicing cone
clear marked container
4 pulp control settings
dishwasher safe
protective lid
cord storage
Black & Decker CJ630 Electric Citrus Juicer
Storage And Practicality
This white plastic juicer has a slot on the base where the cord wraps around for easy storage. The protective plastic lid keeps the cone and juicing area safe and clean. You won't have to worry about dust falling onto your juicing cone when you are not using it.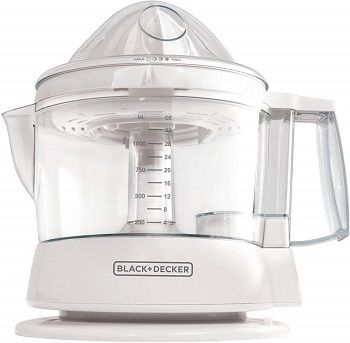 Pitcher With Spout And Handle
The juice collecting can double as a pitcher which has a large spout that prevents dripping and a full handle for safe carrying and pouring. The volume markings on the side will help you take accurate measurements while you're following recipes.
Reversible Juicing Cone
The universal juicing cone is suited for juicing citrus fruits of all sizes, from lemons to grapefruits. All you need to do is press down the fruit on the cone, and it will automatically start spinning and extracting juice, thanks to the 30-Watt motor. Press again, and it will change the spinning direction.
Stirrer And Pulp Collector
While you are juicing, the stirrer pushes the juice and the pulp into the juice container. This model also lets you adjust the amount of pulp you wish to include with your juice, with one of 5 pulp filter settings.
Dimensions And Design
This Black And Decker orange juicer is made from white plastic with a transparent juice collector and only has one juicing cone. It does, however, have a strainer with adjustable pulp control on the side and a stirrer that pushes the juice. The juicer's dimensions are 7.6 x 7.6 x 9 inches, and it weighs 2 pounds.
Short description:
30 Watts
lid and cord storage
reversible spinning
measured pitcher container
5 pulp control settings
Black + Decker JE2200B Fruit and Vegetable Juice Extractor
Dishwasher Safe
Some of the removable parts are dishwasher safe and that means you will have an even simpler and easier cleanup process after juicing and in between using this Black and Decker 400 watt juice extractor.
Stainless Steel Cutter
The cutter and strainer are made from stainless steel, which is durable and strong, and will not rust or get stained by the juice. It is also less likely to break during use or transport.
400 Watt Motor
This Black & Decker fruit and vegetable juice extractor is powered by a 400-Watt electric motor, which is powerful enough to process most fruits and vegetables, especially paired with the stainless steel blades. Choose your combo of fruits and vegetables for the best tasting juice.
Convenient Design
The Black And Decker JE2200B juicer is designed to be more vertically positioned so that it takes up less space on the countertop. It has an integrated pulp collector and a large on/off switch for powering.
Dimensions And Material
Having its outer casing made from plastic makes this juicer easy to wipe and clean with a cloth, and it is also lighter in weight. The pulp collector is also plastic and easy to wash, as well as the juice collector cup. This juicer's dimensions are 13 x 9 x 9 inches, and it weighs 5.55 pounds.
Short description:
400 Watts
stainless steel cutter
separate pulp collector
removable parts dishwasher safe
Black And Decker JE2400BD Juice Extractor
Design And Dimensions
This juicer is vertically oriented and will take up less space on your countertop. It also has non-sleep rubberized feet, which means it will not slide on your counter, but rather stay stable and safe where you place it. Its dimensions are 8 x 10 x 12.8 inches, and it weighs 5 pounds.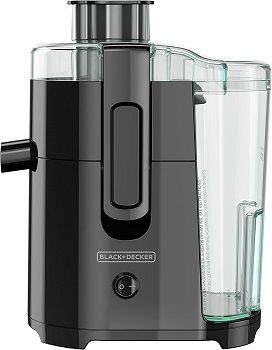 Dishwasher Safe
Every removable part of this Black And Decker electric juicer can be put into the dishwasher and cleaned. This means you won't have to spend a lot of time cleaning and washing each part of the juicer.
400 Watt Power
The electric motor inside this juicer has 400 Watts of power, and it is powerful enough to handle even harder fruits and vegetables. The on/off flip switch lets you easily turn the device on or turn it off again.
Stainless Steel Parts
The strainer and the cutter are made from stainless steel, which means they will remain sturdy and sharp for a while and are easier to clean as they will not get stained or rusty.
Large Pulp Collector
The integrated pulp collector has a volume capacity of 28 fluid ounces, which means you won't have to empty it very often. The lid is removable for easy cleaning and access, and the plastic casing is sleek and easy to wipe with a cloth.
Short description:
400 Watts
large pulp collector
dishwasher safe
Black And Decker Juicer Replacement Parts
In case you ever need a replacement for your Black And Decker citrus juicer parts, feel free to contact the manufacturer's customer support or service shop and ask after the parts you need. You can do so via phone, email, or by placing an inquiry via their official page.
Black And Decker Juicer Manual
Sometimes you have a question, or something does not feel right about assembling the device after you've washed it. For any such and similar questions, you can read the user manual that comes with the device. In case you lost it or never received it, you can likely find them online, like this Black & Decker JE2400bd Use And Care Manual.
Black And Decker Juicer Recipes
Now that you have your favorite juicer safely installed on the countertop, it is time to make something! You might want to make a juice, a smoothie, a milkshake, or a detox cleansing mix of fruits and vegetables and greens, but you don't have ideas about which ingredients to mix. Don't worry, there are plenty of online sources you can go to for advice and recipes. You can start by trying the Black & Decker and juicer recipes.
Conclusion: Which Black & Decker Juicer To Buy?
In my view, the best Black & Decker Juicers you can buy is the Black & Decker CJ630 Citrus Juicer and the Black & Decker JE2200B Juice Extractor. The citrus juicer has 5 pulp output settings and a transparent juice collector that doubles as a pitcher. The JE2200B juice extractor has a stainless steel cutter and is dishwasher safe. The JE2200B also has a separate pulp collector and a 400-Watt motor.
For more information on juicers / juice extractor, read this post on juicer machines. If you want to know more about particular kinds of juicers and their models, read this post on electric juicers and this one on best citrus press juicers.