Are you wondering what are the best juicers for beginners?
Then this post is for you!
Read this post to see detailed reviews on top juicers for home use, as well as to learn more information on what to look out for when you are just starting. Here you can see what types of juicers you should look for, and then read detailed reviews on 5 different models.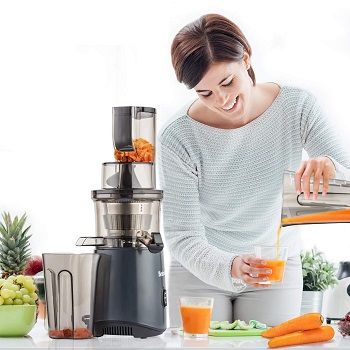 Juicing For Beginners
Cleaning And Reassembly
The biggest benefit a beginner's juicer can have is easy operation and easy assembly. You will need to disassemble the device and remove the parts for cleaning, which means you will need to put them back together after they have dried.
Recipe Books – Beginners Guide To Juicing
If you are new to the world of juicing, try to find a juicing for beginners book of recipes to help you get started with ideas and suggestions of what ingredients to use and in what combinations. You can also experiment with fruits and veggies to find your own favorite mix.
Best Juicer For Home Use
There are several main types of juicers that you can look for in the market. Depending on what ingredients you prefer to use, and what type of juice you want, you can choose between citrus juicers, centrifugal juicers, and masticating juicers.
Home Juicer Types
Best home juicer types are as follows: masticating (also called "cold press" and "slow") juicers that squeeze fruits and vegetables to obtain the most nutritious juice, centrifugal juicers that shred the ingredients to quickly get the juice even from harder greens but it oxidizes, and citrus juicers made for the main purpose of juicing oranges and lemons (as well as grapefruits and limes).
Where To Buy Best Juicers For Beginners?
You can find many similar and different models of juicers, depending on the type of juicer you are looking for. You can buy them online, through sellers such as Amazon (amazon.com), where you can read reviews on the device before you purchase it, to help you decide if that juicer is best for you.
Best 5 Home Juicers For Beginners Reviews
Best Electric Juicer For Home
Breville 800JEXL Juice Fountain Elite
Dishwasher Safe
Some removable parts, like the juicer cover, filter bowl, disc and juice collector jug can be washed in the dishwasher. Just remember to place them on the top shelf of the dishwasher, as they are light and could damage other items if left in a space where they can move around.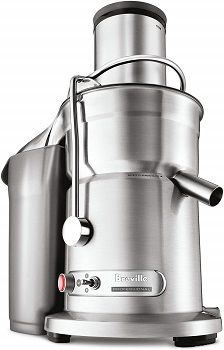 2 Operating Speeds
This centrifugal juicer lets you choose between 2 juicing speeds with the flip of the switch. The lower speed reaches 6,500 RPM and is more suitable for softer fruits and vegetables, and the high speed reaches up to 13,000 RPM and is better suited for harder ingredients, like carrots and celery and firmer fruits.
1000 Watts
This electric juicer is powered by a 1000-Watt motor, which is strong enough to juice even the hardest fruits and vegetables and extract juice from those that usually yield very little juice.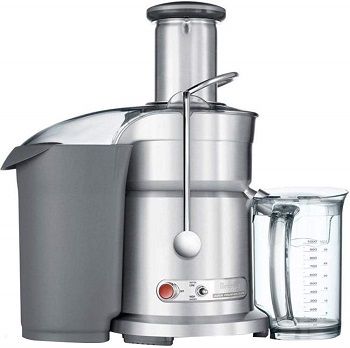 Wide Chute
The wide feeder chute mouth shortens your preparation time, as you don't have to cut the fruits and vegetables into tiny pieces. You can even use whole fruits and vegetables, but peel the inedible skins and remove pits and seeds for tastier juice.
Materials And Dimensions
The cutting disc is made from titanium, and the micro-mesh filter basket is made of stainless steel. This means those parts will be durable and longlasting, and less prone to breaking and denting than others. This device's dimensions are 16.5 x 9 x 16 inches, and it weighs 17.2 pounds.
Pros:
stainless steel parts
1000 Watt motor
2 speeds
wide chute
recipe book
safety lock arm
Best Home Cold Press Juicer
Bextcok 2020 Cold Press Juicer Machine
Safety Shut Down
When the juicer overheats or when the device gets clogged or jammed. This prevents severe overheating of the motor and potential damage to the device as well as potential injury to the people nearby.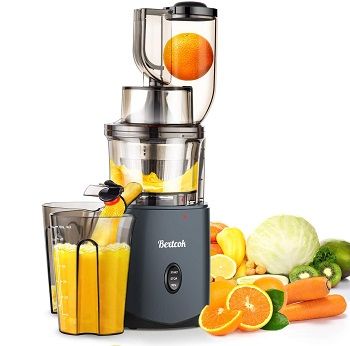 High Juice Yield
This juicer is an upgraded version from the same model from the previous production year. It produces 10% more juice from the same ingredients and preserves 15% more vitamins, thanks to the masticating juicing process that does not expose the juice to heat and oxidation.
Slow Masticating Juicer
The terms "slow juicing", "cold press juicing" and "masticating juicing" all represent the same basic principle and style of juicing. It consists of squeezing the ingredients with one or more augers that create pressure on the fruit and extract juice from it, then separating the pulp by filtering it through a screen.
Reverse Function
This juicer is equipped with a reverse speed function, which will allow you to reverse the spinning direction of the juicing parts, and therefore help you unjam the device by switching direction. The normal operating speed is 55 RPM.
The approved food-grade BPA-free materials make this juicer safe to use and the rubber anti-slip feet keep it stable during use. It also comes with a cleaning brush for easier washing. This device's dimensions are 15.1 x 13.5 x 7.8 inches, and it weighs 9.53 pounds.
Pros:
slow juicing
BPA-free
reverse function
anti-slip feet
Cons:
complicated reassembly
plastic casing
Best Juice Extractor For Home Use
Tribest CS-1000 CitriStar Electric Citrus Juicer
Easy To Use
This is the best citrus juicer for beginners, as is it very easy to use, with only 1-step activation. You only need to plug it in beforehand. The juicing will start automatically as soon as you start pressing the fruit on the reamer, the 50-Watt motor will activate and the juicing cone will start spinning and extracting juice from the halved citrus fruit.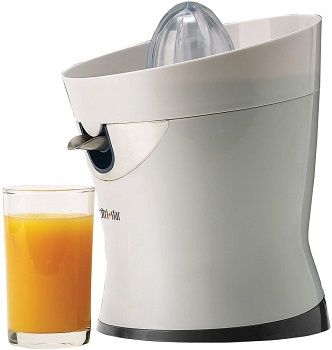 Cord Holder
This juicer has a slot for storing the power cord when the device is not in use, or you can use it to unfold only as much length as you need. This makes storage easier and friendlier to smaller kitchens and small storage spaces. It also prevents tangling.
Stainless Steel Spout
The spout flips upwards to prevent dripping and unnecessary clean up when you don't have a glass under the spout to receive the juice. It is made of stainless steel, so it will not rust or stain and it will be resistant to breaking and bending.
Easy To Clean
The sleek and compact cylindrical design of this home citrus juicer, as well as the fact that it is encased in smooth plastic, make cleaning a breeze. To clean the device on the outside, simply use a wet cloth to wipe it down. The removable parts should be rinsed in the sink.
Design And Parts
This juicer has a universal reamer, which means it sports a medium-size juicing cone that should fit all citrus fruits, from limes to grapefruits. The filtering screen is made from stainless steel, so it will be rust-free and durable for a long time. This device's dimensions are 8 x 8 x 9.5 inches, and it weighs 5.07 pounds.
Pros:
cable holder
compact design
automatic start
Cons:
plastic
only 1 size reamer
Best Home Juicer Easy To Clean
Black + Decker CJ625 Citrus Juicer
Pressure-Activated
Using this juicer is simple: cut the citrus fruit in half, and press one half down on the juicing cone. It will detect the pressure and the motor will activate and start spinning the juicing cone, which extracts the juice from the fruit. All you need to do is hold the fruit down on the cone, and release to stop the juicing.
Adjustable Pulp Control
You can set the slider to the desired setting to adjust the amount of pulp that gets included with the juice and the rest gets filtered out of the juice (into the pulp basket). This gives you the ability to make the perfect juice for anyone's taste and preferences.
Self-Reversing Cone
Once you press the fruit down on the reamer, the juicing will start by spinning the juicing cone. Release the pressure to stop the spinning, and when you press again the juicing cone will reverse the spinning direction, which enables you to extract more juice from the fruit.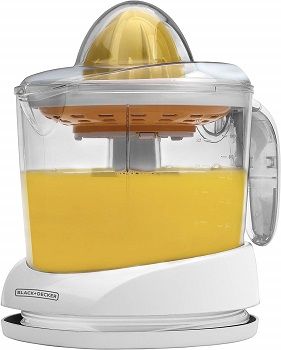 Dishwasher Safe
Some of the parts of this juicer can be removed, and the removable parts can be cleaned in a dishwasher. Just to be safe, put them on the top shelf of the dishwasher rack. Also, never expose the motor housing to water, simply use a wet cloth to wipe down the casing. Always unplug the device before disassembling and cleaning.
Materials And Parts
This device enables easy juicing for beginners, and it has a practical juice collector that can serve as a pitcher for pouring juice into glasses. The pitcher has a handle and spout, and volume markings on the side. Its volume capacity is 34 fluid ounces. This juicer's dimensions are 7.7 x 7.7 x 9.5 inches, and it weighs 2.42 pounds.
Pros:
dishwasher safe
pitcher collector
reversible cone
Best Masticating Juicer For Beginners
Aicok Slow Masticating Juicer Extractor
Dishwasher Safe
The removable parts are dishwasher safe, which means you can put them on the top shelf of the dishwasher instead of having to scrub them yourself. This will save you precious time and effort on cleanup.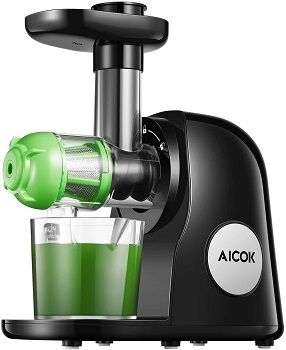 Slow Juicing
The masticating juicing process is slow, at 80 RPM, which means it will not expose the juice to heat and oxidation. It will preserve the nutrients from the ingredients so that you can have a healthy juice full of vitamins, minerals, enzymes, fibers, and so on.
Silent Operation
The slow juicers work by squeezing the ingredients instead of shredding them, so they produce less noise than regular centrifugal juicers do. This means you can use this kind of juicer even in environments that usually tolerate less noise.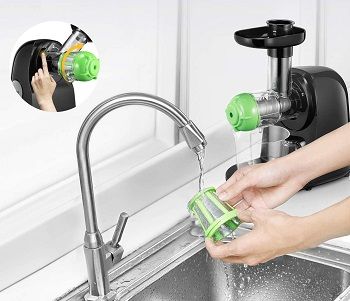 High Juice Yield
This juicer work by using an auger to apply a lot of pressure on the ingredients and squeeze the juice out of them. This juice gets filtered through a filter screen to set out the pulp and seeds from the juice. The 7-segment spiral allows maximum juice yield, with minimal damage to the juice.
Dimensions And Notice
The masticating home juicer is made from safe materials and is easy to disassemble and reassemble after cleaning. It is also easy to use, but should be left to rest after 20 minutes of continuous juicing, to prevent motor overheating. This device's dimensions are 16.1 x 7.9 x 11.6 inches, and it weighs 8.25 pounds.
Pros:
slow juicing
easy to disassemble
dishwasher safe
improved auger
reverse function
Conclusion: Which Home Juicer To Buy?
In my opinion, the best juicers for beginners that you can buy are the Black + Decker CJ625 Citrus Juicer and the Breville 800JEXL Juice Fountain Elite. The Black Decker is a citrus juicer with an automated start and is easy to clean. The Breville is a centrifugal juicer that is easy to use for any kind of fruit and vegetables, thanks to its 1000-Watt motor. The Breville also has a safety lock and is made from stainless steel.
If you want to read more about juicer similar to some of the models mentioned in the reviews, read this post on masticating juicers, and this one on citrus juicers. For more information on other juicer types, read this post on juicer machines.