Are you interested in Big Boss juicers?
Then keep reading!
In this post, you will be able to learn more about Big Boss juice extractors. You can also read detailed reviews on several models that are available for purchase. Hopefully, this will help you decide which one you prefer.

Big Boss Juicers And Information
What Does Big Boss Sell?
This company is based in New York, USA, and they sell a wide variety of home appliances, home appliances, as well as garden equipment and other products. In this review, you can see a few models of juicers that they have on offer.
Where To Buy?
You can buy these products via online retailers, such as Amazon (amazon.com), who will provide you with a delivery service. In each review, you can find a link that you can click on to immediately find the Amazon page for this product, where it can be purchased.
What Is Their Price Range?
The price range highly depends on the product you are looking for, but the Big Boss juicer prices are among the low-cost price range for juicers. They range mostly under one hundred US dollars, but that depends on the product and is affected by ongoing sales and such.
Types Of Juicers They Offer
They offer centrifuge juicers, masticating juicers, cold press juicers, citrus juicers, power juicers, juicers with various power capacity, slow juicers, and others.
Product Quality
Some reviews claim that Big Boss juicers are sub-par in quality, and that is why they cost less than most. Customers have complained about the shortcomings in these juicers, for example, that the juice leaks out of the feeder tube.
Best 5 Big Boss Juicer Reviews
Big Boss Stainless Steel Electric Citrus Juicer
Big Boss Citrus Juicer
This citrus juicer has a 160 Watts of power to produce squeezed fresh citrus juice full of vitamins and nutrients. It is motorized and uses electricity for powering: 120V at 60Hz. The motor helps you to get every last drop of juice out of the fruits.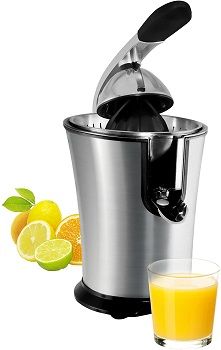 Motorized Juicing Cone
The Big Boss citrus juicer has only one juicing cone for all citrus fruit sizes, and it is a medium size so that you can use it both for larger citrus fruits like grapefruit, and smaller ones like lime and lemon.
Stainless Steel
This juicer is made from stainless steel, both the casing and the inside elements. This juicer also has non-slipping feet for better stability on the countertop. The juicer features an easy-to-use lever to press fruits down on the cone for more efficient juicing and less strain on your hands.

Efficient Filter
The filter eliminates pits and pulp during juicing, but it can be removed if you want the pulp to mix with the juice and get the best of both. It is entirely up to your preferences, and not many juicers have that option.
Easy To Clean
The non-drip spout will not give you headaches, and the removable stainless steel parts are easy to wash and clean. The 27 -ounce juice container is also easy to wash. This citrus juicer's dimensions are 17.5 x 14.6 x 9.8 inches, and it weighs 7.4 pounds.
Short description:
160 Watts
one lever operation
one motorized juicing cone
stainless steel
Big Boss 700-Watt Juice Extractor
Big Boss Juicer 700 Watts
Available In 3 Colors
Powerful Motor
This juicer has a power of 700 Watts, and a motor that can work the juicer at 18,000 RPM. This allows you to make various types of drinks or foods in a short amount of time.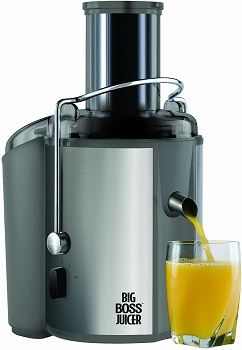 What Can It Make?
With the Big Boss centrifugal juicer, you can make juices, salsas, sauces, soups, baby food, and others. The large size pulp collector allows you to use the pulp for cooking or baking.
Wide Feeder Mouth
The 3-inch wide feeder lets you slide in large pieces of fruit, without needing to cut them first. It also comes with a handy pusher, so you won't have to worry about hurting your hands.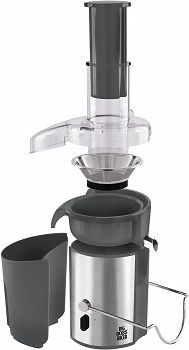 Two Speeds
The Big Boss juicer lets you choose between 2 speed settings, which means you can customize the speed according to which result you want to achieve with the ingredients. You can use fruits, vegetables, leafy greens and herbs in amounts you like.
Easy To Clean
The lid is fixed with locking tabs for secure operation. The working parts are made from stainless steel and are dishwasher safe. The blade and filter are made from stainless steel and ensure the juice is squeezed through a fine mesh that keeps it fine and clear.
Available In 3 Colors
This juicer is available for purchase in 3 colors. The model specifications are the same, only the color varies between black, red, and white. This device's dimensions are 15.6 x 13 x 8.1 inches, and it weighs 9 pounds.
Short description:
700 Watts, 18,000 RPM
2 speeds
available in 3 colors
stainless steel
Big Boss 800-Watt Professional Series Juicer
Stainless Steel
This device's dimensions are 13.8 x 8.7 x 15.3 inches, and it weighs 8.81 pounds. The stainless steel housing is easy to wipe and clean, and it will not rust or get damaged easily. This device is available in silver and metallic red colors.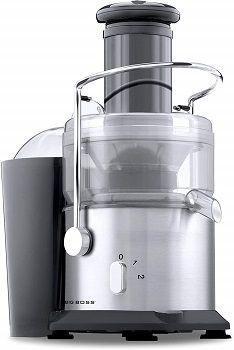 Easy To Clean
The stainless steel housing is easy to wipe off, and the stainless steel parts like the blades and the filter with a superfine mesh are easy to wash. The lid has secure tabs to ensure safe operation.
Includes Pitchers
Included with this device you get a pitcher for juice and a pitcher for collecting pulp. You can then use that pulp for cooking or baking, or add some back into your smoothie or milkshake.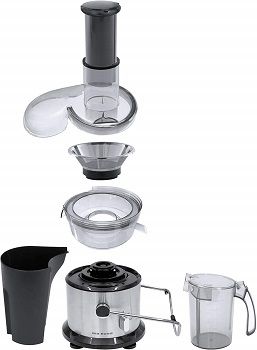 Wide Feeder
The 3-inch wide feeder chute lets you put in large pieces of fruits and vegetables without needing to slice them first. You could, for instance, put in a whole apple or large slices of other big fruits.
Powerful Juicer
Big Boss juicer of 800 Watts of power has two speeds you can choose between, and that means you have a powerful juicer that can also do other things, like making soups, sauces, salsa, baby food, and other types of meals and desserts.
Short description:
800 Watts
stainless steel parts
juice and pulp separate pitchers
2 speeds
Big Boss 8962 Electric Citrus Juicer
Big Boss Citrus Juicer
The juicing starts when you press down on the universal juicing cone that fits all citrus fruit sizes, from grapefruits to limes. When you press down again, the spinning will reverse direction, allowing you to extract more juice from the citrus fruits.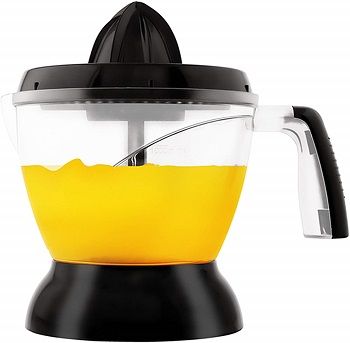 Pulp Settings
The strainer located right under the juicing cone separates the pulp and seeds from the juice which gathers in the pitcher bowl. You can adjust the setting to one of three degrees for the pulp collector: no pulp, low pulp or heavy pulp; depending on what you prefer.
Pitcher Bowl
Right under the strainer, the juice collects inside a pitcher bowl, that has a spout on top for easy serving at will. The juice will not spill without your control, as you have to pour it out, and the pitcher holds about 3 cups (25 ounces) of juice.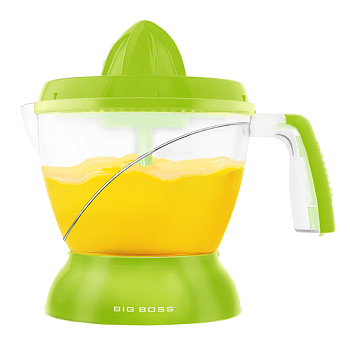 Dishwasher Safe
All removable parts are dishwasher safe, which means you can put them in the dishwasher for cleaning, instead of having to hand wash them yourself, part by part. This saves you time and effort that you would have to put in with some other juicers.
Design And Colors
This same model is available for purchase in five different colors: black, blue, green, red, and orange. The dimensions of this device are 6.5 x 8.2 x 9.2 inches, and it weighs 2.25 pounds.
Short description:
automatic switch on/off
1-push operation
dishwasher safe
pitcher collector
3 pulp settings
Big Boss 9192 Healthy Press Slow Juicer
Easy To Clean
The stainless steel working parts of the juicer can be disassembled for easy cleaning, and then reassembled back together into a clean, working juicer ready for the next use. Because of the materials, they are made from, the parts will not rust or get easily damaged.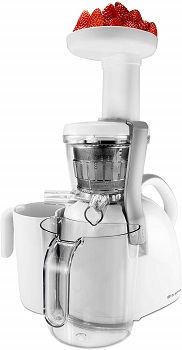 Includes Pitchers
Big Boss healthy press juicer comes with two separate pitchers of the same size but different colors, one for collecting pulp and the other for collecting the juice. Each has a conveniently large handle for easy manipulation and cleaning of the pitchers.
Low-Noise Motor
This healthy press slow juicer has a powerful motor that operates on 150 Watts of power but produces less noise than most. The low-RPM provides gentle juicing for a healthy and nutritive result. This device is powered by electricity: 120 V at 60 Hz.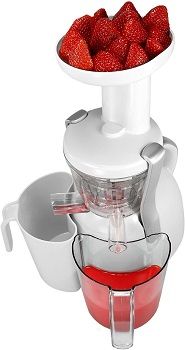 Healthy Press Juicer
The Big Boss slow juicer uses low power and low spinning to squeeze out the juice from vegetables and fruits. The slow process does not generate too much force and heat or oxidization that would pulverize all the nutrients and fibers in the ingredients but preserves them instead.
Stainless Steel
This product has a stainless steel strainer, which will not rust and will not break easily. The reverse function helps you in cleaning up any jammed ingredients and other useful operations. It is available in 3 colors: red, black, and white. This device's dimensions are 9.8 x 5.5 x 16.1 inches, and it weighs 9 pounds.
Short description:
150 Watts
slow juicer
stainless steel strainer
two pitchers with handles
reverse function
available in 3 colors
Big Boss Juicer Replacement Parts
It is always most advisable that you replace any broken or missing parts with the same parts from the same manufacturer you got the device from. When it comes to juicers, some parts can be removed for cleaning, and sometimes they get broken or lost. In that case, it is best to call the manufacturer customer support or service center and ask about the replacement part you need.
Big Boss Juicer Manual
While manuals usually come included with the device when you purchase one, sometimes you don't have it or can't find it when you need it. Luckily, Big Boss has online manuals in pdf format for some of their devices on their official page. Here you have links for two manuals by product name and type as it was listed in the reviews.
Conclusion: Which Big Boss Juicer To Buy?
In my opinion, the best Bog Boss juicers you can buy are the Big Boss 800-Watt Professional Juicer and the Big Boss 9192 Slow Juicer. The professional juicer has stainless steel parts and two speeds it can operate on. The slow juicer has a stainless steel strainer and a reverse function. The slow juicer also comes with two pitchers with handles and is a healthier juicing option due to its slow juicing process that preserves the nutritional value of the juice.
In case you want to learn more about juicers and their various types, read this post on juicer machines. For more information on specific types of juicers and their models, read this post on bullet juicers and this one on masticating juicers.