Are you interested in Dash juicers?
Then keep reading!
In this post, you can learn more about Dash juicers, something about the company, and you will be able to read detailed reviews on several of their juicer models. Hopefully, this will help you choose the ones you like best.

Dash Brand And Their Juicers
About The Dash Company
This company is based in New York and believes in healthy food preparation with minimal processing in order to preserve the nutritional value originally found in the ingredients.
Where To Buy Dash Juicers?
Dash products are sold by several online retailers, but some of them go through the Amazon platform, which means you can visit it (amazon.com) to read reviews and ratings the other customers have given to a specific product.
Customer Support
You can contact Dash customer support and service center for any questions you might have regarding their products and how to use them. You can contact them via phone or through their official website.
What Do They Offer?
Dash produces and sells various kitchenware, like cookers, fryers, blenders, mixers, and other various kitchen equipment and appliances. You can find a wide choice of small kitchen appliances in their offer.
Dash Juicer Price Range
Dash juicers are in the lower price range, which means they can be bought for under 100 US dollars per juicer. This does not necessarily trade the quality of the product for a more affordable price.
Best 3 Dash Juicer Reviews
Dash Premium Juice Extractor A-JB001RB
Wide Feeder Tube
The 3-inch wide feeder tube lets you put larger pieces of fruits and vegetables, or even whole fruits, into the juicer without you needed to cut them up first, which saves you time.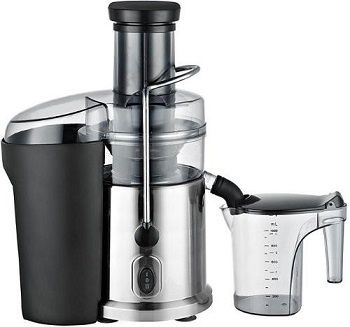 Anti-Slip Feet
The suction feet on the bottom of the base keep the juicer in place and ensure the device won't damage your counter as well as slide around or tip over easily.
Materials And Dimensions
Dash juice extractor has a chrome base, and the cover is plastic. The pulp collector is also plastic, but the safety lock arm is again metal. The dimensions of this juicer are 14.1 x 9 x 18.3 inches, and it weighs 8 pounds.
Juice Collector Pitcher
The BPA-free juicer collector pitcher is transparent and has markings on the side which help you accurately measure the volume of juice currently contained in the pitcher.
2 Juicing Speeds
This Dash premium juicer has an 800-Watt motor and 2-speed switch that lets you choose between speeds, depending on what kind of ingredients you wish to use. The device comes with a limited warranty and a recipe book.
Short description:
800 Watts
2 speeds
suction feet for stability
recipe book included
safety lock
Dash Electric Citrus Juicer Extractor JB085SS
Stainless Steel
Stainless steel outer body makes this juicer sturdy, resilient to damage, and easy to clean. It won't rust, and the drip-control spout ensures you won't make a mess during juicing. This device's dimensions are 6.5 x 10 x 7 inches, and it weighs 3.8 pounds.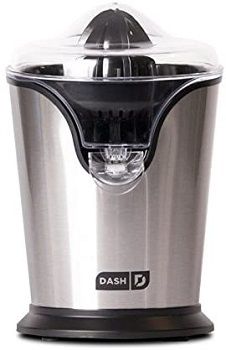 Easy To Use
The Dash Citrus Juicer is very easy to use, and automatically starts and stops the juicing. All you need to do is press down the halved citrus fruit on the juicing cone, and it starts spinning. It stops when you release it. Included with your juicer, you will also get a user manual and a recipe book.
Auto Reversing Cone
The juicing cone on this Das orange juicer reverses the spinning direction each time you press down on it. This helps you get the best amount of juice out of your citrus fruits. You will get 2 cone sizes with this device.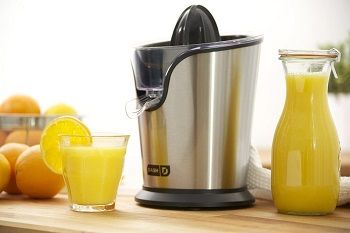 Non-Slip Base
The non-slip base of this dash citrus juicer ensures the stability of the device on the countertop, which means it will not slide around and slip, or slide down off the counter and get damaged.
Easy To Clean
Dash citrus juicer extractor is a fairly simple juicing device, which can be easily disassembled for cleanup, and then reassembled back together without much fuss or problem.
Short description:
drip-control spout
stainless steel
auto on/off
reversible cone
2 cone sizes
recipe book included
Dash Go Dual Citrus Juicer JB065AQ
Healthy Juicing
Use this Dash dual citrus juicer to make freshly squeezed citrus juice. The juice collector doubles as a transparent pitcher, with a spout and a full handle, for easier pouring. You can also adjust the amount of pulp that gets included with the juice, by changing to one of 7 settings.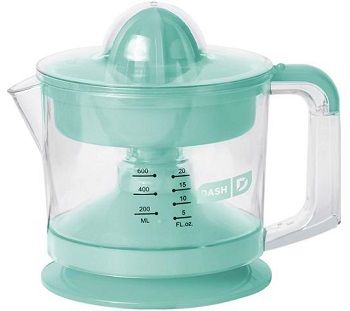 Easy To Use
You don't have to be an expert to use this Dash orange juicer. It is a simple matter of plugging the cord into the electric socket, pressing down the halved citrus onto the juicing cone, and the motor will activate automatically.
Auto Reverse
You only need to press the fruit onto the cone once for the juicing to start, and release to stop it. When you press again, the direction of the spinning will change, ensuring maximum juice extraction from the citrus. This juicer comes in 4 colors: aqua, orange, red, and white.
Compact And Light
This small Dash citrus juicer is comprised of the pitcher-like juicer collector and a strainer with a stirrer and a juicing cone that is powered by an electric motor. The collector has a volume capacity of 32 ounces and has volume markings on the side.
Practicality 
All non-electric parts are dishwasher safe, for easier cleaning. When you're no using it, you can wrap the power cord around the base of the juicer for easy storing. This device's dimensions are 8.8 x 6.4 x 7.8 inches, and it weighs 1.9 pounds.
Short description:
reversible cone
pitcher collector
adjustable pulp control
stirrer
Dash Juicer Parts
Considering some of the Dash citrus juicer parts are removable for cleaning purposes, like the cone and the strainer, and it may happen that a part gets broken or lost. In that case, it is recommended to contact the manufacturer's customer support or service center and ask after the part you need. Never try to replace a part with another from a different manufacturer, as that might cause injury to you or damage to your device.
Dash Juicer Manual
With most Dash juicers, you will receive a user manual, and some models even include a free Dash juicer recipe book. In case you have questions or are unsure how to reassemble the juicer after cleaning, look at the manual for instructions. In case you can't reach them, you can try online:
Conclusion: Which Dash Juicer To Buy?
In my opinion, the best Dash juicers for sale are the Dash Go Dual Citrus Juicer and the Dash Premium Juice Extractor. The Dash Go is a small compact citrus juicer with a pitcher collector and pulp control. The Dash Premium is an 800W juicer for fruits and vegetables and is made from stainless steel. The Dash Premium also has 2 juicing speeds and a safety lock.
In case you want more information on similar juicers, read this post on citrus juicers and this one on electric juicers. And if you want to learn about various types of juicers and where to buy them, read this post on juicer machines.