Do you want a new juicer for your kitchen, restaurant, coffee bar or a hotel?
If you do, you should read my article. Here, you will find all the information about the Robot Coupe juicer extractors. You can read all the important characteristics and see which juicer would be ideal for your needs.
Robot Coupe Brand Information
Range Of Their Products
Robot Coupe offers all types of mixers and extractors. They have a whole catalog on their web site. In their catalog, you can see all the characteristics and information about the products. They described every product at large. They have seven different machines for processing and making food. They offer machines with 48 different blades and cutters.
Robot Coupe Official Website
Robot Coupe has its official web site that has all the important information about their company. You can find their catalog there, videos of their products, their recipes, selection guide, and much other interesting information.  You also have their contact there, support, sitemap, sales reps, and legal terms.
Price Range Of Their Products
Robot Coupe company has products that are more expensive than the others in their category. They hold high prices, but they also give you high-quality products for it. The money you spend on their products will be worth what you get.
Where To Buy Their Products?
Robot Coupe products can be found on amazon.com. I recommend you to buy their products there. Amazon often gives you big discounts and amazing offers with products they sell. On the Robot Coupe official web site, you can find a catalog with the products and see what they offer, but you can buy their products on Amazon.
Warranty And Customer Service
Robot Coupe has strict terms for the warranty. They have a whole list on their web site. There you can find all of their products, the coverage, and its specification. All the repair parts and extra accessories have 90 days of warranty. You can also find all the cases when the warranty does not apply.
Top 2 Robot Coupe Juicer Reviews
Robot Coupe J100 Ultra Review
Powerful And Efficient Motor
Robot Coupe J100 ultra juicer has a motor that works at a speed of 3000 RPM. Because of its speed, this juicer makes less oxidation. J100 ultra has a resilient commercial-grade motor that has 1000W. Its motor makes less noise and it will fit perfectly in your kitchen.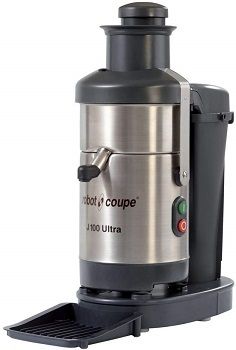 Extra Wide Feeding Chute
Robot J100 ultra juicer has a feeding chute that is 79mm wide. With it, you will reduce the preparation time. You do not have to waste more time slice or peel fruit or vegetables. Robot Coupe J100 ultra can fit whole fruit and vegetables into this wide chute.
Easy Cleaning Of Removable Parts
Robot Coupe Juicer J100 has parts that can be removed easily, without any special tools. Robot juicer J100 has a centrifugal juicer basket that can be removed. You can clean it very easy just by rinsing it under the water or putting it into the dishwasher.
Large Space For Containing Juice And Pulp
Robot Coupe Juicer J100 has a large pulp collector of 7.2 liters. It has translucent container slots that come right under the ejector and prevent the splashing of the pulp. Robot Coupe J100 ultra has a spout of 256 mm which is the perfect height for placing the jug container under it.
Two Ways Of Using This Juicer
Robot Coupe J100 juicer has two ways of containing pulp. The first way of containing the pulp is to put the ejection chute and the pulp can go directly into the bin under the worktop. The second way is to use the 7.2-liter translucent pulp container and send the pulp there.
Why Buy This Product:
1000W of power
Large capacity for juice
Wide feeding chute
Silver grey color
Robot Coupe J80 Review
Quiet Heavy-Duty Motor
Robot Coupe automatic juicer J80 ultra has a 700W motor. It is very quiet and works at the speed of 3000 RPM. This juicer has a stainless steel motor base. It has a 1.25 hp heavy-duty motor. It is a very powerful motor that can make your juice in just a few seconds.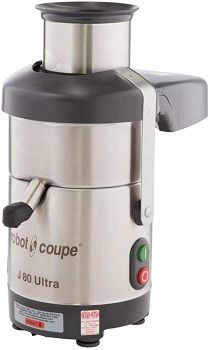 Auto-Feed System
Robot Coupe J80 ultra juicer has an extra-wide feeding chute that can fit whole fruit and vegetables. You do not need an extra pusher for ingredients because the system does it. This chute has a diameter of 79 mm. With this system, you can continuously put your ingredients in the chute and quickly make your juice.
Juicer Characteristics And Parts
Robot Coupe juicer J80 has a polycarbonate lid, 2.5 mm grating disc, removable stainless steel filter basket, bowl with a no-splash spout, drip tray and a 6.5 waste container. It comes in silver or black in color. J80 ultra juicer also has a 162 mm high spout that is ideal for a cup or a bottle.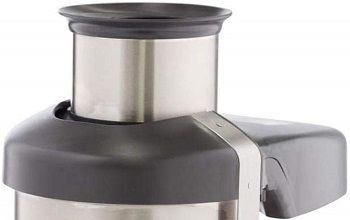 Dishwasher Safe Juicer
Robot Coupe J80 ultra juicer is made from stainless steel. The material that it is made of makes this juicer dishwasher safe. You can easily clean its removable parts in the dishwasher. You can also wash it easily by rinsing its parts under the water.
Warranty And The Level Of Coverage
On the Robot Coupe official web site, you can find a PDF file that says everything about the warranty. When you buy a J80 ultra juicer, you get one year of warranty. The level of coverage is Carry in Service. You can read there which are the cases when the warranty does not apply. One of those cases is shipping damage.
Why Buy This Product:
700W of power
1-year warranty
Dishwasher safe
No-splash spout
Auto-feed system
Conclusion: Why To Buy A Robot Coupe Juicer?
These two juicers are ideal for your kitchen. Robot Coupe J100 Ultra is ideal because it has a powerful motor of 1000W and two ways of containing pulp. Robot Coupe J80 juicer is similar to the J100 ultra juicer and has an auto-feed system that reduces preparation time. These juicers are also great for use in restaurants, coffee bars or hotels.
If you are looking for more information about the best masticating juicers, read an article about the best masticating juicer. In case you want to know more about juicers for celery, read this: juicers for celery. If you want to buy a cheaper juicer, check this out: the best cheap juicer.