Are you interested in Breville juicers?
Then keep reading!
In this post, you will learn more about Breville and what they offer, as well as read detailed reviews on 5 different models of juicers. Maybe this helps you decide which one to buy for yourself.

Breville Juice Maker And Juicers
About The Breville Brand
The Breville brand started in 1932., in Sydney. Since then, they have expanded their reach all the way to the USA and further. They sell a wide range of kitchen appliances.
What Do They Offer?
Breville offers a wide variety of small kitchen appliances for almost every purpose. They sell coffee machines, ovens, juicers and food processors, but also mixers and cookers and bread makers, and they also produce ice-cream makers.
Where To Buy Breville Juice Makers?
You can find Breville juicers for sale, as well as other Breville products, through online retailers like Amazon (amazon.com). These sites let you read reviews that others have written about their experience with the product you are interested in.
Breville Juicer Price Range
Breville juicers are in the medium-cost range among kitchen appliances and juicers in particular. They can usually be found for several hundred US dollars per item.
Customer Support
They offer you the chance to talk to customer support via phone call or live chat, and they even memorize your unsolved cases and let you update them with new information as it changes.
Best 5 Breville Juicers Reviews
Breville BJE200XL Compact Juice Fountain
Advanced Juice Extraction
The titanium-reinforced disc and the Italian quality filter basket with micro mesh are made from stainless steel, and they offer you optimal juice extraction while preserving nutrients.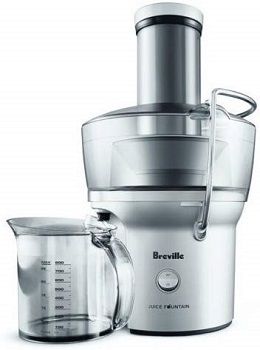 700 Watts
Considering the 700-Watt motor runs at 14,000 RPM, you can count on maximum juice extraction every time. The high operating speed lets you enjoy your juice faster and with less effort.
Foam Separator
The built-in foam separator in this Breville BJE200xl juice fountain ensures you will get clean, clear juice without it foaming up in the glass. This also ensures you get more juice into the juice collecting container instead of froth.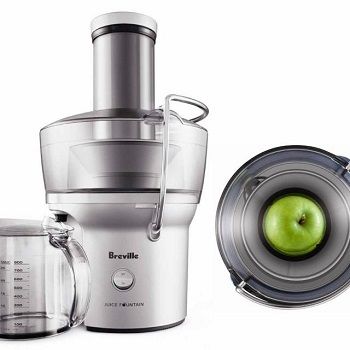 Safety Locking Arm
The Breville compact juicer has a safety lock that blocks the juicer from working unless it is properly assembled and installed. This prevents accidents from occurring.
Built-In Pulp Collector
The pulp is collected into a container within the footprint of the device itself, which conserves space on the countertop. The Breville BJE200xl is compact and durable. Its dimensions are 10.5 x 10 x 16 inches, and it weighs 9.7 pounds.
Short description:
700 Watts
built-in pulp collector
compact
stainless steel parts
safety lock
Breville JE98XL Juice Fountain Plus Juice Extractor
Wide Feeder
The wide feeder tube mouth allows you to insert large pieces of fruit into the juicer without cutting them first. The chute width is 3 inches. This juicer's dimensions are 13.2 x 16.5 x 18.2 inches, and it weighs 9.92 pounds.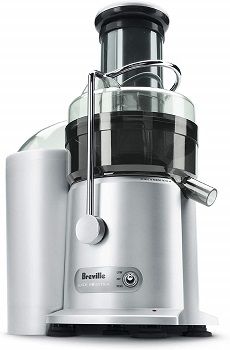 850 Watt Motor
The Breville juice extractor has a powerful 850 Watt motor that enables efficient juicing. This juicer also has protection overloading, which prevents unsafe operation.
Stainless Steel Cutter
The stainless steel cutting disc and the Italian-quality micro-mesh filter ensure good juice extraction while preserving most of the nutrients from the ingredients.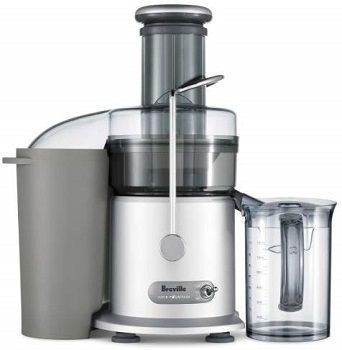 Dishwasher Safe
This Breville juicer can be disassembled for easier cleaning, like the juice jug and filter basket, and there is also a cleaning brush included for your convenient cleaning of all working parts.
2 Speeds
Breville JE98xl juicer has a click switch that lets you choose between two operating speeds of juicing. This means you can set the appropriate juicing speed according to the ingredients you are using.
Short description:
850 Watts
stainless steel cutter
2 speeds
dishwasher safe parts
Breville 800JEXL Juice Fountain Elite Juice Extractor
1000W Power 
Breville juice fountain elite has a powerful 1000-Watt motor that enables it to efficiently squeeze out the ingredients for a great amount of juice, and you can choose between two speed settings.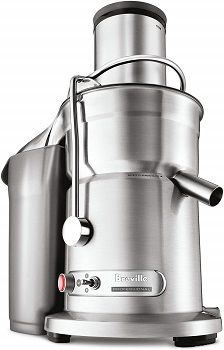 2 Speeds 
Breville juicer has 2 speed setting you can choose between: low and high. It is important to note that the motor should not be running at high speed for longer than a minute. You can use the emergency off button to turn off the juicer.
Materials And Dimensions
This Breville big squeezing juicer has a die-cast steel housing, a titanium-plated cutting disc, and stainless steel micromesh filter. The dimensions of this juicer are 16.5 x 9 x 16 inches, and it weighs 17.2 pounds.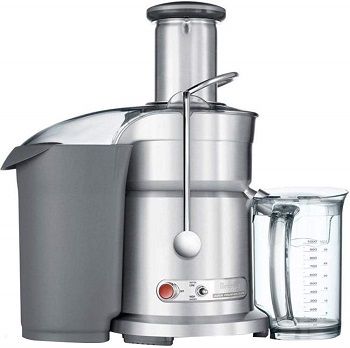 Wide Feeder
The 3-inch wide feeder chute saves you preparation time because it lets you use large pieces of fruit and vegetables, or even whole ingredients.
Safety Notice
Besides not letting the juicer run for longer than a minute at a time, you should let the motor rest for at least one minute before you start juicing again. This prevents overheating and potential damage to the device.
Short description:
1000 Watts
2 speeds
safety arm
wide feeder
wide chute
Breville BJE430SIL Cold Juice Fountain
Breville cold press juicer
The cold juicing technology preserves nutrients from the ingredients (like vitamins, minerals, enzymes, fibers, etc.), whereas in the conventional centrifugal juicers the nutrients get damaged and are less valuable to your health.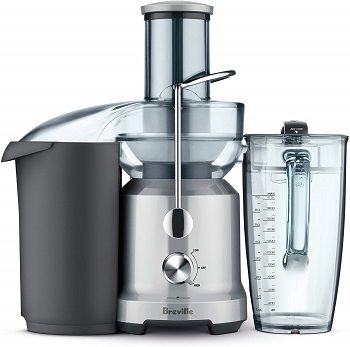 Storing Juice Pitcher
Breville juice fountain cold juicer comes with a large juice collector pitcher, which has a handle and a cover lid, and you can use it to store the fresh juice in the refrigerator for several days.
Wide Chute
Your juicing preparation time is shortened by not needing to cut up the ingredients into tiny pieces. With a wide feeder chute, you can use even whole fruits and vegetables, or at least large pieces. This juicer's dimensions are 14.5 x 10.5 x 17.6 inches, and it weighs 11 pounds.
Dishwasher Safe
Some removable parts can be put into the dishwasher for easier cleanup. The juicer cover, filter bowl, disc, and the juice pitcher are all dishwasher safe.
2 Speed Settings
With 2 speed settings available, you can choose between the low speed (1300 RPM) for softer fruit and leafy greens, and the high speed (6500 RPM) for harder fruits and vegetables.
Short description:
cold press juicing
2 speeds
dishwasher safe parts
pitcher with lid
Breville 800CPXL Citrus Press
Universal Juicing Cone
One size fits all in this case, where the one juicing cone can be used for all citrus fruit sizes, from small limes to large grapefruits. You won't have to worry about changing the cones.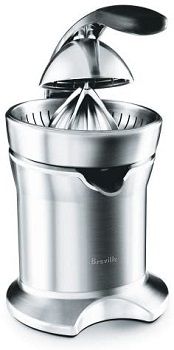 2 Pulp Filters
Breville citrus juicer has 2 stainless steel filters that let you control the amount of pulp that gets included with the juice and the rest is collected in the strainer.
Dishwasher Safe
Some working parts of this Breville juicer are dishwasher-safe like for example the juicing cone can be put in the dishwasher, but it is best if you only put it on the top rack.
Stainless Steel
This Breville citrus juicer is encased in professional-grade brushed stainless steel. This compact juicer's dimensions are 11 x 18 x 9 inches, and it weighs 11.02 pounds.
Lever Operation
The juice pressing arm ensures downwards pressure at all times, thanks to its ergonomic design. The safety switch keeps the juicer turned off until the arm is lowered and enough pressure is applied.
Short description:
stainless steel filters
stainless steel housing
ergonomic lever arm
universal juicing cone
Conclusion: Which Breville Juicer Is Best To Buy?
In my view, the best Breville juicers you can buy are the Breville 800JEXL Juice Fountain Elite and the Breville 800CPXL Citrus Press. The Breville citrus press is a citrus juicer that has an ergonomic pressing arm and stainless steel components. The Breville juice fountain is a compact 1000W juicer for fruits and vegetables, that is made from good quality materials and has 2 juicing speeds. The Breville elite juicer also has a safety lock and wide chute.
For more information on similar kinds of juicers, you can read this post on citrus press juicers or this one on electric juicers. If you want to learn more about juicers in general, read this post on juicer machines.