Are you looking for a small juicer?
Then this post is for you!
Read this post to learn more about mini juicers and some of their types that will fit into any kitchen, and maybe even travel bag. Read the detailed reviews on some popular models to find the one that you like most.
What You Need To Know About Small Juicers?
What Are Small Juicers?
Mini juicers are types of juicers that have smaller dimensions than most regular average juicers. They are usually more compact and have fewer removable extra parts that could make them clunky and impractical.
What Makes Them Good?
Small juicers can be placed on any kitchen surface or table, as they take up less space than normal juicers, and they can be stored all the more easily in between uses, even in small kitchens and limited storage spaces.
Where To Buy Them?
You can find all of the items listed below on Amazon (amazon.com). Online sellers like this one let you see the reviews that the previous buyers have written about the device you are interested in. This lets you get more information on the product before you order.
Portable Juicers
Mini electric juicers come in some variety of shapes and sizes, but there are those that are very small and compactly shaped that they fit into handbag and backpacks. Some even operate on a rechargeable battery, so that you can use them anywhere on the go. Some models double as a bottle juice container.
Mini Juice Blender Price
Small juicers usually cost under 100 US dollars, though the price can get steeper, depending on the type and brand of the product. But since they are small, they are made from less material and smaller electromotors, and so it makes sense that they cost less.
Best 5 Small Juicers Reviews
Best Small Electric Juice Extractor
Petolar USB Juicer Cup Fruit Mixing Machine
Various Colors
It comes in 4 different pastel colors: green, blue, purple, and pink. The model is the same in all cases, with all the same specifications, only the color of the outside of the device is different. This enables you to choose the one you like most for yourself.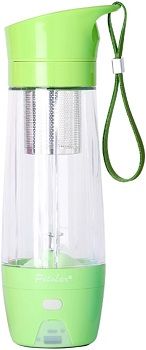 Rechargeable Battery
This mini automatic rechargeable juicer is battery operated. The 4000mAh lithium-polymer battery can be recharged via USB, and it can make juice 4 to 5 times on full battery. The juicer doesn't work while it is being charged, and it takes 3 hours to fully charge it.
Food-Grade Materials
The best juicer for small kitchens is made from quality BPA-free materials. Food-grade PP lid, food-grade Tritan body, food-grade silicone seal, and 304 stainless steel blade with cutter teeth. Even the on/off button is food-grade ABS. You cannot wash it in the dishwasher because of the battery and ports.
Pleasant Design
This device comes to you in the form of a transparent bottle with base and lid with a string for portability. On the bottom of the bottle, there is a small cutter blade, powered by a motor and battery in the base. The USB ports have a protective cover as well.
Dimensions And Power
This bottle-shaped juicer weighs only 1 pound, and its dimensions are 3 x 9.8 inches. The volume capacity is 14 fluid ounces. The power input/output is 5V, 1A, and the motor operates at 23000 RPM, which is pretty powerful for a small portable juicer.
Pros:
modern design
portable and convenient
strong motor
wireless & rechargeable
safe materials
4 colors available
Cons:
doesn't work while charging
not dishwasher safe
Best Small Electric Juicer
Breville BJE200XL Compact Juice Fountain
Dishwasher Safe
This juicer can be disassembled for cleaning, and the removable parts are dishwasher safe. This means you can save yourself some cleanup time by simply placing the dishwasher safe parts onto the top rack of the dishwasher and let it do its work for you.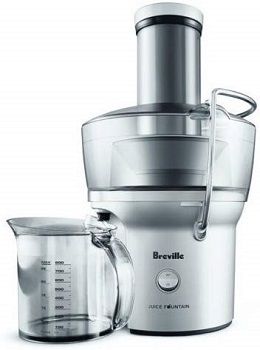 Quality Materials
The juicing parts are made from quality materials. The cutting disc is made from stainless steel and reinforced with titanium,  and the Italian-made micro-mesh is made from stainless steel as well. They will not rust or bend even with frequent use.
Design And Dimensions
This juicer is compact and has a narrow footprint so that it takes up less space on the table or countertop. Its dimensions are 10.5 x 10 x 16 inches, and it weighs 9.7 pounds. This juicer only has one juicing speed and the on/off button switch.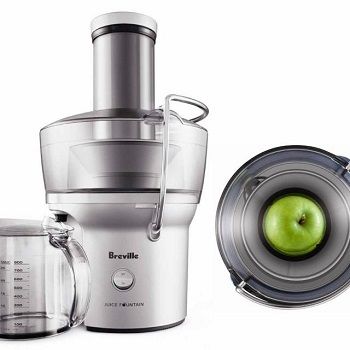 Juicing Power
Equipped with a 700-Watt motor, this juicer can process most ingredients, even harder fruits and vegetables. The juicer operates at 14,000 RPM to ensure maximum juice extraction from the ingredients.
Accessories And Extras
This juicer also comes with a 1.6-quart pulp container and a cleaning brush to ease your cleanup. The wide feeder lets you use large pieces of fruits to save cutting time. You will also get a juice collector jug with handle and lid with a froth separator.
Pros:
quality materials
stainless steel juicing parts
accessories
strong motor
locking arm
Best Small Juice Extractor
Deerma DEM-NU08 Portable Electric Juicer
Wireless And Portable
This mini juicer is light and portable and battery-operated. The battery can be recharged via micro USB cord, making it possible for you to take it out again with you wherever you want and juice on the spot.

Power And Battery
This juicer has a little less than 750 Watts of power, which is sufficient to process all kinds of ingredients, even harder fruits and vegetables and roots and herbs and leafy greens. Simply recharge the battery when it empties.
Easy To Use
When you want to juice, simply press on the power button, and release it when you want to stop. To remove the juicing head (the part with the blade) just unscrew and screw on the lid instead to take the cup with you wherever you want.
Safe Materials
This juicer is made from safe food-grade materials. The housing is stainless steel, and the container is made from PCTG, which is the same material that baby bottles are made from. The 304 stainless steel blade ensures efficient juicing, and the PP covers are here to keep your juice safe.
How To Clean?
This mini juicer is easy to clean and it will take you only a few minutes. It is also important to rinse the parts quickly after juicing, after every use, to prevent clogging and jamming. This juicer cup can contain a large amount of juice.
Pros:
elegant design
separate lid
powerful motor
rechargeable
Cons:
not for dishwasher
needs immediate cleaning
Best Mini Portable Juicer
Joyoung JYL-C902D Wireless Portable Blender
Stong Mini Juicer
This small juicer is in fact a blender, and its 7.4 V motor operates at up to 20,000 RPM, which is impressive for a small device such as this. The motor makes it one of the fastest juicers out there.
Portable And Small
You can use this blender in places like gyms, workplaces, picnics, or anywhere on the go. You can make juices, smoothies, milkshakes, protein shakes, and many others with this one blender juicer.
Stainless Steel Blades
This juicer has stainless steel cutting blades, which means the blades will stay sharp for a long time, and they will not rust no matter how much you use the device and how often.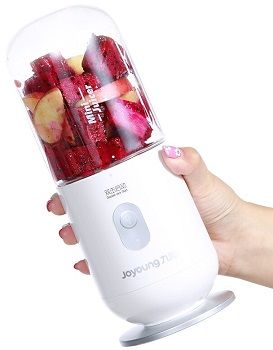 Battery And Recharging
The battery needs to charge for 4 hours after it is empty. When it is full, you can use this device several times for juicing before it empties out again. You will need to use a USB cable to recharge this device, and one is included with the purchase.
Safe And Silent
This juicer is made from food-grade materials, so you don't have to worry about any harmful chemicals. As far as volume capacity is concerned, it can hold 1.4 cups of juice at once. It produces low noise and it is easy to rinse out, which makes it practical for use anywhere.
Pros:
small
rechargeable
easy to clean
silent juicing
Cons:
blender design
no bottle part
Best Small Juicer For Celery
Philips HR2860 Mini Fruit Juicer Blender
2 Mills
This juicer has a mill for wet ingredients and a mill for dry ingredients, so you can customize to make whatever it is you want to make with this juicer blender. This is not something you often find with juicers or blenders.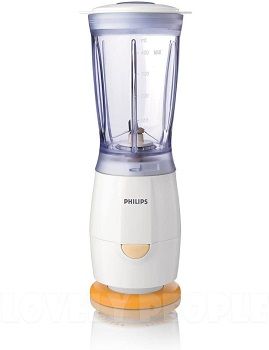 2 Jars
This juicer also comes included with 2 jars with lids, so that you can use them to collect your juice and maybe even share it. The volume capacity of the blender is 1.7 cups, and the capacity of the jars is 0.8 cups.
Power
This blender has a motor with 200 Watts power, and that is sufficient to process most fruits and vegetables, especially the softer ones. You should still be careful when trying to use very hard ingredients, because they may jam the device.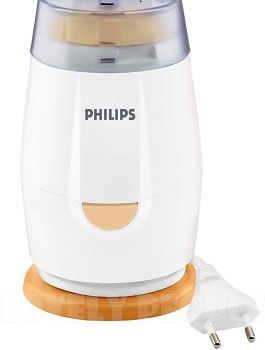 Practicality
This juicer/ blender has a cord storage option, which allows you to use the slit in the bottom of the base of the device, to wrap the cord around it and therefore prevent tangling and messy storage situations. This device's dimensions are 8.6 x 4.7 x 11 inches, and it weighs 4 pounds.
Pulse Feature
The pulse feature lets you use the juicing and blending option that produces shorts bursts of speed to cut through some of the more complicated ingredients and to prepare special kinds of blends and shakes.
Pros:
cord storage
2 mills
2 cups
pulse feature
Cons:
loud
no battery
larger than others
Conclusion: Which Small Juicer Is The Best?
In my view, the best mini juicers you can buy are the Petolar USB Juicer and the Deerma DEM-NU08 Juicer. The Deerma is a small portable and rechargeable juicer, that has stainless steel blades and 750-Watt motor. Petolar is a small portable rechargeable juicer that doubles as a bottle and has a 700-Watt motor. Petolar also has stainless steel mesh and blades reinforced with titanium.
In case you want to learn more about similar types of juicers, read this post on cheap juicers and this one on electric juicers. For more information on different types and models of juicers, read this post on juicer machines.