Are you interested in the Santos brand of juicer extractors?
Then keep reading!
In this post, you will learn more about Santos juicers, why they are good, and where you can buy them. Here you can read detailed reviews on some of their juicers, and that might help you pick one for yourself.

Santos Juicers and The Santos Brand
Santos Company History
Santos was created in 1954., by Andre Fouquet, and since then it manufactures commercial electrical equipment for coffee shops, bars, juice bars, restaurants, and others. They have separated their products into three separate production lines: fresh drinks, food preparation, and coffee.
Santos Product Reputation
The company has grown since first selling professional coffee grinders and cheese graters to small retailers. Now, 65 years later they continue to develop new and innovative products with respect to the production of motors. Santos products are known to be sturdy and reliable.
Worldwide Distribution
Santos products are manufactured in Lyon, France, but thanks to a network of resellers and importers they are able to spread their product offer on markets worldwide. The company participated in tradeshows and strives to meet the needs of professionals throughout the continents.
Green Technology
The Santos company continues to develop innovative solutions that envelop eco-friendly products and alliances, and they continue to integrate green technologies to meet the needs of their customers while preserving the environment. That reflects in their product engineering, as well as packaging designs and using health-safe materials.
Where To Buy?
Some of the Santos juicers are available for purchase from online resellers like Amazon (amazon.com). All of the products you see in these reviews are available for purchase and will be linked to their amazon page where you can buy them. It is worth noting that Santos juicer price is rather high, where the quality products are priced at several thousand dollars.
Best 4 Santos Juice Extractors Reviews
Santos 11G Classic Commercial Citrus Juicer
3 Removeable Squeezer Cones
Santos classic citrus juicer comes with 3 removable citrus squeezer cones for squeezing different sizes of fruits. The big one is meant for grapefruits, the medium one for oranges, and the smallest one for lemons and limes.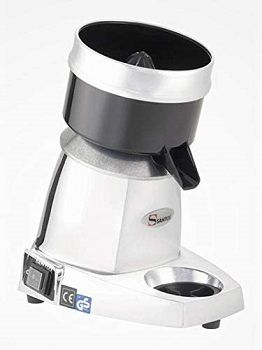 Small Lightweight Juicer
Its dimensions of the Santos orange juicer machine are 11.8 x 9 x 13.8 inches, and it weighs 10.8 pounds. The inclined body facilitates juice outflow that is funneled through the spout and into the container you put under it.
Convenient Juice Spout
This Santos citrus juicer 11G has a wide juice spout set at 5 inches of height, under which you can place all kinds of glasses, jars, mugs, even some smaller bottles, and so on. The polycarbonate dip tray can be removed for cleaning purposes and easily put back, though you can go completely without it, too.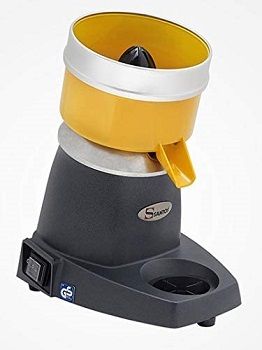 Commercial Citrus Juicer
Heavy-duty induction motor operates quietly and was built to last. It operates with a speed of up to 1800 RPM (60 Hz), so it is able to produce up to 10 gallons of juice per hour. This is good if you need to produce a larger batch of fresh juice on order or if you are in a hurry.
Other Colors Available
This Santos citrus juicer model comes in three colors. It is available for purchase in green, grey and chrome color. The specifications of the models are the same, just the casing color is different.
Short description:
sturdy motor
up to 18 RPM speed
high juice spout
3 removable squeezers
3 colors available
Santos Juicer 28 Juice Extractor
History Of The Product
This model of juicer has been around since 1986. It is sturdy and powerful, but also silent. It is applicable in every place that needs fresh juice from a reliable juice extractor. The device's dimensions are 19 x 23 x 13 inches, and it weighs 52 pounds.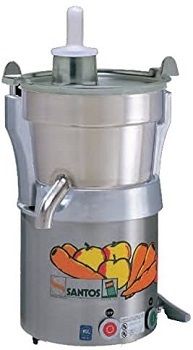 Excellent Juice Yield
The powerful induction motor is sturdy enough to handle frequent and intensive use, which means this juicer will last you a long time. That is mostly due to the fact it is made from stainless steel, which will not rust or get damaged easily. The juicer's output is up to 26 gallons per hour.
Quality Parts
The large filtration basket has a very fine sieve (0.02-inch distance), which offers a fine juice of high quality. This is another trait that makes this model a good commercial juice extractor for bars and such.
Disassembly Key Provided
Included with this device is the special key that allows you to unscrew the basket for when you are washing it, and then screw it back into the device for future use. The juicer comes with a limited warranty in case something is not working as well as it should.
High Spout Placement
The juice output spout is wide and placed high at 9 inches, which allows you to place a tall glass or jug or a bottle under the spout and let the juice flow directly into it, with no mess and cleanup.
Short description:
sturdy and durable
stainless steel
high spout placement
basket key included
Santos 50 Fruit And Vegetable Juice Extractor
Powerful Juicer
The powerful induction motor and sturdy build allow this juicer to be a high-yielding and durable tool for high output juicing. It is also silent enough so you can use it in a bar or restaurant in front of guests.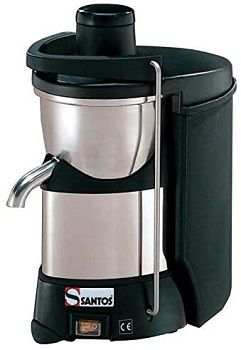 Wide Feeding Chute
The 3.1-inch feeding chute can take larger pieces of fruit without you needing to cut them, which saves you time and effort you would usually need to put into juicing preparations.
Safety Switch
The safety switch will cut off the power to the device motor as soon as it detects the handle is being opened, this ensures the safety of anyone using the juicer and those standing nearby.
Easy To Clean
Santos fruit juicer basket has a very fine sieve which will filter the juice to a high quality. The basket, bowl, and cover can all be removed easily for cleaning, with no tools needed. Santos 50 juicer is available in two colors: black and chrome.
Santos Juicer 50 Price
This model is made mostly of aluminum and stainless steel, which makes it a durable juicer. Its dimensions are 19 x 10 x 18 inches, and it weighs 31 pounds, and the price you can purchase it for ranges between one and a half thousand dollars and two thousand dollars, depending on the retailers and discounts.
Short description:
easy to clean
easy to disassemble
silent and powerful motor
aluminum & stainless steel
wide feeder chute
Santos 68 Commercial Fruit & Vegetable Juicer
Powerful Commercial Juicer
Santos centrifugal juicer has a powerful motor with a 1300 Watts of power, that can run up to 3600 RPM, and is powered by electricity: 100-120 V at 50/60 Hz. This makes for a strong commercial juicer that can produce up to 40 gallons of juicer per hour.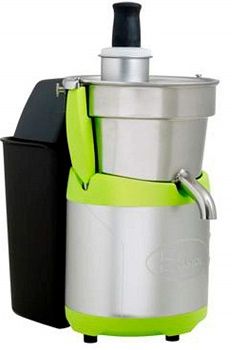 Pulp Bucket
You can order this Santos juicer 68 with or without the pulp container, so make sure you check the right listing while you are purchasing your Santos 68 juicer. Either way, this device comes with a limited warranty on the unit, and with a longer extra warranty for the motor.
Aluminum & Stainless Steel
This juicer is made from cast aluminum and stainless steel. The cover, juice bowl, and blade are all made of stainless steel. This means that ours of use and juicing will not make this device and its parts rusty or stained, and the durable materials are not likely to get damaged easily.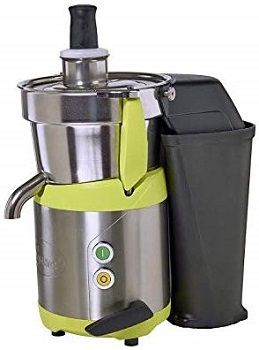 Wide Feeding Tube
The feeding tube is 3 inches wide and can fit most fruits without you needing to cut them, which saves you time and cleanup. You can use this juicer with most fruits, but remember that some fruits need to be pitted to avoid choking hazards and device damage.
Safety Switch
In case the cover comes off during device operation, the safety mechanism will immediately cut the power to the motor, to prevent any accident of a dangerous or messy kind. The device's dimensions are 13 x 22 x 24 inches, and it weighs under 55 pounds.
Short description:
1300 Watts
3600 RPM motor
aluminum & stainless steel
safety switch
high juice yield
separate pulp container
Conclusion: Which Santos Juicer To Buy?
In my opinion, the best Santos juice extractors are the Santos 50 Juice Extractor and the Santos 68 Commercial Juicer. The Santos 50 is easy to disassemble and clean and works silently. The Santos 68 is made from aluminum and stainless steel and has a powerful motor (up to 3600 RPM). The Santos 68 also has a wide feeder chute and good juice yielding output.
If you want to learn more about juice extractors in general, read this post on juicer machines. In case you are interested in various types of juicers, you can read this post on cold press juicers and this one on electric juicers.