Are you looking for a twin gear juicer?
In that case, keep reading.
In this post, you will learn what triturating juicers are, what they do, and where to find them. You can also read detailed reviews on several of the more popular models and decide which one you like the most.
About Triturating Juicers
What Are Tituriating Juicers?
Triturating juicers are a type of masticating juicers that have twin gears augers instead of just one, which is why they are also called twin gear juicers. But they are basically just masticating juicers and operate in the same way, too.
How Do They Work?
They work by squeezing the ingredients (fruit or vegetable or other) by screwing into them with an auger with spiraling screws that fits snugly into the juicing chamber, so that very little room is left for the fruit and it gets squeezed very hard to extract the juice out of it.
Is Stainless Steel The Best Option?
There are not too many models of masticating juicers on the market that have twin augers, but out of those that do, you should probably look for those with stainless steel gears, because stainless steel doesn't rust or break easily.
Twin Auger Juicer Price
Most triturating juicers are in the middle price range, meaning that they usually cost about several hundred dollars, depending of course on the brand and the device itself. However, you can find some sturdier ones, closer to commercial quality, to cost over a thousand US dollars.
Where To Buy Them?
You can buy all of the products listed in the reviews below on Amazon (amazon.com). Websites such as Amazon let you read the reviews and rankings that other users have posted about the device. This helps you learn more information before making a purchase.
Best 4 Twin Gear Juicers Reviews
Best Stainless Steel Twin Gear Slow Juicer
Super Angel Premium Deluxe .316
Stainless Steel
Thanks to the surgical grade stainless steel twin gears and juice extracting screen, the juicing parts (those that come in contact with the juice) will not rust, and they are sturdy and durable enough to last a long time.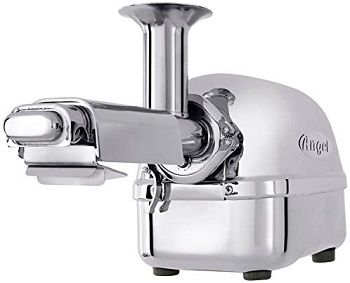 New Model
This model replaces the AJ5500 model, which is updated to fit the new electrical and safety regulations, thanks to the improved mechanisms and materials that make this device even better.
Safety Regulations
This device complies with the U.S. Electrical specifications, as do all its parts, including the motor, the gearbox, the cooling systems, the safety sensors, and the control panels which are upgraded and reinforced.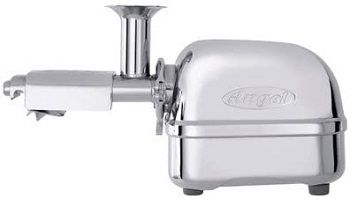 Overload Protection
This juicer is equipped with an anti-jamming system, which allows it to self-regulate speed and adjust it when the sensors detect overloading. This is to prevent the device from getting stuck and overheating.
Dimensions And Speed
Operating at 82 RPM, this juicer is a slow masticating juicer, and does not heat up the juice and preserves the nutrients instead. This juicer's dimensions are 19.5 x 7.8 x 10.5 inches, and it weighs 28 pounds.
Pros:
stainless steel
updated safety
overload protection
Cons:
takes up space
narrow chute
high price
Best Wheatgrass Twin Gear Cold Press Juicer
Tribest Green Star Elite Juice Extractor
Materials And Dimensions
This masticating twin gear juicer has a white exterior casing that is made from plastic, and most of the device is made from plastic as well. This juicer's dimensions are 6.5 x 12 x 19 inches, and it weighs 28.8 pounds.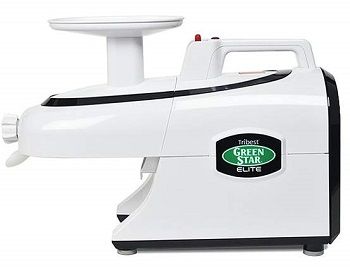 Dual Gears
This model (GSE-5000) has jumbo twin gears for cold press juicing, and it also comes with a special knob for producing juice from soft fruits, to ensure effectiveness in juice extraction.
Automatic Pulping
The automatic pulp ejection feature lets you continuously juice for a while before having to stop and clean up, and it also make s the cleaning easier and faster. Just remember to rest the motor in between juicing.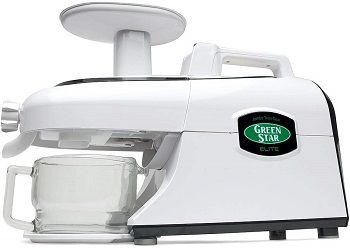 Bio Ceramic
This juicer has bio-ceramic magnetic gears that work together to masticate the ingredients while preserving the nutritional value of the fruits and vegetables and leafy greens that you are juicing.
What Can You Make?
This juicer uses a three-stage process of juicing fruits and other ingredients, and you can use it to make a wide variety of food products. You can make baby food, purees, nut butter, frozen desserts and sorbets, and more.
Pros:
extra nozzle
bio-ceramic gears
pulp ejection
Best Quiet Triturating Juicer
Omega NC800HDS Nutrition Center Juicer
Special Voltage
This juicer is can only be powered by a 110/120V electric socket, which means it is only available for use in North America (Canada & USA). Using adapters for this type of device is not recommended.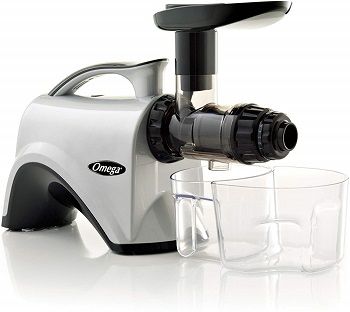 Healthy Juicing
The masticating juicer extracts juice from fruits, vegetables, and leafy greens, preserving the nutrients from the ingredients to produce a good quality juice. The dual-stage process makes it all the more efficient.
Quiet Motor
This juicer produces a low amount of noise while working, which is due to it having a quiet motor. This means it can be used even in quieter places, unlike the regular centrifugal juicers that make a lot of noise.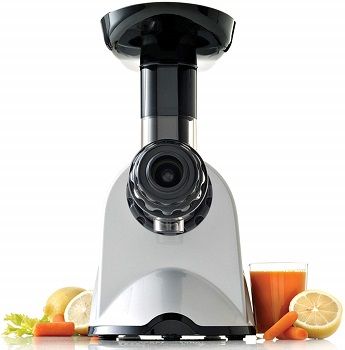 Strong Juicing
The 150-Watt motor can process all softer fruits and vegetables, and leafy greens and herbs, and even some of the medium and harder ones. Just peel the ingredients and remove pits and seeds first.
Speed And Dimensions
This juicer operates at 80 RPM, thanks to the silent motor with gear reduction equivalent of 2 HP motor. This juicer's dimensions are 14.5 x 6.5 x 15.5 inches, and it weighs 20 pounds.
Cons:
plastic
narrow chute
only 110/120V
Best Cheap Twin Gear Masticating Juicer
Green Power KPE1304 Twin Gear Juicer
Fast Results
This juicer operates at 160 RPM, which is faster than most masticating juicers, but still slow enough to spare the juice from exposure to heat and oxidation, thus preserving the nutrients from the ingredients.
Healthier Juice
Thanks to the bio-ceramic magnetic twin gears, the masticated juice can be preserved for a longer time, you can even keep it in the fridge for up to 3 days and it would still be good.
Manual Included
Included with the purchase of this device, you will also get an operations manual and DVD, to help you learn about how to handle your new juicer, and a multi-purpose kit to help you with maintaining it.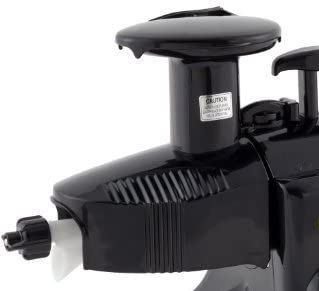 Quiet Operation 
This juicer produces only about 60dB while it is working, which makes it one of the quietest juicers on the market. You can use it in spaces that would not accommodate a regular centrifugal juicer.
Juice Quality
This twin gear juicer produces juice with less pulp and with less foam. You can also use it to make other things, like baby foods and desserts. This device's dimensions are 16 x 11.5 x 7.5 inches, and it weighs 20.8 pounds.
Pros:
fast juicing
quiet motor
manual included
Conclusion: Which Twin Gear Juicer To Buy?
In my view, the best triturating juicers you can find are the Tribest Green Star Elite Juicer and the Super Angel Premium Deluxe .316. The Super Angel is made from stainless steel and updated safety features. The Tribest comes with an additional nozzle and has bio-ceramic magnetic gears. The Tribest also has a continuous pulp ejection feature.
For more information on this and similar types of juicers, read this post on masticating juicers and this one on cold press juicers. If you want to learn more about different types of juicers, read this post on juicer machines.