You probably heard about Waring blenders, did you?
Well, let me tell you more about them!
In this post, you can read about the Waring brand and what they have to offer. You can also read detailed reviews on 5 different models of waring juicers. Hopefully, this will help you find the best waring juice extractor for yourself.
What Should You Know About This Brand?
Who Are They?
The Waring company juice device production started in 1937. when the company was established and the first blender introduced. Over the years they expanded their range with better controls, and more colors and accessories. The sales reached over a million in the following years and they started producing more appliances and varied types of blenders. The production still takes place in Pennsylvania, America.
What Is Their Product Range?
Waring produces benders for households, but also professional ones for commercial and industrial purposes. They produce professional appliances for foodservice and laboratory industries, such as heavy-duty grills and fryers, as well as large-volume food processors and blenders.
Waring Juicer Price Range
They cover pretty much every range, because of their product diversity. You can buy most of their devices online, on Amazon (amazon.com). You can find a lot, from the mildly costly simpler ones to very costly professional appliances. It all depends on what you are looking for, really.
Where To Buy?
You can look up the company product page, but most products are available for online purchase with delivery, like Amazon (amazon.com). Under every reviewed model you can find a link to their amazon page where you can buy it if you like it.
Customer Support
In case you ever have a problem with one of their products, feel free to contact the Waring customer service support via phone or e-mail, or through their official web page, which also directs you to the nearest service location for your product.
Best 5 Waring Juicer Extractor Reviews
Waring Pro JEX328 Health Juice Extractor
Waring Health Juice Extractor
This juicer has a die-cast base that stands stable on top of counters, which will not be scratched thanks to the juicer's cushioned feet that minimize vibrations and make the use a little more silent. You can make any combination of fruits and vegetables you like, creating your own recipes in this way, or you can look online for recipes and recommendations.
Stainless Steel
The blade and the body are made from stainless steel, which means you won't have to worry about them rusting over time when you keep using and washing them. The device disassembles for easy and practical cleaning, and some parts are dishwasher safe. This device's dimensions are 14.2 x 12.5 x 10.8 inches, and it weighs 8 pounds. That means it is easy to transport.
Dishwasher Safe
The strainer, juice collector, the pulp collector, and lid, are all dishwasher safe. The unit disassembles easily for washing, and it is easy to put back together after you are done with the cleaning, and the outer body of the juicer can be cleaned with a sponge and some mild soap and water.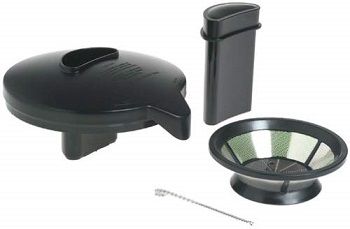 Juicer Effectiveness
Although this juicer is made by a high-quality brand, this particular model might not be the best solution for people who like to use vegetables, leafy greens, and fruits with less juiciness. Some customers have reported that this device did not use all the juice in the ingredients, and they recommend re-juicing the pulp for more juice output.
High-Speed Motor
This 400 Watt motor may not be very silent, but its high speed makes the juice extraction easy. This model also comes with an instruction book and a limited warranty. Note that the juice filters are sold separately.
Short description:
400 W motor
detachable parts
stainless steel housing
cushioned feet
Waring Commercial JC4000 Heavy-Duty Citrus Juicer
Waring Pro Citrus Juicer
The white polycarbonate housing is easy to clean or just wipe off with a cloth. The casing is sleek and has minimal moving parts, including the on/off switch located at the base of the device. Its dimensions are 10 x 10 x 19.5 inches, and it weighs 18.12 pounds.
High Power
This juicer has a quiet heavy-duty motor with direct-drive and that works at 1800 RPM, for great juicing efficiency and fast results. The dome included reduces splashing, and the reamer in universal size is suitable for all citrus fruits types and sizes.
Easy To Clean
This Waring citrus juicer has a stainless steel juice collector and durable polycarbonate reamer and dome, which are all are removable safe to wash in a dishwasher. Considering the materials, you shouldn't have to worry about rust any time soon.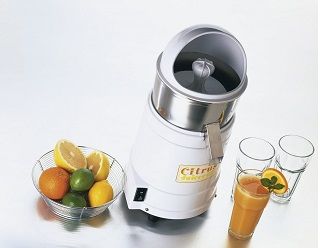 Vibration-Dampening Feet
The sturdy polycarbonate motor housing has vibration-dampening feet, which means your counters will not be damaged by prolonged use of this juicer, and the juicer itself comes with a limited warranty.
Convenient Design
The stainless steel juice collector has a large spout which is located on the same side as the opening on the squeezing dome of the reamer, so you can access your juice and your glass very easily from the same side, and observe how much juice is pouring out during squeezing.
Short description:
1800 RPM
easy to clean
vibration-dampening feet
stainless steel juice collector
Waring Commercial BJ120C Citrus Bar Juicer
Waring Commercial Bar Juicer
The commercial citrus bar juicer has a heavy-duty die-cast base, which provides it with stability on the counter. The compact design means it won't take up too much space as you use it or just leave it standing for future use. This juicer's dimensions are 7.2 x 7.2 x 9.2 inches, and it weighs 6.1 pounds.
Quick Juicing
With this juicer, you can produce large amounts of healthy citrus juice in a short time. It can squeeze up to 120 oranges into juice in just one hour. You might appreciate this device if you are busy and want a juice without waiting too much. This juicer also comes with a 1-quart serving container.
Dampening Feet
Fore stable and quiet operation, this device features vibration-dampening feet. Thanks to them, your counters will not be damaged by this juicer's prolonged operation. This also makes the use a little quieter.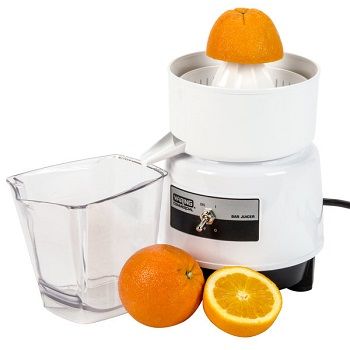 Where Can It Be Used?
You can use this bar juicer in restaurants, bars, hospitals, cafeterias, hotels, and so on. It requires 120 volts for powering, 0.5 amps, 60 hertz and is ETL approved. This juicer also comes with a limited warranty.
Use And Cleaning
The universal reamer is of a suitable size for any citrus fruit, from lemon to grapefruit. Another useful feature is the detachable juice bowl and reamer, and they are also dishwasher safe. The cleaning is easy and simple, and just need to set it back together once you're done.
Short description:
fast juicing
vibration-dampening feet
dishwasher safe parts
natuknica
natuknica
Waring 6001C Juice Extractor
Waring Pro Juice Extractor
Waring 6001C juice extractor features a fast induction motor for fast juice extraction, and the stainless steel extraction basket is balanced with precision for the juicer's efficient performance. This device also comes with a limited warranty.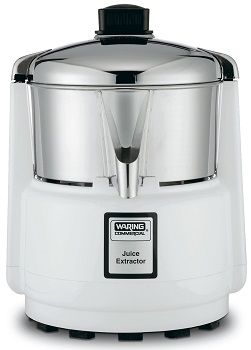 Fast Extraction
This juicer has a quick and fast-rotating induction motor. It is capable of working at 3600 RPM. And the quality stainless steel extraction cutting disc separated pulp from the juice for faster and cleaner juice flow speed.
Pulp Free
This juicer effortlessly produces large quantities of healthy pulp-free juice, and you can extract it from fruits, vegetables, and herbs alike. The extraction cutting disc will separate the pulp from the juice, and you can get a clean soft juice.
Where Can It Be Used?
The durable polycarbonate motor housing is resistant to scratching and breaking and is easy to wipe and clean. This juicer can be used in restaurants, bars, juice bars, or health centers. Its dimensions are 10.2 x 10.2 x 12.5 inches, and it weighs 11.1 pounds.
Easy Cleanup
This juicer contains a stainless steel extraction basket which is easy to clean and is dishwasher safe, and the polycarbonate housing is easily cleaned and wiped with a cloth. You can use mild soap and water on a sponge to clean this device from the outside.
Short description:
3600 RPM
pulp separating disc
dishwasher safe
Waring Commercial JE2000 Heavy-Duty Juice Extractor
Waring Professional Juice Extractor
This heavy-duty juice extractor is made from stainless steel and has an ultra-fast high-performance motor with 16,000 RPM speed. The die-cast aluminum housing looks more elegant than its plastic counterparts, and the juicing parts are made from stainless steel, for premium quality and performance.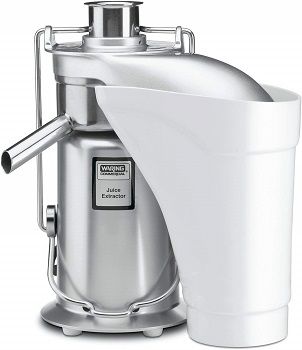 Heavy Duty
This juicer was made for a long life of heavy-duty work, as well as easy maintenance and cleaning. The solid metal housing and parts ensure durability, and the cast base makes it stable and safe to use on a countertop. Its dimensions are 7.5 x 7.5 x 17 inches, and it weighs 15.84 pounds.
Where Can You Use It?
You can use this high-speed Waring juice extractor for high-volume demands like in juice bars, bars, restaurants, health centers, cafeterias, etc. The extreme speed of 16,000 rpm increases the juice's efficiency, and that means you can make a lot of juice in a short time. It comes with a limited warranty.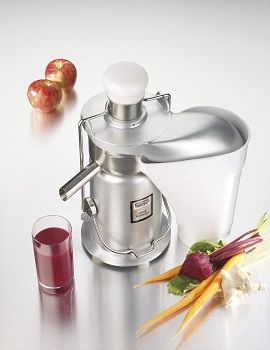 Pulp-Ejection System
The pulp-ejection system will enable you uninterrupted use, as it automatically separates the juice and the pulp, for maximum efficiency and extraction. The removable pulp collector discards excess pulp into a detachable polycarbonate container.
Easy Cleaning
The polycarbonate pulp container is dishwasher safe, and the aluminum housing can be easily cleaned or wiped with a cloth. It would be better if it was made of stainless steel, but the weight of this device is already sold and akes for a stable and durable juicer.
Short description:
16,000 RPM
aluminum housing
pulp-ejection system
heavy-duty
Waring Pro Juice Extractor Parts
It is usually best to replace the broken or missing parts of the device with another of the same type and from the same manufacturer. For service and repairs, you can contact the Waring customer support and service, and they will help you find the closest repair shop for your device. However, you can find some replaceable parts online as well. Thankfully, in the case of some Waring juicers, the working parts are easily detachable for cleaning purposes, which will allow for easy replacement as well.
Conclusion: Which Waring Juicer Is The Best?
In my opinion, the best Waring juicers are the Waring Commercial JE2000 Juice Extractor and the Waring Pro JEX328 Health Juice Extractor. The commercial JE2000 has an impressive induction motor capable of 16,000 rpm, which makes for fast and easy juicing. The Pro Jex328 is good for home use, as it is made entirely of stainless steel, and has cushioned feet. Also, the Jex328's almost all usable parts are detachable and dishwasher safe, for easy cleaning.
For more information on juice extractors, read this post about juicer machines. If you want to learn more about various types of juicers, you can start by reading these post on electric juicers, and this one on masticating juicers.