Are you interested in Cuisinart juicers?
Then, please, keep reading.
In this post, you will learn more about Cuisinart and their juicers, and you will be able to read detailed reviews on some of their more popular Cuisinart juice extractor models.

Cuisinart Juicer Makers And More About Them
How Did Cuisinart Start?
After the first food processor was introduced to America in 1973 by the late Cuisinart founder, Carl Sontheimer, the culinary experts hailed it a revolutionary appliance that makes food preparation and cooking fine healthy food much easier.
Cuisinart Achievements
This brand prides itself on working with numerous charitable and educational organizations, as well as having won some awards for their products, like Good Design Awards, the Gold Hermes Award, and the Gold Summit International Award, and others.
What Do They Offer?
Cuisinart offers a wide choice of products from their kitchen equipment, from stove to tabletop. The offer various appliances, cookware, bakeware, cutlery and dinnerware, as well as grilling equipment, and other tools and accessories for cooking and food preparation.
Where To Buy Cuisinart Juicer?
You can buy Cuisinart products through online retailers or instore, worldwide. If you choose to go through online retailers such as Amazon (amazon.com), you will have the added benefit of reading the reviews and ratings that other users have placed on the device you are interested in. This lets you know more about the device, and perhaps warn you of some hidden benefits of flaws you did not expect.
Cuisinart Juice Extractor Price
Depending on the product you have chosen to buy, the prices vary from model to model, but they generally fit into the lower price range for juicers, going on under and up to a hundred US dollars per juicer, which is not so much considering most juicers cost more than that.
Best 4 Cuisinart Juice Extractors Reviews
Cuisinart LPP Little Pro Plus Juicer
Simple To Use 
The Cuisinart juice extractor is simple to use even for beginners, so you may consider it entry-level food processor that can do more than most entry-level simple devices usually can.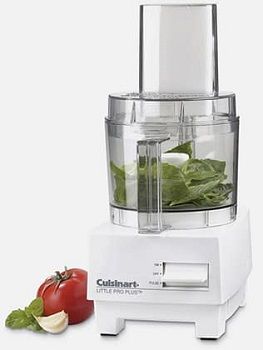 Consistent And Reliable
With this Cuisinart Little Pro Plus juicer, you can rest assured you will get equally good results every time. The direct-drive motor has precise torque and enables consistent and fat food processing for reliable results.
Stainless Steel Blade
The stainless steel chopping blades and disc cutting blades ensure longevity and efficiency over a long time, staying sharp and being less prone to damage than most other materials. This juicer's dimensions are 9.5 x 5.4 x 12.8 inches, and it weighs 10 pounds.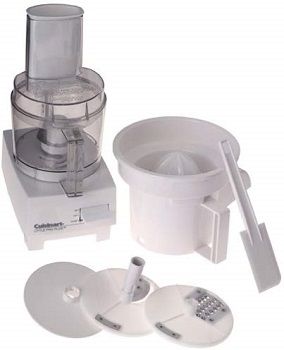 Cuisinart Juicer Blender
This compact little device comes with several additional parts and accessories. You can use it with just the blades for a mini blender variety, use it with one of 3 cutting discs for shredding, or put on the citrus juicing cone attachment to turn it into a citrus juicer.
3 Juicing Cone Sizes
The citrus juicing attachment has 3 juicing cone sizes that can be exchanged, depending on the size of the citrus fruits you want to use and juice. You have a small cone fro limes, medium for oranges, and the big one for grapefruits.
Short description:
multi-purpose appliance
2 citrus juicing cones
simple to use
compact
Cuisinart CJE-1000 Die-Cast Juice Extractor
Big Pulp Container
You don't have to worry about having to empty this pulp container very often, as it has a 67-ounce (2-liter) capacity. Enjoy continuous juicing for a longer time, and then simply remove the pulp container, empty it and clean it with water before you put it back.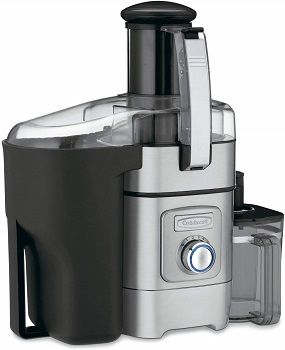 1000 Watts
The powerful 1000-Watt motor is strong enough to process even the hardest fruits and vegetables for a good juice yield every time. The Cuisinart juicer CJE-1000 even works quietly, as to not disturb anyone around you when you decide to use the device.
Easy Clean-Up
All removable parts are easy to disassemble, sou that you can easily put them through the cleaning process, and they are dishwasher safe, all of them. Note that you must never expose the motor to water, so just use a cloth for wiping down the juicer housing. A cleaning brush is included with this device.
Materials And Dimensions
This Cuisinart 5-speed juice extractor has die-cast stainless steel housing, with an elegant finish, and it ensures durability and sturdiness. The stainless steel will not rust, and it will be resistant to damage and scratching for years to come. This juicer's dimensions are 15.3 x 11.8 x 19 inches, and it weighs 9 pounds.
5 Speed Settings
This Cuisinart CJE1000 juicer features a speed dial that lets you choose between 5 juicing speeds, and the dial sports a blue LED light ring and a marker to indicate which speed the juicer is set on.
Short description:
1000 Watts
large pulp collector
large juice jug included
5 speeds
stainless steel
dishwasher safe
Cuisinart CJE-500 Compact Juice Extractor
Enjoy Uninterrupted Juicing
The large pulp container collects up to 40 ounces of pulp before you have to remove it to empty and clean it. And the Juice pitcher has a capacity to hold up to 16 ounces of juice and can be replaced for continuous juicing.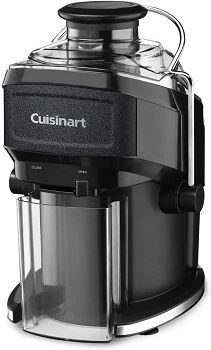 Efficient FIltering
The blade assembly and the mesh filter basket grind the ingredients to extract the maximum amount of juice and separate the pulp and send it a separate container on the back of the Cuisinart juice extractor CJE-500.
Safe And Practical
The pulp collector is easily removed for cleaning, and the square juice collector is transparent and also easy to set under the spout and remove again. As for reassembling the working parts, the juicer won't work until the safety bar is in place, ensuring proper installation of the device.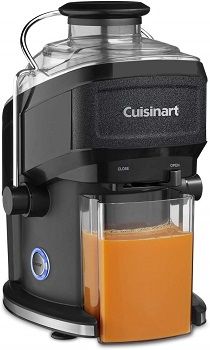 Easy To Use
All you need to do before you start juicing is plug the power cord into an electric socket and press the on/off button on the juicer base. After that, you can pick your own choice of fruits and vegetables and start juicing.
Adjustable Spout
You won't have to worry about dripping with this spout: it has an open-close lever that lets you regulate the juice flow, and is located directly above the juice collector pitcher. This design is for practical purposes of saving space on your countertop. This Cuisinart compact juice extractor's dimensions are 11.5 x 11.8 x 14.2 inches, and it weighs 9.48 pounds.
Short description:
simple to use
adjustable juice flow
large pulp collector
safety lock bar
Cuisinart CCJ-100 Citrus Pro Juicer
Auto Reverse
The automatic reversal function lets you extract the maximum amount of juice with a minimum amount of effort from you. Each time you press down on the juicer, the cone will change its spinning direction to increase juicing efficiency.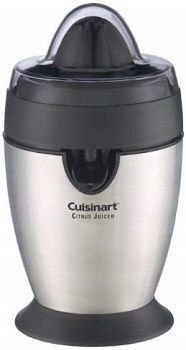 Dishwasher Safe
Some parts of this Cuisinart orange juicer can be removed for cleaning, and some are even dishwasher safe. Be careful and place them on the top rack of the dishwasher, as to prevent unwanted damage to the parts.
Stainless Steel
The stainless steel housing is sturdy and durable, and it will not rust and it will not be easily damaged. The sleek design and smooth shape let you easily wipe and clean the juicer from the outside as well. This juicer's dimensions are 11 x 6.2 x 6 inches, and it weighs 2.68 pounds.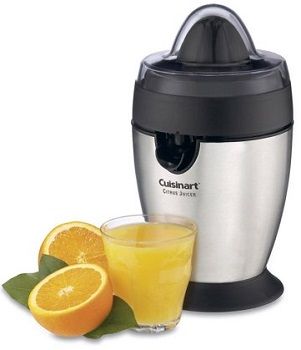 Practical Storing
The clear hard plastic cover lid for the juicer is there so that you can store your Cuisinart electric citrus juicer on any shelf and not worry about dust. The cord storage lets you wrap the cord on the cord holder at the base of the juicer, to reduce clutter and chance of tangling.
Anti-Drip Spout
The funneling spout lets the juice flow directly into the juice collecting container or glass that you put under it. The spout flips upwards to prevent dripping when not in use or when you are switching between containers.
Short description:
anti-drip spout
cord storage
dust cover
reversible spinning
stainless steel
Cuisinart Citrus Juicer Attachment Parts
In case you need replacements for your Cuisinart juicer CJE 1000 parts, or parts for any other Cuisinart fruit juicer, look to the Cuisinart official website. There you can find Cuisinart citrus juicer attachments, replacement parts, and more. Also, you can check out other places for universal replacement parts like Amazon retailer and other webshops.
Cuisinart Juice Extractor Manual
Even when your juicer model is simple to use, sometimes you just need to look up some instructions when reassembling the device after juicing. Thankfully, in case you lose the manual you got with the juicer, you can look online to find user manuals for your device:
Conclusion: Which Cuisinart Juice Extractor To Buy?
In my opinion, the best Cuisinart juicers you can buy are the Cuisinart CJE-1000 Juice Extractor and the Cuisinart CJE-500 Compact Juicer. The CJE-500 is a compact juicer with an adjustable juice flow and a large pulp collector. The CJE-1000 is a powerful 1000W juicer that has 5 juicing speeds. The CJE-1000 is also made from stainless steel and has dishwasher safe parts.
For more information on similar types of juicers, read this post on electric juicers, and this one on citrus juicers. If you want to learn more about juicers and see what other types exist, read this post on juicer machines.