Are you looking for a juice squeezer?
Then keep reading!
In this post, you will learn more about juice squeezers, mainly citrus fruit squeezers, and you can read detailed reviews on some of the more popular models available on the market.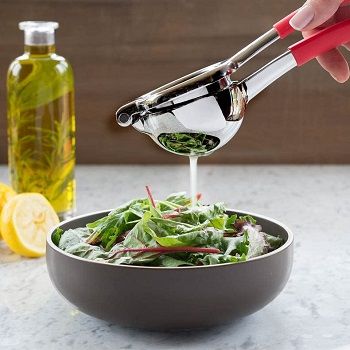 Guide On Fruit Squeezers
Types Of Juice Squeezers
When it comes to the types of juicers that are meant for squeezing fruits, they mainly serve for squeezing out juice from citrus fruits. You are supposed to press down the halved fruit onto the juicing cone, and extract the juice either manually or with the help of an electric motor.
Hand Citrus Squeezers
Manual citrus juicers are those that do not have an electric motor and therefore don't need electricity to work. They consist of a juicing bowl or cone, and often do not contain a juice collector container as an integral part of the device, but rather you will have to provide one separately. These are all variations on plain squeezers or citrus presses.
Automatic Citrus Squeezer
Electric squeezers have a motor that spins the juicing cone, which helps make the juice extraction more efficient. Most of them activate automatically when pressure is applied on the juicing cone, and some even reverse the spinning direction when you press down again.
Commercial Lemon Squeezers
When you are looking for a juice squeezer to use for commercial purposes, you might want to take a look at the electric ones, which make the juicing quick and easy, or the sturdy citrus presses for maximum efficiency and juice yield.
Where To Buy Them?
You can buy all the devices listed in the reviews from online sellers such as Amazon. You can also visit this page (amazon.com) just to read some of the reviews that previous buyers have written about the device you might be interested in. This lets you get more information about the product before you buy it.
Best 5 Juice Squeezers Reviews
Best Orange Juice Squeezer
Alessi PSJS Juicy Salif Citrus Squeezer
About The Device
This little juicer is a designer piece by a French designer, Philippe Starck, for the brand Alessi. This design came to life in the early 1980-s, and it represents the stylish modern question of balance between purpose and appearance that many are still attempting to answer.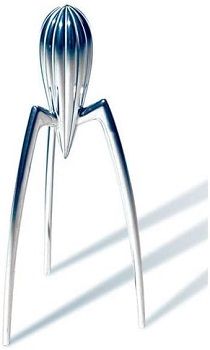 Unusual Design
This entire device consists only of the juicing cone standing on three static legs. The legs remind of spider legs in shape, but they are immobile and wide enough to be stable. They have flat endings for added stability.
Dimensions
Being a very small device that doesn't need electricity (and therefore has no power cord and no motor casing), it is very easy to store, and it can also double as a modern kitchen decoration. This squeezer's dimensions are 6 x 6 x 11 inches, and it weighs 0.32 ounces.
Stainless Steel
It is made from stainless steel, with no moving parts and no separable pieces. This device is one solid piece that will not rust or stain, nor bend or break, because it is made from stainless steel. The size of the cone is suited to make this either a lemon or grapefruit squeezer.
How To Use It?
All you need to do it place the device on a surface, with a glass under it, and squeeze a citrus fruit on the juicing top. Thanks to the shape of the cone, the juice flow is directed towards the middle right under it. It doesn't, however, have a filter for pulp and seeds.
Pros:
stainless steel
easy to clean
no moving parts
Cons:
no filter
messy juicing
limited glass size options
Best Citrus Squeezer
Bellemain Stainless Steel Lemon Squeezer
Stainless Steel
One of the best stainless steel lemon squeezers is made fully from 18/10 stainless steel, which promises you it will not break or bend easily, and it will not rust or stain even with prolonged and frequent use.
Ergonomic Handles
Thick silicone handles ensure the necessary comfort for your hands during squeezing. The soft endings should fit nicely into your hands and make the manual squeezing a little easier for you.
Easy To Clean
All you need to do between uses is rinse it, and when you are done for the day, simply put it into the dishwasher and you are done. No disassembly is needed, as this device only opens wide and has no separable pieces. This means you don't have to worry about reassembling it, either.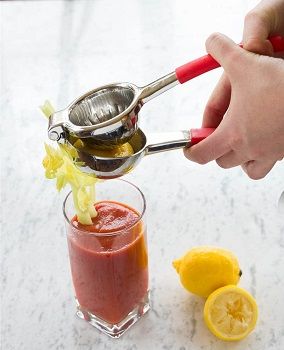 Device Dimensions 
This squeezer consists of the juicing bowls and handles that need to be pressed together to achieve the squeezing of the citrus fruit. This juicer's dimensions are 8.9 x 3.6 x 2.5 inches, and it weighs 1.01 pounds.
Close Fit
The squeezing part fits snugly into the juicing bowl where the fruit is, ensuring efficient extraction of juice, provided only that you squeeze hard enough. With enough force, the juice yield should be good.
Pros:
ergonomic design
stainless steel
Cons:
fits only lemons and limes
needs manual squeezing
Best Electric Lemon Squeezer
Breville 800CPXL Motorized Citrus Press
Automatic Squeezer
This electric orange juice squeezer has a motor that does the juicing for you. You need to plug in the device, put a halved citrus on the cone, and press down the lid onto the fruit to start the juice extraction.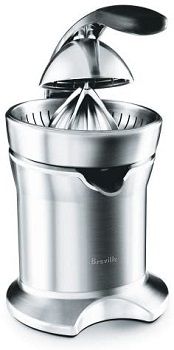 Stainless Steel 
This device is encased in a housing made from professional-grade stainless steel with a brushed finish. The stainless steel will not rust or stain, and it will not scratch or bend or break, thanks to its durability. The filter is also made of stainless steel.
New Cone Design
The new cone has 5 ridges with fins on the top to really maximize the juice extraction. It is also treated with an acid-resistant coating, to ensure that your device is good as new even after frequent use. The universal cone size fits all citrus fruits and is dishwasher safe.
Commercial Orange Juice Squeezer
This juice squeezer also has some safety features, like for instance, it will not start until the lever is pressed down low enough, ensuring the safety of the person operating the juicer and preventing injury and damage.
Practical Parts
This juicer has a quietly-operating motor of industrial strength. It also has an anti-drip spout and cord storage, and it comes with a dust cover and 2 different pulp filters. This juicer's dimensions are 11 x 18 x 9 inches, and it weighs 11.02 pounds.
Pros:
stainless steel
safety features
cord storage
innovative cone
2 pulp filters
Cons:
the lid needs to be pressed
one size cone
Best Lemon Squeezer
Cuisinart CTG-00-LP Lemon Press
Hand Lemon Squeezer
Use this device to squeeze a lemon half by pressing the handles together. The upper bowl squeezes the fruit in the lower bowl and extracts the juice from it. The more you squeeze, the better the juice yield.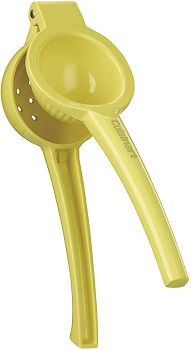 Dimensions
This small hand juicer can be stored anywhere, thanks to its shape and size. You will not have to think of places to store the juicer in, because it fits even inside drawers. This squeezer's dimensions are 2.2 x 10 x 4.9 inches, and it weighs 8.8 ounces.
Dishwasher Safe
This sturdy metal citrus squeezer is dishwasher safe, which means you can either wash it by hand or put it into the dishwasher for cleaning. This will save you time, and you don't have to worry about disassembling the device and reassembling it.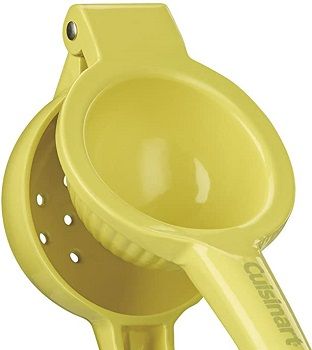 Sturdy Material
Made from die-cast aluminum, this hand press is sturdy and reliable, and will not bend or break easily. It will also not scratch very easily. You can easily clean it by rinsing and washing in the sink or in the dishwasher.
Small Juicer
This juicer has a small fruit squeezing bowl that can only hold small citrus fruits, like lemons and limes, or very small oranges. Unfortunately, you won't be able to use oranges and grapefruits with this juicer, and for those kinds of fruits you will probably need to look for another kind of juicer.
Pros:
smooth finish
color
dishwasher safe
Cons:
not stainless steel
small bowl
Best Orange Juice Squeezer
Eurolux Electric Orange Juicer Squeezer
Electric Juice Squeezer
This juicer is powered by a 160-Watt electromotor, which facilitates juicing and improves juice yield while making the juice extraction easier and simpler for the user. Simply plug it in and press the lid to get the juice.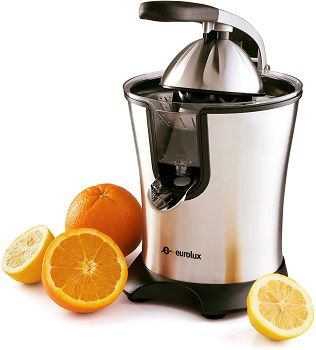 Universal Cone
With only one cone with the universal size, you can extract the juice from all kinds of citrus fruits without having to change it. Juice anything from small limes and lemons, to big oranges and even grapefruits.
Automatic Juicing
The juicing will start automatically: simply apply pressure by pressing the handle down to start the juicing, and then release to stop. The integrated filter will collect the pits and excess pulp for a cleaner smoother juice result.
Stainless Steel
This juicer is made from stainless steel parts and the casing has a brushed finish. The suction cups on the bottom ensure stability during use. This device's dimensions are 12.2 x 9.5 x 8 inches, and it weighs 4 pounds.
How To Use It?
After you have plugged in the device, you will need to cut the citrus fruit in half and place it down on the juicing cone. Then press down the lid with the comfortable rubber handle, and the juicing will start.
Pros:
stainless steel parts
built-in filter
automatic start
suction base
Cons:
not all stainless steel
needs disassembly
not dishwasher safe
Conclusion: Which Fruit Squeezer Is The Best?
In my view, the best juice squeezers you can buy are the Breville 800CPXL Motorized Citrus Press and the Eurolux Electric Orange Juicer Squeezer. The Breville is a stainless steel automatic juice squeezer, with cord storage and 2 pulp filters you can choose from. The Eurolux has stainless steel parts and a built-in filter for pits and pulp. The Eurolux also has a suction cup base for added stability.
In case you want to learn more about similar types of juicers, read this post on citrus juicers and this one on manual juicers. For more information on other kinds of juicers and various different models, read this post on juicer machines.