Are you looking for a new juicer or juice extractor?
In my article, you can read everything you need to know about Koios juicers and it's models that are available. I will describe it's characteristics, offers and other features. You can compare models and decide which one would be the best for you.

Information About Koios Company
Company's wide offer
Their goal is to make products that are practical and make daily life easier. Along with juicers, they also produce air purifiers, ultrasonic humidifiers, robot vacuum cleaners, food blenders and vacuum sealing food savers. In the future, they plan to do a lot more products you could easily use in your home.
Where To Buy Koios Juicers?
You can find all of their products on their official website. On their site, below some of the products, it says to buy it on Amazon. I would also recommend you to buy it on Amazon because they have discounts and lower prices very often. On Amazon, you can also see customer rating of the product and similar products to it.
The Price Range Of Koios Juicers
Acording to other brands similar products, Koios juicers are somewhere in the middle. They are not the cheapest, but they are also not so expensive. For the prices that this company offers, you can get a product that will work great you will be satisfied with it.
Warranty And The Membership
On their official site you can register and get product technical support for 1 year. When you register, you also get their membership so you receive exclusive offers and discounts. With some products you can get 2 or more years of warranty, but that depends of which product you are buying.
Best 2 Koios Slow Juicers
Slow Masticating Juicer Extractor B07FKFRBCX
Multi-Application And Higher Nutritional Value
In this juicer you can easily use different kinds of fruits and vegetables, such as apples, oranges, strawberries, celery, carrots, etc. Unlike centrifugal juicers, this masticating juicer keeps all the good minerals, enzymes and vitamins and does not destroy them. It is 100% BPA free, which means that juice you make in it will be healthy and safe to drink.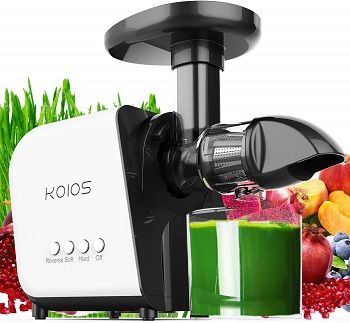 Slow Squeeze Technology
It's system is ideal for high-pressure environment because it's auger is made from strong plastic. When working, this polyethylene auger minimizes oxidation, so it keeps and maximizes all the nutrient content that comes from fruits and vegetables. It also has low heat buildup, less foaming andd no clogging.
Fresh Fruit And Vegetables Juice
For every piece of fruit or vegetable you can get more juice that stays fresh up to 72 hours. Juice that comes out of this slow juicer is free of aditives because of minimal oxidation and heat exposure. It's low heat buildup effects on the nutrients, colors and aromas, so this is also important for juice to stay fresh and to have natural taste.
It Is Easy To Use
This slow juicer has advanced technology so it works under 60 dB, which is very quiet for a juicer. It is very easy to assemble and to operate with it. You only have few parts to assemble and make your juicer work.It is also very easy to clean, it has cleaning brushes and shovel to make it easier.
Warranty And Help With It
By buying this product, you get 3-years warranty which covers all the parts and performance. For some more information you can contact Koios company on their website or through Amazon message. For instant help you can call or send an email to Amazon too.
Features:
Healthy and fresh juice
Easy to use and clean
Quiet motor
Safe and 100% BPA free
Juicer With High Juice Yield And Germany EMGEL Motor
Reverse Function To Prevent Clogging
This slow juicer has buttons you can use to control the direction of rotating. You can set it up to be in normal or reverse motion. Reverse motion helps to remove parts of fruits or vegetables that are stuck inside and finish making juice. With this control over rotating direction you can prevent clogging.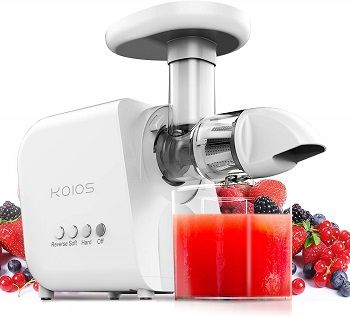 3-Stage Spiral Warm
This slow squeeze technology has 3 stages in making juice. First stage is to chop, second stage is to squeeze and third stage is to micro squeeze the fruit or vegetable. All this stages happen with polyethylene auger which rotates at a speed of 80 RPM. Unlike centrifugal juicers, this juicer does not destroy vitamins, minerals and healthy enzymes.
Higher Juice Yield And Rich Nutrition
Slow squeeze technology enables separating the juice and the pulp by extracting maximum amount of the juice from fruits and vegetables. It's juice yield is up to80% more than yield from centrifugal juicers. With maximum amount of juice like that, you preserve higher nutritional value and have healthier juice. Juice color is lighter, oxidation is only 5% and vitamin transfer is 79.5%, which is ideal for making healthy juice.
Warranty And Free Purchase
Motor for this juicer is covered with 2 years warranty. For other parts, you get 1 year warranty. When you buy this juicer, the company will send you free recipe e-book. In this e-book you can find a lot of different recipes for making delicious juices.
Different Color Variants
This juicer comes in the white-colored design, but there is also red-black version. Red-black version has similar characteristics and functions, but is a little cheaper. It also has quiet motor, high nutritional value and high juicer yield. With this version you get 3 years warranty and 10 years warranty for a motor.
Features:
Maximum juicer yield
High nutritional value
Minimal oxidation
Twin juicing program
Reverse function
Replacement Parts
When something gets broken, their customer service is user-friendly and they send a replacement part for what you need. On their site, you have their contact info, so you can easily contact them in case you need something. You can also find all replacement parts on Amazon and buy them there.
Conclusion: Why Should You Buy Koios Slow Juicers?
Koios slow juicers use slow squeeze technology so they have higher nutritional value and higher juicer yield, unlike centrifugal juicers. They produce minimal oxidation and keep vitamins, minerals and enzymes. They are very quiet, easy to use and clean. These juicers make fresh and long lasting juice. They are 100% BPA free which makes them safe to use. Both Slow Masticating Juicer Extractor B07FKFRBCX and Juicer With High Juice Yield And Germany EMGEL Motor have these characteristics.
If you want to know something more about other juicers from different brands, you can read it in my post about best juicers on the market. In case you want to learn more about electric juicers, read my post about best electric juicers. If you want to buy high-quality juicer, but for lower price, you can check this post about best juicers for the money.