Are you looking for a wheatgrass juicer?
Then keep reading!
In this post, you can learn some information about wheatgrass machines, and read reviews on 5 different models of wheatgrass presses. Hopefully, this will help you choose the best one for yourself.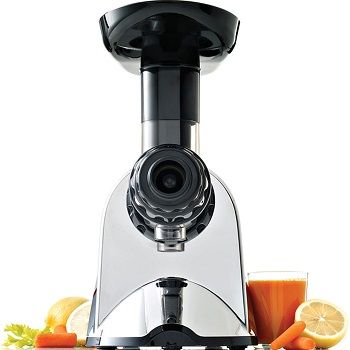 About Wheatgrass Juicer Machines
What Are Wheatgrass Juicers?
Wheatgrass juicer is a type of press machine juicer that squeezes out the juice and nutrients from fibrous grass, while separating the pulp into a separate container from the juice. Only a stronger juicer can handle this task.
How Do They Work?
Depending on the type of juicer, they can work in different ways to achieve a similar result, varying in the efficiency of the process and the results. Some take more time and some don't use up all the juice, but that depends on the design of specific models.
Masticating Wheatgrass Machines
There are firstly the electric masticating juicers, which have motors that use augers to squeeze the ingredients to get the juice out of them. They don't use blades and are also called cold press juicers, as their juicing process creates less heat and oxidation than the centrifugal juicers do, thus the masticating juicers preserve nutrients.
Manual Masticating Juicers
Unlike the previously mentioned masticating juicers, these do not use electricity and instead require a manual turning of the crank that makes the working parts do their job of squeezing the juice out of wheatgrass. The effect is similar to that of electric cold press juicers, but these do require manual work and some effort from the user.
Where To Buy Wheatgrass Juicers?
In case you want to implement wheatgrass into your healthy diet and lifestyle, you will certainly benefit from having a wheatgrass juicer in your home. You can buy wheatgrass juicers from online retailers such as Amazon (amazon.com), and they will enable you to juice freshly cut wheatgrass whenever you want to consume it.
Best 5 Wheatgrass Juicer Reviews
Best Stainless Steel Wheatgrass Juicer
Miracle Pro Green Machine Wheat Grass Juicer
Stainless Steel Design
The juicing parts of the Miracle Pro Green Machine are all made from stainless steel, and the motor housing is also made from sturdy durably stainless steel, as well as the rest of the body. This juicer's dimensions are 18 x 6 x 12 inches, and it weighs 30 pounds.
Efficient Extraction
This wheatgrass press can produce up to 2 ounces of juice from wheatgrass per minute. The tray that came with the early versions of this model is no longer included with the device, and you will have to buy it separately.
Reverse Function
In case the grass gets stuck and jammed in the juicing parts, you can use the reverse function to reverse the direction of juicing to get it out without having to put your hands to the potentially dangerous parts of the juicer.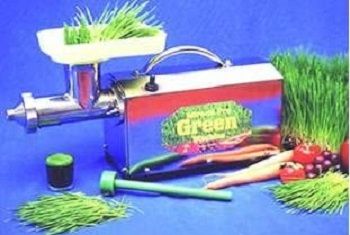 Powerful Juicer
This wheatgrass press is powered by electricity: 110V AC, at 50 Hz. It also has a powerful 75-Watt motor, which is geared down to produce 183-pound torque and be more efficient for juicing.
Benefits Of This Model
This Miracle wheatgrass juicer works quietly and at a low speed, which ensures comfortable use and healthy results. The leftover pulp is very dry, which means the juicer has extracted the maximum amount of juice from the ingredients.
Pros:
quiet operation
stainless steel
low speed
Cons:
basic looking design
tray not included
Best Juicer For Wheatgrass And Leafy Greens
Omega NC900HDC Slow Masticating Juice Extractor
Dimensions And Design
This wheatgrass juicer has a wide chute, which lets you put in larger pieces of fruits and vegetables and reduces prep time. The housing has a chrome finish and a built-in handle for easy transport, and it comes with easy to clean plastic cups for juice and pulp. This device's dimensions are 14.5 x 6.5 x 15.5 inches, and it weighs 17.45 pounds.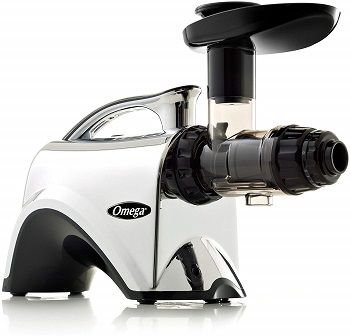 Quiet Motor
Omega wheatgrass press uses dual-stage masticating extraction to get a good amount of juice out of fruits and vegetables and wheat. The automatic pulp ejection enables you to continuously juice for some time before having to clean the device and empty the pulp container. The motor works quietly, but it is the equivalent of a 2 HP motor, with gear reduction.
Healthy Juicing Results
This masticating juicer uses a slow speed of 80 RPM to squeeze out the juice even from very thin and fine ingredients, like leafy greens and wheatgrass. By grinding and pressing on the foods, the juice is produced through a slow squeezing process with no heating, no shredding, and with minimal oxidation, which preserves the nutrients from the ingredients.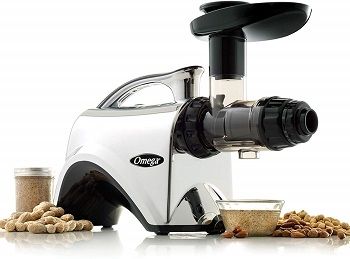 Parts & Accessories
Omega wheatgrass juicer comes with a warranty on parts and accessories, which goes to say that the device has been produced with care for quality and longevity. & nozzles and 2 juicing screens come included with this device, and allow you to customize your juicing as well as make other foods with it.
What To Use It For?
Thanks to this juicer's high juice yield capabilities, you can use it to squeeze ingredients that are harder to get juice from, like nuts and greens. You can use this juicer to make nut butter, soy milk, healthy salsas, baby foods, desserts, and many other healthy food products.
Pros:
80 RPM
built-in handle
parts warranty
Cons:
shiny chrome finish
plastic parts
only small cups fit under the spout
Best Hand Crank Wheatgrass Juicer
Handy Pantry HJ Hurricane Manual Wheatgrass Juicer
Stainless Steel
The heavy-duty stainless steel construction is sturdy and durable, and it will not rust. Stainless steel is also non-toxic and resistant to scratching and the device, nor the clamp, will be prone to breaking for a long time. Enjoy the longevity of your manual wheatgrass juicer.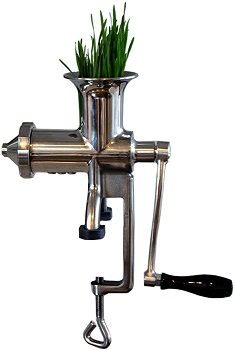 Easy To Clean
The stainless steel body and parts are easy to clean and they will not rust. The parts are also dishwasher safe, and the device can be disassembled and reassembled quickly and easily. This device's dimensions are 11.8 x 8.5 x 5.2 inches, and it weighs 6.79 pounds.
How Does It Work?
You are probably wondering how a manual wheatgrass machine compares to an electric one. Here is the thing, the electric ones do the work for you, but you need electricity to use them, whereas the manual ones require some effort from you but you can use them anywhere, even when you are camping or staying at a place with no access to electric sockets. The mechanical parts also work for a long time, and the device is overall more affordable.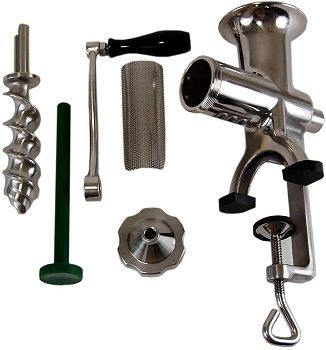 Juicing Efficiency
This hand-crank wheatgrass juicer produces about 1 ounce of wheatgrass juice per minute. The productivity of a manual juicer depends greatly on your physical effort and speed, but this juicer can squeeze the juice out of wheatgrass and barely with only a little effort from you.
Countertop Setup
This device needs a specific countertop design and dimensions, because it is fastened by a clamp to the edge of the countertop. It requires a countertop edge less than 2.3 inches thick, and it needs to have at least 1 inch of depth, for the clamp to hold on firmly. This will prevent the device from slipping while you are using it.
Pros:
needs no electricity
stainless steel
dishwasher safe parts
Cons:
manual juicing
needs specific countertop type
fits a small amount of grass
Best Manual Wheatgrass Juicer
The Original Lexen GP27 Manual Healthy Juicer
How To Use It?
After you have washed and prepared your greens, you only need to place a cup under the juice spout and start juicing. Use the hand crank to juice your ingredients to the desired amount. After you are done, disassemble your juicer and rinse all parts with warm water.
Cold Press Efficiency
The Lexen live enzyme juicer uses a cold-press technology to enable you to get the most juice out of your greens. The team behind the design claims they made this juicer specifically so that you can get more juice from your ingredients, in a shorter amount of time.
Easy To Clean
The unique design of this wheatgrass machine significantly shortens your clean-up time. After you are done juicing, simply unscrew all the parts and rinse them off in the sink. There is no special screen so that the cleanup is even simpler and quicker. This device's dimensions are 5.5 x 8.3 x 7.5 inches, and it weighs only 2.43 pounds.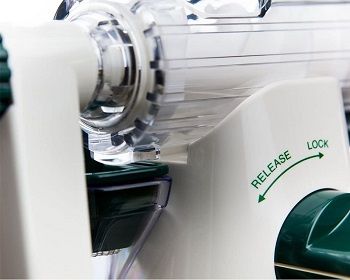 Varied Ingredients
You can juice any leafy greens and all types of wheatgrass that you choose. This juicer will ensure you get the most out of the chosen ingredients. So feel free to try a combination or variation of your favorite ingredients.
Design And Dimensions
The auger is BPA-free, and the tip and end cap are made from stainless steel. They are durable and will not rust, no matter how often you wash them. The suction base and table clamp ensure stability, and after you are done you can disassemble the juicer into 5 parts for easy storage or packing for transport.
Pros:
disassembles
clamp and suction base
easy to clean
stainless steel parts
BPA-free auger
Cons:
plastic housing
not very durable build
Best Commercial Wheatgrass Juicer
Samson Super Juicer SB0850 Commercial Wheatgrass Juice Extractor
Stainless Steel
This wheatgrass juice extractor is a commercial grade juicer that is made of 304 surgical quality stainless steel, which makes it very durable and resistant to rust, scratching, bending, breaking, and other types of damage. This device's dimensions are 13.5 x 13.5 x 16.5 inches, and it weighs 30 pounds.
Heavy-Duty Motor
This commercial wheatgrass juicer features a heavy-duty motor equivalent to 1/2 HP, and it is air-cooled so there will be no overheating. It also works smoothly and requires no additional lubrication. You can enjoy your low-maintenance wheatgrass juicer for a long time.
Interlocking System
The Samson Super Juicer has an interlocking system, that increases the safety of anyone operating the device, and those nearby. The safety locking system will disable the juicer from working until all the parts are properly assembled and safely put in place.
Quiet Operation
This wheatgrass grinder has a powerful motor, mentioned above, but it works quietly compared to most juicers even at 70 RPM. This means you can use the juicer freely in your home or for commercial purposes without disturbing the guests. You can use this juicer in gyms, hotels, food courts, and so on.
Efficiency And Accessories
You can produce about 5 ounces of juice per minute with this juicer. To help with that, you will receive some additional parts included with this device (2 screens, 2 gaskets, 2 auger brushings). The Super Juicer comes with a short term warranty.
Pros:
slow juicing
stainless steel
safety interlocking
Conclusion: Which Wheatgrass Press Should You Buy?
In my opinion, the best wheatgrass machines you can buy are the Omega NC900HDC Slow Masticating Juicer and the Handy Pantry HJ Manual Wheatgrass Juicer. The Omega wheatgrass press is an electric wheatgrass juicer with a quiet and powerful motor that lets you extract the most out of your ingredients. The Handy Pantry one is a manual wheatgrass juicer, which means it doesn't use electricity and you need to keep turning the crank to power it. The Handy Pantry one is also made from stainless steel.
In case you want to find out more about similar juicers, read this post on masticating juicers, and this one on electric juicers. For more information on juicing devices in general, read this post on juicer machines.