Are you interested in Tribest juicers?
Then keep reading!
In this post, you will learn more about some of the most popular models of juicer that Tribest has to offer, as well as read detailed reviews about them. This might help you decide which one you like best.
Tribest Juicer Makers And More About Them
What Is Tribest?
Tribest is a company that manufactures equipment for food processing, like blenders and dehydrators, but they also make juicers and kettles, yogurt and nut mild makers, and many other products, all with the goal of helping people achieve a healthy diet and lifestyle.
What Do They Offer?
They offer a range of juicers, blenders, kettles and yogurt makers, as well as dehydrators and sprouting equipment. Essentially, they offer all the primary processing equipment for healthy food processing needed for maintaining a healthy diet.
Tribest Price Range
Depending on the type of product you wish to buy from them, and then depending on the model you choose, you will see that the price varies. However, they fall somewhere in the middle price range for juicers, costing several hundred US dollars per item.
Where To Buy Tribest Juicers?
You can always start by looking up the various juicer models they display on their website, but you can order some of them online, through retailers that deliver worldwide, like Amazon (amazon.com). There you can also read the reviews that the products have earned with other users that have already tried them.
Customer Support
In case you have any questions or want to know more about your product, or you have encountered a problem with your device, feel free to contact the manufacturer and their customer support and service center. You can contact Tribest through their official website, or by calling their customer support phone number.
Best 5 Tribest Juicers Reviews
Tribest Slowstar Vertical Slow Juicer SW-2000
Slow Juicing
The slow juicing at 47 RPM produces freshest, healthiest juice, as the slow, cold juicing induces minimal oxidation and destruction of nutrients from the ingredients in the juice.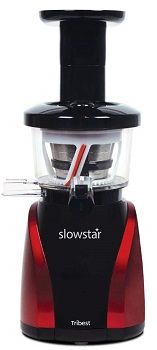 200-Watt Motor
This motor has three-stage reduction gears and produces several times increased torque in comparison to other similar juicers. This also enables work in continuous juicing with less jamming.
Juice Cap
The juice tap can be closed by the convenient cap on the top of the spout, which prevents dripping while there is no glass or container under the juicing tap. The feeder tube is long, which ensures the safety of you and your children because this way no one will accidentally reach the blades with their hands while putting the ingredients in.
Dual Blade Auger
The Tribest Slowstar juicer has a BPA-free dual-blade auger makes juicing faster and simpler, so that even beginners have an easy time making healthy juices and not spend a lot of time in the kitchen while making them.
Design And Dimensions
This juicer's dimensions are 8 x 8 x 18 inches, and it weighs 18 pounds, and the housing and casing are 100% BPA-free plastic. This device comes with a limited warranty and is available in 2 color schemes: red-black and silver-black.
Short description:
200 Watts
dual blade auger
BPA-free
47 RPM slow juicing
Tribest GSE-5000 Greenstar Elite Cold Press Complete Masticating Juicer
Stainless Steel Augers
The stainless steel bio-ceramic magnetic twin gears enable efficient juicing from even the hardest fruits and vegetables, and the juice produced is of the highest freshness and health quality. You can even store it longer.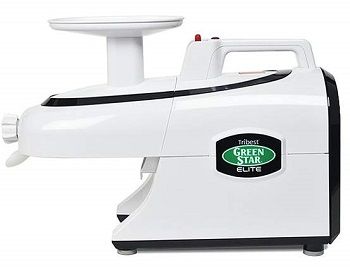 Slow Juicing
The cold press juice extraction at 110 RPM  ensures the minimal oxidation of the juice, in order to preserve the optimal amount of enzymes, fibers, vitamins, and minerals in your juice, for healthier results and better freshness. This also results in a better, more enjoyable taste of the juice.
Homogenizing Attachment
Green Star juicer comes with accessories that let you turn your Greenstar Pro slow juicer into a version of a food processor and homogenizer, which lets you make frozen desserts, sorbets, nut butter, salsas, and many more other foods and desserts.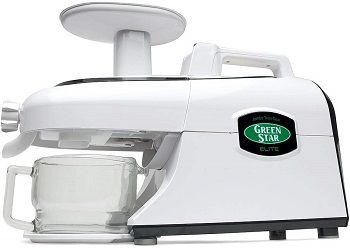 Easy To Clean
The new sleek design of this Green Elite juicer features fewer parts so that you can easily take the juicer apart for the sake of cleaning it. And then just put it back together following the instructions in the manual.
Design And Dimensions
This juicer's dimensions are 18.6 x 6.8 x 12.4 inches, and it weighs 17.2 pounds. The Green Star juicer also comes with a limited warranty and is available in 3 colors: black, chrome, and white.
Short description:
slow juicing 110 RPM
ceramic magnetic gears
better masticating results
3 colors available
Tribest GS-P502 Greenstar Pro Commercial Cold Press Juicer
Commercial Certified
The Greenstar Pro juicer is certified for commercial use. This means you can rest assured in its quality and durability even during prolonged and regular use. You can use it in bars, restaurants, coffee shops, and so on.
Reverse Function
This juicer is equipped with a reverse spinning option, which lets you change the direction of the augers' spinning. This will allow you to unjam the juicer in case something gets stuck in between the augers, for example.
Stainless Steel Gears
The Green Star Pro commercial juicer has all stainless steel bio-ceramic magnetic twin gears, which produce a fresh healthy juice out of any ingredients, and in a short time notice. You can also store that juice longer, thanks to its freshness.
Higher Yield
The dual gear design is made to maximize the juice yield from any type of ingredients while preserving the nutritional value and vitamins in the juice. This juicer's dimensions are 18.6 x 6.8 x 12.4 inches, and it weighs 26 pounds.
Easy To Use
The juicer contains fewer parts than the regular juicers, so it is easier to disassemble for cleaning and reassemble later. It also comes with a scraper tool for easier cleaning. The clean locking mechanism uses quick latching so that you can easily remove gears and auger housing for cleaning.
Short description:
scraper tool included
certified for commercial use
stainless steel parts
Tribest Solostar 4 SS-4200-B Slow Masticating Juicer
High Yield
The dual-stage juice extraction with larger auger means more squeezing surface to maximize the juice yield from the ingredients you put inside the juicer, even the hard ones that don't usually produce much juice when using standard juicers.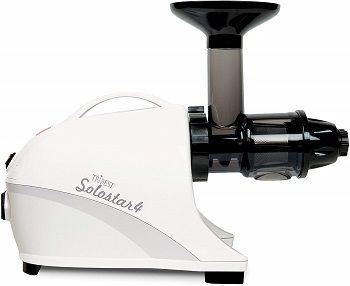 BPA-Free
All parts of this juicer that come into contact with the food and juice are BPA-free, which means they will not contaminate your consumables with any harmful chemicals from plastic.
Healthy Juicing
The slow juicing process at 57 RPM produces healthy results, because slow old press juicing does not destroy nutrients in the ingredients while processing them, nor does the fast spinning induce oxidation of the juice and reduce freshness, as it often happens in traditional centrifugal juicers.
Strong Motor
The motor in this Tribest Solostar has gear reduction and is equivalent to a 5.4 horsepower motor, with 26% more torque. This makes for a powerful juicer that resists jamming and produces juice fast and easy. The dimensions of this juicer are 17 x 12.4 x 6.5 inches, and it weighs 17 pounds.
Efficient Juicer
The Tribest Solostar 4  features a new and improved design, which enables it to work with 26%more torque while spending 10% less electricity. The slow juicing gives a healthy juice, and the powerful motor produces 40% more juice from your usual ingredients.
Short description:
57 RPM
dual-stage juicing
BPA-free
better efficiency
strong motor
Tribest CS-1000 CitriStar Electric Citrus Juicer
Cord Storage
On the bottom of this Tribest Citristar citrus juicer, there is a cord holder, where you can store the power cord for practical storage when the device is not in use, and you can choose to unwrap only as much cable as you need so to prevent clutter and tangling in the kitchen.
One-Touch Operation
To operate this device, simply press down the fruit on the reamer and the spinning will start automatically. The high-yield juicing spout prevents clogging and allows for continuous juicing for a significant amount of time.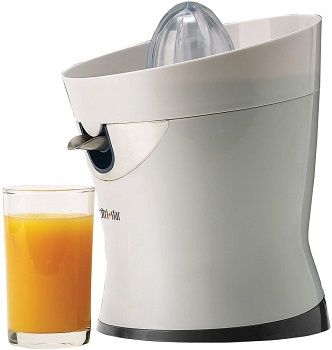 Stainless Steel Spout
The juicing spout is made from stainless steel and can be tilted upwards to prevent dripping when the juicer is not in use or you are switching between 2 glasses or juice containers and don't want spillage on your table or countertop. Being made of stainless steel, the spout will not rust or get stained by the juice.
50-Watt Motor
This Tribest citrus juicer has a built-in motor with 50 Watts of power, which allows you to squeeze a nice amount of juice out of your citrus fruits, for good juicing results and minimal waste of juice and fruits.
Design And Dimensions
A fine stainless steel screen is designed to prevent clogging and is also easy to clean. This juicer's dimensions are 8 x 8 x 9.5 inches, and it weighs 5.07 pounds.
Short description:
50 Watts
stainless steel parts
cord holder
tiltable juice spout
Tribest Juicer Manual
In case you need to take a look at your user manual to find some information, but you can't find it, you will be relieved to know that you can find one online. You can search online for more manuals for other models, but here you can find the Tribest Green Star Juicer manual.
Conclusion: Which Tribest Juicer Is Best?
In my view, the best Tribest juicers you can buy are the Tribest Slowstar Juicer SW-2000, and the Tribest CS-1000 CitriStar Juicer. The CitriStar is a citrus juicer with stainless steel strainer and spout, and a cable holder on the base. The Slowstar is a vertical masticating juicer, which means it produces juice using cold press technology with 200W of power. The Slowstar is also BPA-free and uses dual blade augers for maximum efficiency.
For more information on various kinds of juicers, read this post on juicer machines. If you want to learn more about specific types of juicers, read this post on masticating juicers and this one on citrus juicers.