Are you interested in buying a new juicer?
If you are, you should read my article about Gourmia juicers. In this article, I will write every important thing about Gourmia juicers. Information you will get here will help you decide which juicer to buy.

Gourmia Brand Important Info
The Gourmia Company Mission
Their biggest mission is to produce engineering cooking tools for a healthy lifestyle. All of their products are made for those who want to make easy, healthy and delicious meals. Gourmia company keeps up with new technologies and delivers a higher standard of innovation, performance, and value. They want to bring high technology to every kitchen.
Wide Offer Of Their Products
Gourmia company produces everything you need in your kitchen. They have a really big offer and here are some of their products: vacuum sealers, coffee machines, tea machines and kettles, milk frothers, coffee grinders, air fryers, bread and cake makers, food dehydrators, multicookers, grills, toasters, ice cream makers, juicers, blenders, and so many other products.
Where To Buy Their Products?
On the Gourmia official web site, you have the list of stores and internet shops. First on their list is Amazon. I would recommend you to buy their products on Amazon because of their discounts and offers. On their site, they also recommend Walmart, Target, Macy's, Costco, Kohls and other stores.
The Team Of Numerous Chefs
Gourmia's founders are passionate about cooking and all the tools for the kitchen. They made a team of the best chefs who help them make the best products in their category. Gourmia's founders now know what chefs want and need for their kitchen, and those are reliable and easy to use tools that will make their cooking easier.
Customer Service And Contact
On Gourmia's official web site you have their three contact emails. You also have a form you can fill and send them a request. They have also put a contact number. They are very helpful and you can contact them with questions about products, shipping, volume purchases or other things.
Best 5 Gourmia Juicers Reviews
Gourmia EPJ100 Electric Citrus Juicer
Combination Of Motor And Hand Press
Gourmia EPJ100 has a motor that works with 160W of power. Direct drive motor power is combined with a manual hand press. With the precision of hand press and the power of the motor, you will get your juice easy, fast and simple. This juicer easily powers through pips, pits, and pulp.
Rotating Cone For Maximal Extraction
Gourmia EPJ100 electric citrus juicer has a rotating cone which is made for extracting citrus fruit. This cone can fit the largest grapefruits and the smallest limes. It accommodates all types of citrus fruit. You can squeeze away refreshing orange juices, lemonades, and other tasty drinks.
Modern And Convenient Design
Gourmia EPJ100 has a perfect pour direct spout that minimizes clogging. It also makes it easy to pour juice directly into your glass or bottle. It has updated features, so you can perfectly squeeze citrus fruit in a short amount of time and with less energy. With its quiet motor operation, comfortable ergonomic grip handle and anti-drip spout you can make your juice fast and simple.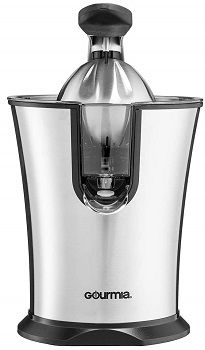 Sliding Window To Contain Juice
Gourmia stainless steel juice extractor & maker has a sliding down window that can contain extracted juice or release it into the cup. You can extract all of your juice into that container or you can simply lift the window to let all the juice out to your cup or a bottle.
Efficient Smartflo Filter System
SmartFlo filter system is very easy to clean. It virtually eliminates all pits and pulp so you only get the juice out and nothing else. With this system, you get purely smooth, nutrient-packed juice. Your juice will keep all the vitamins, minerals and enzymes from each fruit. Your juice will be made ideal because of this beautifully designed system.
Short Description:
Smartflo filter system
Sliding window
Combination of hand press and motor
Rotating cone
Gourmia GJ750 Wide Mouth Fruit Centrifugal Juicer
Extra Powerful And Efficient Motor
Gourmia GJ750 wide mouth fruit centrifugal juicer has a very powerful motor of 850W. It has a simple dial with two quiet, max extraction, control settings. The first mode is lower and it is made for soft fruit or vegetables like tomatoes, strawberries, raspberries, grapes, and others. The second mode is for hard fruit or vegetables like carrots, ginger, apples, and others.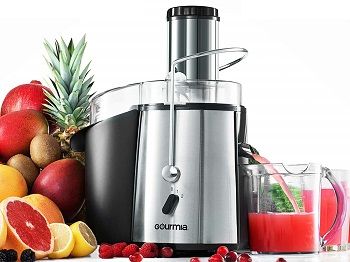 Extra Wide Feeding Chute
With wide feeding chute, you do not have to spend extra time to cut and slice the ingredients for your juice. You can throw whole fruit or vegetables into the chute because now you have space to do it. This feed chute accepts fruit or vegetables without peeling so you can get even more nutrients from it.
Advanced Filtration And Easy Cleaning
Gourmia juicer GJ750 has a micro-mesh filter and foam-stopper carafe which strains away all the pulp and foam. This filter system always makes juice silky smooth. It is easy to clean GJ750 because you can wipe down the stainless steel exterior and put the XL pulp tank and pitcher into the dishwasher.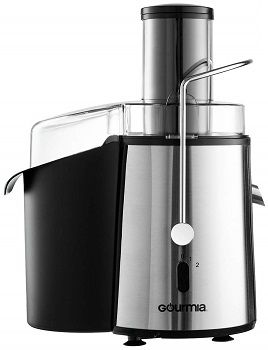 CentriTract Centrifugal Extraction System
Gourmia GJ750 has a CentriTract system which is a combination of centrifugal juicing and extraction juicing. This system works fast and simple. It works with any fruit or vegetables. With this system, this juicer is on a higher level of making juice. Your juice will be so much better with a mix of centrifugal and extraction juicing.
Gourmia Juicer GJ750 Characteristics
GJ750 comes in silver or black color. Its dimensions are 10 x 8 x 15.25 inches. It has a large 32 oz capacity and 8.5 cup pulp tank. It is made from stainless steel. It has multiple power settings and removable parts. Its removable parts are dishwasher safe which means you can put them in the dishwasher for breezy cleanup.
Short Description:
Combination of centrifugal and extraction juicing
Extra-wide feeding chute
850W of power
Gourmia GJ1250 Juicer
Extra Wide Feeder Mouth
Gourmia GJ1250 has a wide feeding chute that can accept the largest ingredients. You do not have to waste your time cutting and peeling your fruit or vegetables. You simply put the whole food in the chute and start juicing. Your juice will be prepared even faster.
CentriTract Centrifugal Extraction System
This juicer uses the CentriTract system which is a combination of a centrifugal and extraction juicing. This system can get the most juice out of every fruit or vegetable. With this system of juicing, your juice will be full of nutrients. The combination of these two systems of juicing is ideal for making juice easily and quickly.
Powerful And Efficient Motor
Gourmia GJ1250 has an extremely powerful motor of 1000W. It is made to crush the hardest ingredients. This juicer has two power settings to switch for soft or hard ingredients. The lower mode is for soft fruit or vegetables like berries or tomatoes. The higher mode is for hard fruit or vegetables like carrots or apples.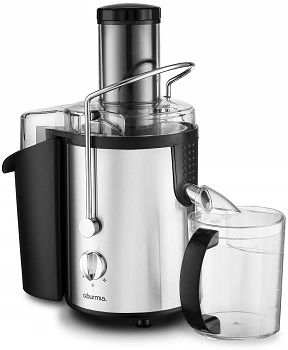 Dishwasher Safe And Easy To Clean
This juicer has parts that can be removed. These removed parts are dishwasher safe and by that, easy to clean. Parts that come in contact with food are the most important to be clean and safe for use. If you do not have a dishwasher, you can also clean it very easy because its material is made like that.
Tasty, Fresh And Healthy Juice
Gourmia GJ1250 is ideal for making delicious and healthy juice because of its system of working. Its system keeps all the nutrients in your juice. All the vitamins, minerals and enzymes from your favorite fruit or vegetables will stay in your juice. You do not have to worry about losing nutrients because of oxidation or other similar problems.
Short Description:
1000W of power
CentriTract juicing system
Huge feeding chute
Dishwasher safe
Gourmia GJ1350 Juicer
4 Power Juicing Settings
This Gourmia juicer has a display that shows what mode you are on. You can switch between 4 different modes to adjust the speed you want to work with. You can choose whether to work with lower speed or higher, depending on the type of ingredients you put in it.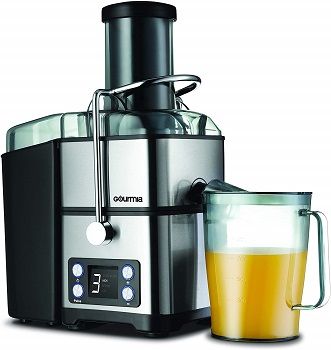 Zero Loss Juicing Technology
Gourmia GJ1350 uses zero loss technology which does not waste food. This technology will use every single piece of fruit or vegetable and make juice out of it. You do not have to peel or separate ingredients because this juicer will do it all for you. It will take all the parts and juice everything together.
Powerful Motor And Large Reservoir
Gourmia GJ1350 has an 800W motor. Its motor can change its speed and work at low, medium, high or extra boost speed. This juicer has a 32-ounce large reservoir which can contain more juice. With this reservoir, you can make more juice at once and do not have to worry about space.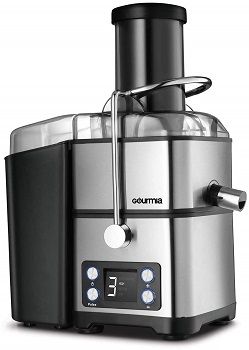 Wide Mouth To Fit Whole Ingredients
This juicer has an extra-wide feeding chute that can fit whole fruit and vegetables. You do not have to waste time slicing, cut or core fruit or vegetables. You simply put whole ingredients and start juicing. The wide chute is designed to reduce the preparation time of your juice.
Efficient Mesh Filter
This Gourmia juicer has a mesh filter that removes debris. It is made to make your juice smooth. It lets the vitamins, minerals, and enzymes through to your juice. You will not have any unnecessary parts in your juice to make it worse.
Short Description:
4 power modes
Mesh filter
Wide mouth
800W of power
Centrifugal extraction system
Gourmia GMJ9970 Large Citrus Juicer
Simple Grade Press Manual Mechanism
Gourmia orange juicer does not have a motor. It is very simple to use because you just put the citrus in the juicer and push down the handle to squeeze it. You can squeeze any citrus fruit in it. Larger fruit has to be cut in half, so the juicer can squeeze it.
Sturdy And Durable Construction
Gourmia GMJ9970 needs a sturdy construction because it is manual. It is made from a stainless steel material. It has a cast iron base and cast iron handle. You can be sure it will not break and you will be able to use this juicer for a long time.
It Accommodates All Citrus Fruit
Gourmia GMJ9970 large citrus juicer can juice all citrus fruit such as lemons, oranges, grapefruit, pomegranates, and others. It can accommodate all the sizes and squeeze away from the smallest to the largest citrus fruit. It has a strong blade to be able to work with citrus fruit.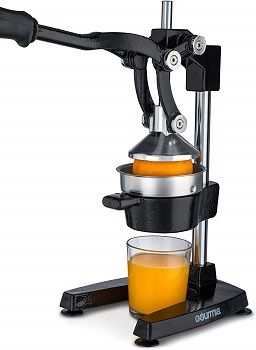 Suction Cups On The Bottom
Since Gourmia GMJ9970 is a manual juicer, you have to be careful with it. Gourmia's founders made sure you can work safer with this juicer. They have put the suction cups on the bottom of the juicer to stick for the table and be stable. With these cups, you will be safe that your juicer will stay in its place and will not move when you use it.
Easy Cleaning Removable Parts
This juicer has removable parts that come in contact with food. It is great that these parts are removable, so you easily clean them. These parts are made from stainless steel so you can put them in the dishwasher.
Short Description:
Manual mechanism
Suction cups on the bottom
Durable construction
Conclusion: Why Would You Buy Gourmia Juicer?
Gourmia juicers are among the best juicers in their categories. Gourmia EPJ100 Electric Juicer is the cheapest of all these Gourmia juicers and it has the rotating cone for maximum extraction. Gourmia GJ750 Juicer is great because of its CentriTract centrifugal extraction system which has the combination of two juicing systems.
If you are interested in other juicer machines, you should read this: juicer machine. In case you want to learn more about citrus juicers, check out this article: a citrus juicer. If you want to read about orange juice machines, here is an article about the orange juice machine.