Are you interested in Oster Juicers?
Then keep reading!
In this post, you will learn more about Oster juicers and how they work. You can also read detailed Oster juice extractor reviews on 3 models. Hopefully, this will help you pick your favorite one among them.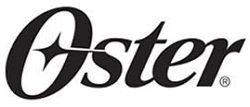 Oster Brand And Oster Juicer Extractors
About Oster Company
There is not much information on the history od this brand that you can find online, but their respectful product quality and a wide choice of products they sell speak of a well-developed brand, dedicated to giving their customers what they need.
What Do They Offer?
The Oster brand offers a wide variety of products for many different household and professional needs. They offer a big range of kitchen appliances, like blenders, mixers, ovens, toasters, and such. But they also have a production line dedicated to animal care and pet grooming devices and products so you can see them as a versatile and good quality company.
Oster Juicer Price Range
Oster befalls into the low price range category, which is good news for anyone who is looking for a variety of kitchen appliances that won't break the budget. Their other products are also in the cheap and affordable category.
Where To Buy Them?
You can find most of their products on their official website, or you can buy them through online retailers such as Amazon (amazon.com). Some of the online retailers offer a delivery service to your doorstep.
Customer Service
Oster offers you the option to contact them in case you have any questions regarding their products. You can do so via their web page or by calling their customer support phone number.
Best 3 Oster Juicer Reviews
Oster 3167 450-Watt 34-Ounce Juicer
Design And Dimensions
This Oster juice extractor is made from plastic, currently available only in the color white. The juice cup and the pulp collector jug are also made from plastic. This means they will be easier to clean, but not overly durable. The juicer's dimensions are 8.5 x 15 x 15.2 inches, and it weighs 1 pound.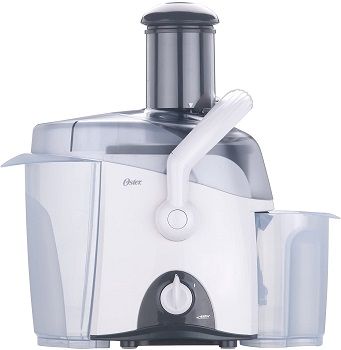 450 Watt Motor
Oster Jussimple juicer has a 450-Watt motor that can take on even harder pieces of fruit. This means you can enjoy the juice from most kinds of fruits and vegetables, and leafy greens and herbs.
Removeable Feed Chute
The feeding chute can be removed from the Oster juice extractor 3167, which facilitates cleaning and storage. This means you can take it off and really clean thoroughly under and inside the chute.
Stainless Steel Filter
This juicer has a stainless steel juicing filter, which means it is sturdy and durable, as well as easy to clean. You won't have to worry about it getting stained or rusty from the juice.
Locking Arm
Thanks to the convenient safety locking arm, you can set you juicer up for use in just one movement. The safety arm will not allow the juicer to operate unless it is properly installed and assembled.
Short description:
450 Watts
removable feed chute
stainless steel filter
plastic casing
Oster JusSimple FPSTJE9010 2-Speed Juice Extractor
Easy To Clean
Oster 2-speed juicer is easy to clean, thanks to its "Rinse & Ready" coating on the mesh filter, which greatly reduces the cleaning time necessary for maintaining the juicer.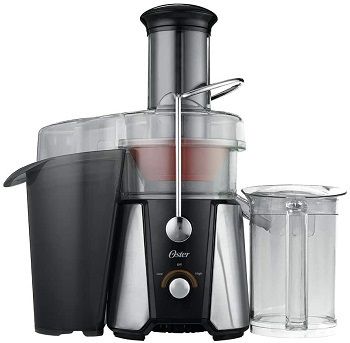 900 Watt Motor
Oster jussimple juicer uses 900 Watts of power and has 2-speed settings, which allow you to choose the juicing speed you want to use with your current ingredients. It also means a lot faster juicing, no matter how hard the ingredients are.
Extra-WIde Chute
The feeder chute on this Oster juicer is wide enough to fit whole fruits and vegetables, or at least large pieces that will not take away a lot of your time to prepare for juicing.
Juice Pitcher Included
This device also comes with a juice pitcher that can hold 32 fluid ounces of juice and has a froth separator for clean and soft juice results. The pulp collector is extra large and made from plastic, and its design makes it easy to clean as well.
Design And Dimensions
The motor casing is made from metal, which ensures durability and stability, and the rest is plastic. The transparent processing chamber lets you see the juicing process as it happens. The safety lock arm is also made from metal. This juicer's dimensions are 13.5 x 8 x 16.2 inches, and it weighs 7.9 pounds.
Short description:
900 Watts
juice pitcher included
easy clean filter
large pulp collector
2 speeds
Oster JusSimple 5 Speed FPSTJE9020 Juice Extractor
Safety Locking Arm
The thin metal locking arm looks elegant and has a practical use: It fixes the device in the assembled position and locks it in place. The juicer will not operate unless it is fully assembled and properly installed, which prevents accidents.
Wide Feeder Chute
The wide, center-placed feeder chute is wide enough to fit whole fruits and vegetables inside the juicer, which saves you time and effort for preparation. The long pusher ensures your safety during the juicing process.
Strong Juicer
The Oster 1000 watt juicer has a powerful motor that can process even the hardest fruits. With this device, you will not have to worry about being able to process harder fruits or vegetables or greens. You can juice it all.
5 Speed Settings
The Oster JusSimple juicer has 5-speed settings you can choose from. This enables you to set the optimal speed, depending on what ingredients you want to process and how difficult they are to juice.
Additional Benefits
The filter in this juicer is covered in a special coating that makes your cleaning of the device much faster and easier. The large pulp collector and the juice pitcher with handle and froth separator are also wide and easy to clean. The dimensions of this juicer are 13.5 x 8 x 16.2 inches, and it weighs 8.95 pounds.
Short description:
1000 Watts
5 speeds
easy to clean
safety lock
wide feeder chute with pusher
Conclusion: Which Oster Electric Juicer Is Best?
In my opinion, the best Oster juicers you can buy are the Oster JusSimple 900W 2-Speed Juicer and the Oster JusSimple 5 Speed 1000W Juicer. The Oster 900-Watt juicer has 2-speed settings and a wide removable feeder chute for easy cleaning. The 1000W juicer is a powerful juicer that can process even hard ingredients and has a wide chute as well. The Oster 1000W juicer is also easy to clean and comes with a juice pitcher.
For more information on various types of juicers and how they work, read this post on juicer machines. In case you want to learn more about specific types of juicers, read this post on electric juicers and best juicers for greens.