Are you looking for a slow juicer?
Then read this post.
In this post, you can learn more about slow juicers, what benefits you gain by owning one of them, and what types of them you can find. Read detailed reviews to find out more about some of the more popular models and use them to help you decide which one to buy.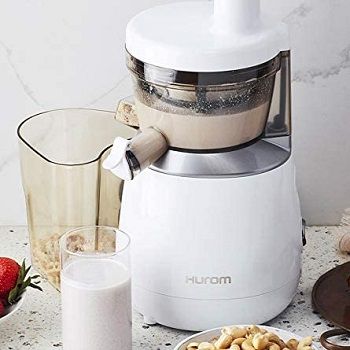 About Slow Juicer Machines
What Are Slow Juicers?
Slow juicers are also known as masticating juicers. They work on a different principle than most regular juicers. Regular juicers are centrifugal juicers and they shred the ingredients, whereas the masticating (slow) juicers squeeze the ingredients to extract juice out of them.
How Do They Work?
As mentioned above, slow juicers squeeze the ingredients instead of shredding them, and that is precisely their biggest benefit. The cold pressing squeezes out the juice through the filter screen to remove excess pulp. The pulp gets removed to a separate container, and the clear juice flows out.
Health Benefits
Regular centrifugal juicers use high-speed shredding and spinning, which caused the juice to oxidize and heat up, losing nutritional value and preservation time. Masticating juicers slowly squeeze out the juice and therefore preserve the nutritional value of the ingredients (fruits, vegetables, leafy greens), by keeping vitamins, minerals, enzymes, and fibers intact.
Slow Juicer Prices
The price range for slow juicer ranges from cheap to medium, meaning you can find some simpler models for under 100 US dollars, while most others cost several hundred dollars per item. The price, of course, depends on the model and brand of the device.
Where To Buy?
You can find all the items listed in the reviews on Amazon. You can visit this online seller on their website (amazon.com), and read the reviews written from personal experience that other buyers have had with the device. This might help you decide on which one to buy.
Best 5 Slow Juicers Reviews
Best Electric Slow Masticating Juicer
Hurom HP-WWB12 Slow Juicer
3 Colors
This device comes in 3 stylish colors that will fit into a modern kitchen. The specifications of the device are the same, just the color of the casing is different. The 3 available colors are white, pink, and mint (light green).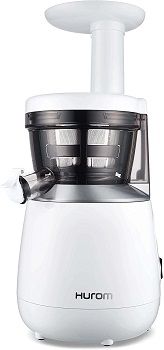 Slow Juicing
The juicing at 43 RPM (revolutions per minute) ensures that the juice will not oxidize and that the nutrients will be preserved. You will get almost all the vitamins, minerals, fibers, enzymes and other nutrients that were in the original ingredients.
Juicing Efficiency 
The juicer has a unique low-speed auger that enables efficient squeezing, to ensure you are getting the most juice possible out of your ingredients. The remaining pulp will be dry, further proving all the juice is extracted.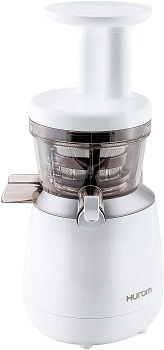 Easy To Clean
The automatic cleaning technology rotates the inner spinning brush to clean the juicing chamber and the strainer, in order to reduce clogging and make the cleaning process easier and faster for you.
Parts And Dimensions
The HP slow juicer can be easily disassembled and reassembled after cleaning, and all the parts are BPA-free. This device comes with a limited warranty, long term warranty on the motor. This juicer's dimensions are 20 x 11.5 x 8.5 inches, and it weighs 16.35 pounds.
Pros:
slow juicing
automatic cleaning
BPA-free
Cons:
narrow feeder
not dishwasher safe
Best Cheap Slow Juicer
Aicok Slow Masticating Juicer
Good Juice Quality
This slow juicer produces a good quality juice, in which it preserves all the nutrients from the ingredients that you are using for juicing. The resulting juice will be clearer, with less foam and less oxidation than most other juicers.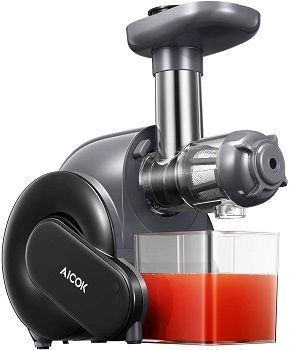 How To Use
Whatever it is you decide to make with this masticating juicer, keep in mind that the motor should not be working longer than 10 consecutive minutes. In order to prevent overheating, leave it to rest for 10 minutes or more between the uses that should be shorter than 10 minutes.
Easy To Install
The manufacturer claims that this juicer is easy to disassemble for cleaning and then reassemble again. If you find yourself having any questions, look into the device manual for guidance, or call the customer support line.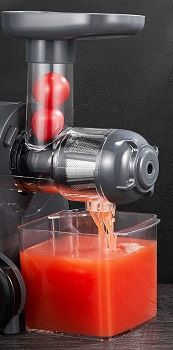 Quiet Operation
Thanks to the slow juicing at 80 RPM, this device produces very little noise, which means it works more quietly than most juicers, and it also works longer because of the less strain the operation puts on the parts. This juicer's dimensions are 13.5 x 11 x 9.8 inches, and it weighs 9.85 pounds.
Parts And Accessories
Included with the device are some additional goodies that will help you start juicing and to learn how to maintain your juicer properly. You will receive the following: a juice jug, a pulp jug, one cleaning brush, and a user manual to help answer any question you might have.
Pros:
safe lock
easy to clean
healthy juicing
Cons:
narrow feeder chute
quickly overheats
Best Quiet Slow Juicer
Aobosi Slow Masticating Juicer Extractor
Premium Filter
The small hole openings on the filter basket filter out more pulp and result in purer and clearer juice, and also ensure that more juice is extracted from the pulp. The filter is made from food-grade 304 stainless steel, which will never rust.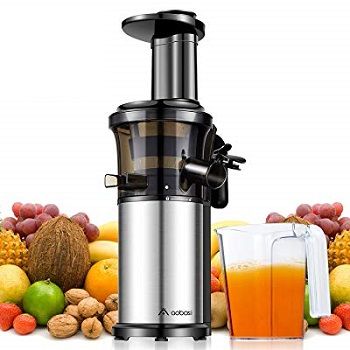 Vertical Design
The vertical narrow design takes up very little space on the table or countertop, but the height might be a problem for you if you would like to store your juicer assembled on some shelves and limited storage space. This juicer's dimensions are 16.3 x 14.3 x 7.5 inches, and it weighs 10.45 pounds.
Quiet Operation
This juicer operates using the slow juicing method, which does not produce much noise. As this juicer produces only about 60dB of noise, you can use it in spaces that don't tolerate much noise like regular juicer would make.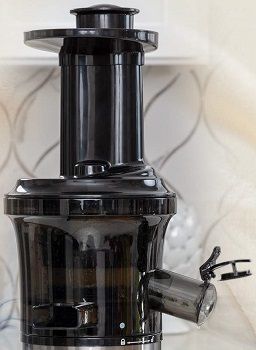 Efficient Motor
The low speed juicing at 40-65 RPM is still efficient enough that you will get your juice fast, but will all the nutrients intact and minimal oxidation that allows you to store the juice in a refrigerator for up to 3 days.
Dishwasher Safe
This juicer can be easily disassembled for cleaning, and you can either scrub the removable parts with the provided brush, or you can place them on the top shelf of the dishwasher rack and let it do the cleaning for you.
Pros:
dishwasher safe
narrow design
Best Cold Press Slow Juicer
Breville BJS600XL Masticating Slow Juicer
Quiet Motor
The 240-Watt motor ensures efficient and fast juicing while also maintaining a very low noise level. This makes the Breville juicer a good choice for households and places that prefer quiet, like hospitals, offices, and so on.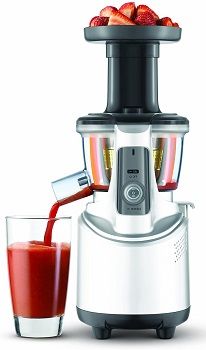 Reverse Function
This juicer has a reverse speed option, which will reverse the direction in which the moving parts spin, in order to dislodge any pieces of fruit or vegetable that have gotten stuck and jammed the device.
Automatic Cleaning
The inner rotating brush spins around and keeps the filter basket clean from pulp and remains and prevents jamming while ensuring a good flow of juice and continuous operation without having to clean the filter every so often.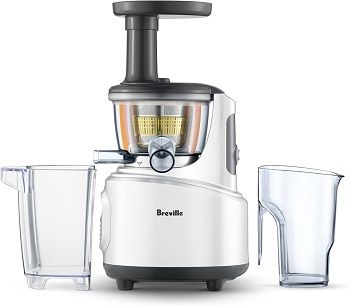 Wide Chute
Because this juicer has a wide feeder chute, you can put in larger pieces of fruits and vegetables and leafy greens, without needing to cut them up into very small pieces, which saves you time on juicing preparations.
Vertical Design
This juicer has materials that are not BPA-free, which means that they are not top food-grade quality. Thanks to the vertical design, the juicer takes up less space on the countertop or table.
Pros:
reverse function
very quiet
wide feeder chute
Best Easy To Clean Slow Juicer
Kuvings B6000S Whole Slow Juicer
Slow Juicing
The slow juicing at 60 RPM works based on the cold press mechanism, which squeezes out the juice from the fruits, goes through the pulp filtering screen, and then flows out of the juice with most of the nutrients from the ingredients preserved and fresh.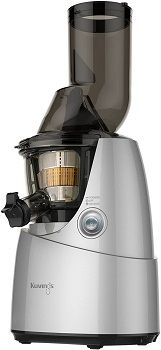 Anti-Drip Spout
The pulp gets separated into a large plastic container and the juice flows into a similar container but with a handle. The juice spout has a convenient cap lid that closes the tip to prevent dripping and unnecessary cleaning.
Parts And Accessories
This juicer comes with an additional blank sieve, which does not filter the pulp and instead of just plain juicing, allows you to make additional food items, like for example baby foods and frozen fruit sorbets. A cleaning brush is included with the device.
240-Watt Motor
This juicer is equipped with a 240-Watt motor, which operates the augers at 60 RPM, letting the slow cold press juicing squeeze out the juice from the ingredients, with most nutrients (vitamins, minerals, enzymes) preserved.
Design And Functions
The reverse function lets you unjam the device by dislodging any pieces that got stuck. The wide chute lets you use larger pieces of fruits and vegetables. This juicer's dimensions are 9 x 8.2 x 17.6 inches, and it weighs 14.11 pounds.
Pros:
wide chute
vertical design
BPA-free
reverse function
Cons:
plastic parts
hard to clean filter
Conclusion: Which Slow Juicer To Buy?
In my opinion, the best slow juicers you can buy are the Hurom HP-WWB12 Slow Juicer and the Kuvings B6000S Whole Slow Juicer. The Hurom is a slow juicer machine that operates at 43 RPM and has an auto-cleaning function. The Kuvings is a low-speed juicer that operates at 60RPM and has a wide feeder chute. The Kuvings slow press juicer also has a reverse function.
For more information on similar types of juicers, read this post on cold press juicers, and this one on electric juicers. If you want to learn more about different kinds of juicers and their models, read this post on juicer machines.