Are you looking for a portable juicer?
Then read this post.
Here you can learn more about portable and compact juicers and blenders, see what types are available, and read detailed reviews on several of the more popular models before choosing the best one for yourself.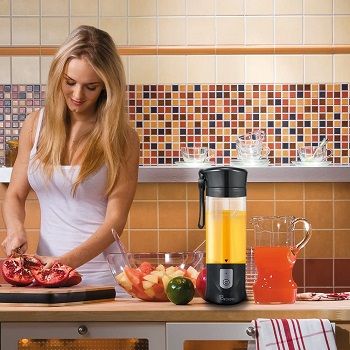 About Portable Blenders
What Makes Them Special?
Portable juicers are juicers that are small and compact, and that can not only fit into any storage cabinet or closet or shelf, but they can also fit into travel bags and backpacks, being lightweight and taking up little space. You can take them anywhere.
What Are They?
A blender needs to have certain features to be considered portable. For one, it needs to be small in size and dimensions, and it has to be lightweight. Then, it also helps if it has as few as possible moving extra parts. It is also good if it has a handle you can grab on while transporting the device.
What To Look For?
A big benefit in portable blenders is certainly the battery-operated feature. Thanks to the rechargeable battery, the travel juicer no longer depends on having an electric socket to plug it in in order to work. You can carry it anywhere, even in nature for camping, and you can use them about 3 times on average before the battery needs to be recharged.
What Kinds Are There?
The best compact juicers are those that fit in bags and have a rechargeable battery. However, there are some compact juicers that still operate via power cord but have some features that make them fit into the category of compact and easily portable blenders.
Portable Juicer Price
Portable juice blenders usually don't cost much. That is because they are smaller and need less material to be produced. All of the models listed in these reviews cost under 100 US dollars per item. If you are wondering where to buy compact juicer machines, you can purchase them on Amazon (amazon.com).
Best 5 Compact Juicers Reviews
Best Juice Fountain Compact
Breville BJE200XL Compact Juice Fountain
Powerful Juicer
This 700-Watt juice extractor is powerful enough to process all kinds of ingredients, even harder fruits and vegetables that might get stuck in average juicers. This compact juicer can process different kinds of fruits, vegetables, and leafy greens, making it one of the best compact juicers for celery among the models listed.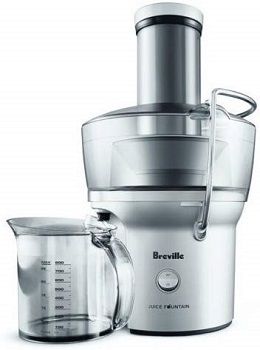 Wide Feeder
Thanks to the 3-inch wide feeder tube, you can easily put large pieces of vegetables and fruits, even celery and other leafy greens and soft roots like carrot and parsley. You can even use whole fruits and vegetables, just peel the skin off and remove pits and larger seeds.
 Heavy-Duty Build
This compact juicer's outer body is made from heavy grade polymer, and it has a centered blade assembly comprised of a stainless steel cutting disc, as well as an Italian-made micro-mesh filter that effectively separates pulp from the juice and promises better extraction.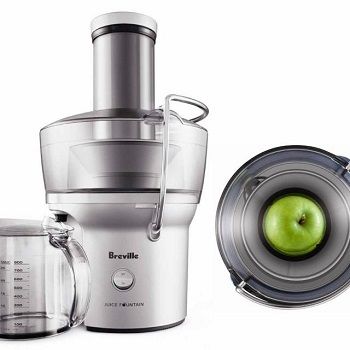 Safety Lock
The locking arm ensures the safety of both the user and the device, by preventing the juicer to start until all parts are properly assembled and put together in the right way. This prevents damage and potential injury, considering the juicer runs at 14,000 RPM.
Dishwasher Safe
This portable blender comes with a 1.6-quart pulp container and dishwasher safe parts, to reduce your cleaning time. A cleaning brush is included in the package. This juicer's dimensions are 10.5 x 10 x 16 inches, and it weighs 9.7 pounds.
Pros:
powerful juicing
dishwasher safe
compact body
Cons:
power cord
not very small
Best Compact Juice Extractor
Cuisinart CPB-300 Standing Blender
2 Colors
This compact juicer mixer grinder comes in 2 different colors. The model is the same, and in both cases, the center panel is made from stainless steel and the juicing cup is transparent BPA-free plastic. The bottom casing, however, is available in 2 colors: white, and black.

Quality Materials
This fruit juicer is portable and comes with 4 Tritan travel cups, which come with a lid and have the capacity to hold 16-ounces of juice. They are BPA-free and you can use them to drink your juice or smoothie from. The chopping blades are made from stainless steel.
Dishwasher Safe
This device has a standby mode, safety interlock, and auto-stop features. It also comes with a recipe book. This blender's dimensions are 10.1 x 15.8 x 10 inches, and it weighs 4 pounds. The removable parts are dishwasher safe.
Practical Design
The vertical design of this blender allows it to fit onto any table or countertop, as long as there is some room above. It does disassemble into two main parts, which makes storing it even easier. This device also has anti-slip feet and cord storage.
3 Speeds
This 350-Watt blender has 3 juicing speeds that you can choose from, depending on which ingredients you want to process, and which blending results you want to achieve. There is a high speed, a low speed, and a pulse function. Each button has a LED indicator that confirms which speed is being used.
Pros:
stainless steel blade
4 travels cups included
3 speeds
vertical design
Best Portable Blender Bottle
Beckool Travel Portable Juicer Blender
Strong Blades
The stainless steel blades are arranged like a flower and there are 6 of them, which maximizes cutting efficiency, enabling faster juicing and processing with little power and time needed to produce smoothies, juice, milkshakes and so on.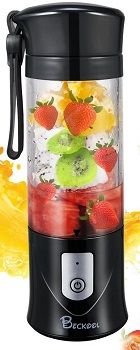 Practicality
This bottle-like juicer has a silicone bracelet handle, which is soft and foldable, but practical to use it while carrying the device. The blender is lightweight and you can carry it around and use it wherever, thanks to the rechargeable battery. The portable blender's capacity is 13 ounces.
Design Description
The blender doubles as a portable bottle, which is practical because it lets you blend and drink on the go, without needing to pour the content or remove parts to make it travel safe. The parts can be easily disassembled by screwing on and off for washing.
Rechargeable Battery
The rechargeable 4000mAh (2x2000mAh) battery lets you use the blender up to 20 times before needing to recharge it. Once empty, it needs to be recharged via USB cable before you can use it again. The port has a seal cap to prevent damage and soiling.
Easy To Use
This juicer only has one button, so it is simple to use. You can remove the parts for washing, but be careful not to expose the base (the part with battery and motor) to water, because it has a USB port on the bottom. This blender's dimensions are 3.1 x 3.1 x 9.8 inches, and it weighs 1.4 pounds.
Shipping Weight 1.8 pounds
Pros:
silicone cord
portable bottle design
battery operated
6 stainless steel blades
long-lasting battery
Best Portable Blender Cup
Mexidi Portable Bingo Juice Blender
4 Colors
This portable mini juicer bottle comes in 4 available colors: pastel green, pastel blue, pastel pink, and red. The model is the same in all four instances, only the color of the base and the cap lining is different, all specifications are the same.

Fast Juicing
The fast speed ensures quick juicing with little fuss. The blades operate at 15,000 RPM, so the juicing is convenient and fast. On average 30% faster than most other juicers. Motor idle speed is 22,000 RPM, and the battery recharges via USB cable.
Practical Bottle
This portable blender has a built-in handle on the lid, which is loop-shaped, so you can attach various ropes to it for carrying or equipping for travel. This means you can also attach it to your backpack or travel bag with hooks or ropes.
Cutting Blades
The cutting blades are made from 304 stainless steel, so they will stay sharp for a long time, and will not rust nor stain even with frequent use. But you should still wash the juicer after every use, rinsing the blade and the inside of the bottle. Don't expose the battery to water.
Materials And Dimensions
The materials this portable juicer is made of are non-toxic and food-grade quality. The bottle is made from thick safe material that is easy to clean. This device's dimensions are 9.8 x 3.1 inches, and it weighs 1.4 pounds.
Pros:
lightweight
portable
rechargeable
4 colors
Cons:
small capacity
not easy to wash
Best USB Portable Blender
Daily Juice USB Juicer Portable Blender
Small And Portable
This juicer is small-sized, and therefore can only process single servings of shakes or smoothies or milkshakes or juice, depending on what you want to make. Whatever it is you want to make with this simple blender, remember to keep it in small doses, up to 1.4 cups.

Fast Blending
This fast portable blender can process fruits at 20,000 RPM, which is good for a small device like this. It will give you fast results, and you can use it up to 20 times on full battery before you need to recharge it again.
Convenient Design
The materials this blender was made of are BPA-free and FDA-free, and durable enough for traveling. The plastic parts and the silicone parts can be combined to make a portable bottle out of the juicing container.
Rechargeable Battery
The lithium battery capacity is 4000mAh, and it needs to be recharged via USB cable when it empties. When full, it gives you up to 20 uses of the blender before it empties out. Don't start the device while it's charging.
3 Colors
This portable juicer is available in 3 different colors. One is a light pastel blue, the second a peachy-toned pink, and the third is plain white. The specifications of the device are the same in each case. This portable blender's dimensions are 10.2 x 3.1 inches.
Pros:
rechargeable
safe materials
carry handle
Conclusion: Which Portable Blender To Buy?
In my opinion, the best portable juicers you can buy are the Beckool Travel Portable Juicer Blender and the Mexidi Portable Bingo Juice Blender. The Mexidi Bingo has stainless steel blades and a rechargeable battery. The Beckool has 6 stainless steel blades and a rechargeable 4000mAh battery. The Beckool is also shaped like a bottle and has a good volume capacity.
For more information on similar devices and models, read this post on mini juicers and this one on cheap juicers. If you are interested in different juicers and want to see what other types there are, read this post on juicer machines.