Are you looking for a citrus juicer?
Then you're in the right place!
In this post, you can learn more about citrus juicers, what types there are, and useful information on how to use them and how to clean them. Hopefully, this will help you choose the best citrus juicer for yourself.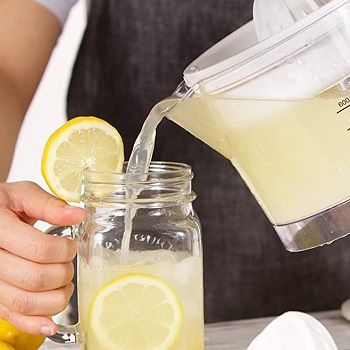 About Citrus Juicers
What Types Are There?
When it comes to citrus juicing, you have several options: the standing citrus press, the hand squeezer, and the electric and manual citrus juicers. The latter is the type you will read about here. They consist of a reamer with a juicing cone set above a juice collecting container.
How To Use Them?
Most of these models are electric citrus juicers with automatic juicing that starts when you apply pressure on the juicing cone. So just take a halved citrus and press it on the cone, and continue pressing for as long as you think there is any juice left to squeeze. Release to stop juicing.
How To Clean Them?
Most of the citrus juicers reviewed here can be disassembled for cleaning, and put in a dishwasher. Those that are not dishwasher safe, you will have to scrub and wash by hand in the sink. Sometimes a cleaning brush is included with the device.
Where To Buy Them?
You can buy all the items listed below on Amazon. You can search for them and buy directly from their manufacturers, but sellers such as Amazon (amazon.com) let you read the reviews that other users have written on the devices you are interested in.
Citrus Juicer Price
Most simple models of citrus juicers cost under 100 US dollars, but some of the sturdier ones can cost up to several hundred dollars. All the models mentioned in this post cost under 300 US dollars.
Best 5 Citrus Juicer Reviews
Best Electric Citrus Juicer
Black & Decker CJ525 CitrusMate Plus Juicer
Automatic Start
This juicer starts automatically when you apply pressure on the juicing cone, which means you only need to press the citrus half down on the juicer and hold it like that until you are done, at which point you can release to stop juicing.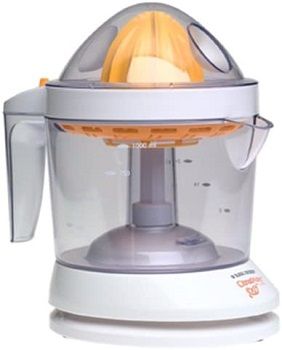 Reverse Function
This citrus juicer also has a self-reversing function, which means when you release the pressure and then press down on the reamer the next time, the spinning direction will change, which ensures more efficient juicing.
Large Pitcher
The transparent juice collector container doubles as a juice pitcher, with a handle and a spout for easier use. The pitcher also has volume markings on the side, helping you to determine the amount of juice that is in there.
2 Cones
This best manual citrus juicer comes with two juicing cone sizes: small and large. The small one is better suited for small citrus fruits, like lemons and limes, and the large is better to use with bigger fruits, like oranges and grapefruits.
Adjustable Pulp
Before you start juicing, this juicer lets you choose your preferred pulp output setting, which means you can decide how much pulp you want to include with your juice. The rest will be filtered out. This juicer's dimensions are 9.5 x 6.9 x 6.9 inches, and it weighs 1.6 pounds.
Pros:
juice pitcher
2 cone sizes
reversible
adjustable pulp
Best Electric Orange Juicer
Braun MPZ22 Citromatic Deluxe Citrus Juicer
Direct Juicing
With this orange juice extractor, it is simple to get citrus juice: press down the citrus half on the reamer, and let the juicer start and do its work, while the juice flows directly into the glass you set under the spout.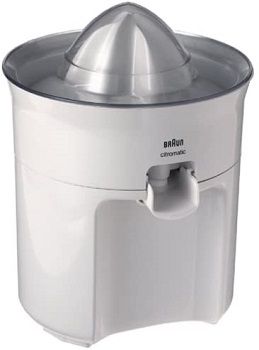 Juicing Power
This juicer has a 60-Watt motor which will help you extract a good amount of juice from your citrus fruits. All you need to do is apply pressure on the juicing cone and the juicing will start automatically.
Anti-Drip Spout
The anti-drip spout snaps upwards and is locked into place when you put it in that position. This way, there will be no dripping juice while you switch out the glasses. You can easily flip it back down when you want to juice again.
Accessories Included
Included with this device, you will get a protective dust cover for the juicer. This will prevent dust from gathering on the juicing cone and reamer, and your juicer will be ready for use anytime you need it.
Dimensions And Materials
This juicer is made from hard plastic with a smooth shiny finish, and it is therefore easy to clean. Simply wipe the outer casing with a wet cloth, and then either let it dry or wipe it dry. This juicer's dimensions are 5.5 x 5.5 x 8.5 inches, and it weighs 3.9 pounds.
Pros:
dust cover
anti-drip spout
Cons:
no juice container
plastic
Best Orange Juice Machine
Cuisinart CCJ-500 Citrus Juicer
Assembly Required
Before you can start juicing, you will need to manually assemble this electric lemon juicer. Though the device only has a few pieces and is relatively easy to set up, you should look at the instruction book for guidance.
BPA-Free Parts
This electric juice squeezer is made from BPA-free materials, mainly stainless steel with a brushed finish. The device will not rust and is easy to clean. The removable parts are dishwasher safe, but be careful not to expose the motor casing to water.
Adjustable Pulp
The adjustable reamer has 3 pulp output control settings: low, medium, and high. This lets you adjust the amount of pulp that gets included with the juice each time you juice, so you can make the kind of juice that you like.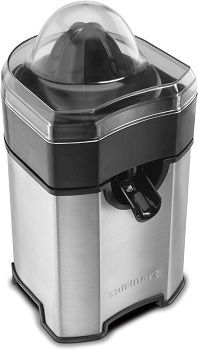 Automatic Reverse
This juicer has an automatic start: all you need to do after you plug it in is to press down on the juicing cone with the fruit. The juicing cone will start spinning and extracting the juice. Release to stop, and press again to reverse the spinning direction for maximum extraction.
Anti-Drip Spout
The spout where the juice flows out snaps upwards to prevent dripping and is located high enough to accommodate even a tall glass. This juicer's dimensions are 6.8 x 7.9 x 12.2 inches, and it weighs 4 pounds.
Pros:
stainless steel
anti-drip spout
auto-reverse
Cons:
plastic parts
assembly required
Best Orange Juice Squeezer
Dash Citrus Compact Juicer Extractor
Juice Pitcher 
This countertop citrus juicer consists of a juice collector pitcher and a reamer that goes on top of it like a lid, so that the juice from squeezing can drip directly down into the pitcher, which has a spout and handle for easier use. The pitcher capacity is 32 ounces.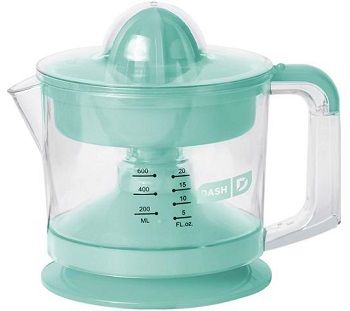 Easy To Use
This juicer is easy to wash because it only has a few pieces that need disassembling and reassembling. Remember not to expose the motor base to water. All non-electric parts are dishwasher safe.
Compact Design
The small juicer is made from plastic and therefore it is very lightweight. It weighs only 1 pound, which means you can easily carry it with you as you travel. This device is made of plastic, which is easy to clean.
Accessories Included
This best lemon juicer includes 2 juicing cones (large and small), fridge-ready 32oz juice container with lid and a handle, recipe book, and recipe database access. It comes in several colors, but not all available at every time.
Adjustable Pulp Setting
On the side of the reamer, you have a slider that allows you to adjust the pulp setting, which is regulating how much pulp gets extracted and how much will be included in the resulting juice. This juicer's dimensions are 8.8 x 6.4 x 7.8 inches, and it weighs 1.9 pounds.
Pros:
2 cone sizes
adjustable pulp output
juice pitcher
Cons:
plastic
one juicing speed
Best Commercial Citrus Juicer
Breville 800CPXL Die-Cast Citrus Press
Improved Juicing Cone
The new and improved quadra-finned juicing cone has sharp ridges that will help you by extracting the juice from citrus fruits more efficiently, and you will need to press only lightly on the juicing cone.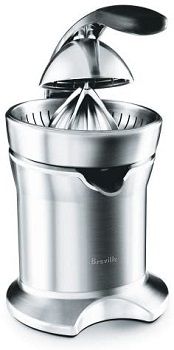 Pressing Arm
The pressing arm with a citrus cap that fits almost snugly over the juicing cone will help you apply the pressure necessary for good juicing by only light pressing down on the pressing arm.
Anti-Drip Spout
The innovative anti-drip system prevents any juice from spilling from the juicer onto your table or countertop, thus preventing any waste of juice and unnecessary cleanup of surfaces around the juicer.
Stainless Steel
The professional-grade stainless steel housing has a brushed finish, and most parts of thiscommercial juice press are made from stainless steel as well, which means they will not rust for a long time and will not get damaged easily.
Orange Juice Press
This manual juice press has only one cone that fits most citrus fruit sizes, but it is dishwasher safe and has an acid-resistant coating for longevity and durability. This juicer's dimensions are 11 x 9 x 18 inches and it weighs 11.02 pounds.
Pros:
stainless steel
pressing arm
dishwasher safe cone
Cons:
no juice collector
co cord storage
Conclusion: Which Citrus Juicer To Buy?
In my opinion, the best citrus juicers you can buy are the Black & Decker CJ525 Juicer and the Breville 800CPXL Citrus Press. The Breville is a stainless steel citrus press with an anti-drip spout. The Black & Decker is a plastic citrus juicer that comes with a pitcher and 2 juicing cones of different sizes. The Black & Decker also has an adjustable pulp output setting.
For more information about similar types of juicers, read this post on orange juicers and this one on cheap juicers. In case you want to know more about other types and kinds of juicers, read this post on juicer machines.