Are you interested in KitchenAid juicers?
Then keep reading.
In this post, you can learn more about KitchenAid juice extractors and read detailed reviews on some of their more popular models. You can decide for yourself which of them you like best, depending on their specifications and descriptions.
KitchenAid Juicers And More About Them
KitchenAid History
The company was founded in 1919. in the USA, and in the same year presented their first legendary stand mixer, which they are still famed for. Then came the dishwasher in 1949, and the KitchenAid has already built itself a name among the cooking community.
What Else They Offer?
At this point, 90 years after they started, KitchenAid now offers a wide variety of products that fit into the kitchen equipment category. They sell cookware, appliances, ranges, refrigerators, tools and cooking utensils and much more.
What Is Their Price Range?
Their products fit into the lower medium price range, though it varies greatly and depends on the type of product you are looking for, and it varies slightly between models, but not too much.
 Where To Buy Their Products?
You can buy most of their products directly from them, or through online retailers like Amazon (amazon.com). If you do go through Amazon, you get the added benefit of reading some of the reviews that people have written on those products, as well as the rating they have earned from their customers.
KitchenAid Customer Support
You can contact KitchenAid customer support in various ways, depending on which one is most convenient for you. You can use live chat, call them on the phone, or send them a letter in the mail, or you can leave an inquiry or recommendation or complaint on their official website, under the "contact us" section.
Top 4 KitchenAid Juicer Reviews
KitchenAid JE Citrus Juicer Attachment
How Does It Work?
This KitchenAid artisan juicer attachment connects to a power hub on your stand mixer and uses the power of the mixer's motor to operate the attachment. While the juicing cone spins, you need to press down the citrus fruit on it.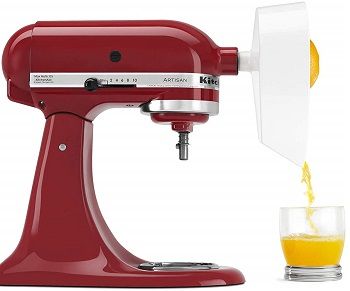 Design And Shape
This juicer attachment is shaped like a minimal plastic bowl with a juicing cone inside. Since it is mounted vertically on the mixer, the funnel is facing down and above it is the strainer that filters the pits and pulp from the juice flowing into a bowl or pitcher of whatever you put under it.
Materials And Dimensions
It is made from white-colored plastic, which is easy to wash and maintain, and it is also easy to store thanks to its dimensions being 6.5 x 4.5 x 9 inches, and its weight only 0.32 ounces.
Mixer Compatibility
With this KitchenAid lemon juicer attachment, you can make a juicer out of your standing mixer, and squeeze out citrus fruits quickly and easily with this tool, to help you bake and cook, or even just prepare juice or other drinks or food items.
How To Attach It?
You need to attach this KitchenAid citrus squeezer on the power hub of your stand mixer and power the mixer motor to make the attachment work. It is recommended to use the mixer's high speeds for this.
Short description:
plastic
small
for all citrus sizes
attaches to KitchenAid mixers
KitchenAid KSM1JA Masticating Juicer Attachment
Three Pulp Filters
The KSM1JA has three pulp filters, also known as pulp screens. Since there are three of them is different types of density, you can choose how you like your pulp integration. You can choose between no pulp for clear juices, low pulp for soups, or high pulp for sauces.
Compatible With KitchenAid Mixers
KitchenAid KSM1JA masticating juicer & sauce attachment needs to be mounted on a KitchenAid stand mixer to work. Simply install it on the power hub on your stand mixer and power the mixer's motor to operate this attachment. This attachment's dimensions are 9.7 x 7 x 11.6 inches, and it weighs 4.8 pounds.
How Does It Work?
After you attach the device onto your KitchenAid stand mixer (and it fits all household KitchenAid stand mixers), just turn on the mixer power, and its motor will do the job of powering the juicer. You should use the recommended mixer speed with this.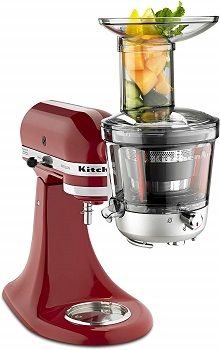 What Can You Make With It?
You can use this masticating juicer for making juices, soups, baby food, sauces, salsas, smoothies, milkshakes, and much more. To produce those, you can use various ingredients like fruits, vegetables, leafy greens, and herbs.
Design Specifics
This attachment has a wide feed tube and slicing blade, and it can accommodate fruits of various sizes and shapes, whether they are soft or hard, and also leafy greens and vegetables. This means it will take you less preparation time and effort while using this device.
Short description:
attaches on a KitchenAid stand mixer
3 pulp filters
versatile masticating juicer and saucer
wide feeder
KitchenAid KVJ0111OB Maximum Extraction Juicer
Slow Juicing Operation
This type of juicer slices and then proceeds to process the ingredients, mashing them into a fine compound, which ensures the amount of juice extracted from the ingredients is maximum possible.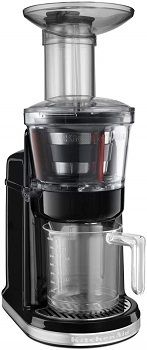 3 Pulp Filters
The KitchenAid maximum slow healthy electric juicer comes with three different pulp screen filters, which means you get to choose how pulpy your outcoming juice will be. You can use the densest filter to keep out most of the pulp, the medium for low pulpiness, and the weakest one for adding more pulp to your outcoming result.
Wide Feeder Chute
The wide feeder opening lets you put in larger pieces of fruit and vegetables and leafy greens, without having to slice them up. That will save you a lot of time and effort during preparation.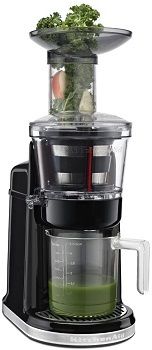 Sturdy Design
This KitchenAid juice extractor is made from metal, with a die-cast construction, which means it is sturdy and will endure for a significant amount of time, and is less prone to breaking than plastic juicers. This device's dimensions are 6.8 x 11.5 x 17.9 inches, and it weighs 24.9 pounds.
Accessories Included
KitchenAid maximum extraction juicer comes with 3 pulp screens, BPA-free plastic juice pitcher with lid and foam screen, a pulp container, a removable drip tray, and a cleaning brush.
Short description:
extracts a lot of juice
wide feeder chute
3 pulp screens
KitchenAid KVJ0333WH Easy Clean Juicer
Easy To Clean
KitchenAid easy clean juicer stays true to its name thanks to a ceramic disc that is easy to clean. It minimizes pulp buildup and rinses clean with little to no effort needed in cleaning it. It is also dishwasher safe, for extra convenience.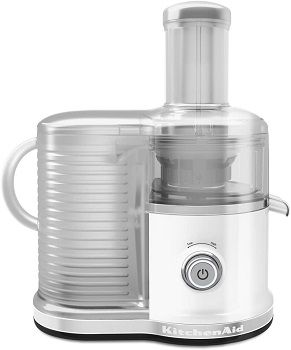 Multiple Speed Settings
This KitchenAid fruit juicer has two speeds you can choose between. The lower one is more suitable for juicing softer fruits and vegetables, while the higher speed setting is better for harder fruits and vegetables, so it doesn't take as long to juice them.
Adjustable Pulp Screen
This juicer features a 3-in-1 adjustable pulp screen, which lets you set it on one of thee options. This allows you to adjust the amount of pulp that comes out with the juice. Use low-pulp for clear juices, medium for soups, and high for sauces and such.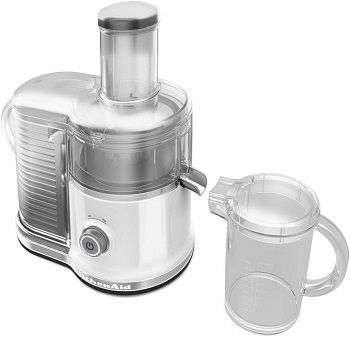 Wide Chute
The wide feeder chute lets you put in a whole apple or larger pieces of fruit with no need to slice them down, which greatly reduces the time you need for preparation and cleanup around juicing.
Dimensions And Materials
This standalone KitchenAid juicer stands by itself, no need to attach it to any kind of stand mixer. Its dimensions are 9 x 15.5 x 17 inches, and it weighs 15.2 pounds. It is made from plastic and is easy to wipe clean. It also comes with a BPA-free juice pitcher with lid and long spout that connects to the KitchenAid centrifugal juicer spout for no dripping.
Short description:
3in1 pulp screen
2 speed settings
wide chute
juice pitcher with lid
easy cleaning ceramic disc
KitchenAid Juicer Attachment Parts
Some of the KitchenAid juicers reviewed here are actually additional attachments parts for the KitchenAid stand mixers and do not work without them. They use the mixer's motor to power themselves. However, some are not merely KitchenAid mixer juicer attachments, but standalone juicers. And those KitchenAid juicers and saucers do not need any external powering. For any replacement parts or KitchenAid accessories, contact the manufacturer's customer support or service center.
KitchenAid Juicer Manual
For installing some of the KitchenAid juicer attachments you will likely need to take a look at the installation instructions manual. You will likely receive one when purchasing a new product from original sites and trusted retailers. Always take a look at the manual guide before installing the devices yourself. For some popular products, you can even find a manual online.
Conclusion: Which KitchenAid Juicer To Buy?
In my opinion, the best KitchenAid juicers you can buy are the KitchenAid KSM1JA Masticating Juicer and the KitchenAid Easy Clean Juicer. The KSM1JA is a KitchenAid stand mixer attachment and makes juices or sauces by masticating ingredients. The Easy Clean juicer is a stand-alone juicer that does not need to be attached to a mixer or other device for external powering. The Easy Clean also has a 3-in-1 adjustable pulp screen and a dishwasher safe ceramic disc.
For more information about juicers of different kinds, read this post on juicer machines. To learn more about specific types of juicers and the corresponding models, read this post on citrus juicers and cheap juicers.