Are you interested in automatic juicers?
Then you should try out automatic orange juicers.
Read this post to learn more about automatic juicers, how they work, what is it that they do, and what different types and models you can find and buy. Keep reading to see detailed reviews on 5 different models.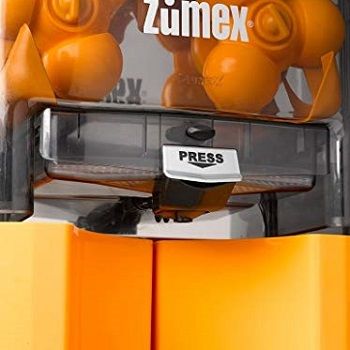 Automatic Juicers And Their Types
What Is Good About Automatic Juicers?
Automatic juicers are called like that because they have at least one function that they perform automatically, without you needing to press a button for it. Some detect fruits and start juicing, some have automatic feeders as well, and so on.
What Types Of Automatic Juicers Exist?
There are fully automatic juicer machines and there are those that only have one or a few functions automatized. Some are citrus squeezers with a spinning reamer, and some are machines with gears that peel and juice the fruits during the same processing.
What To Look For?
When purchasing an automatic juicer, make sure that the automated function is something you will need and will not get in your way. For instance, one of the models mentioned in the reviews starts taking and juicing fruits as soon as it detects them in the feeder. If that is not something that you want, look for a different model.
Where To Buy Them?
All the models spoken about in the reviews are available for purchase at online retailers such as Amazon (amazon.com). These platforms let you read reviews that other people who have tried this product have written so that you can have a better idea of what you are buying before you even order it.
Automatic Juice Machine Price
The price of these automatic orange juicers varies greatly between models, depending on the type of juicer you are looking for. For instance, the fully automated commercial juicers cost several thousand US dollars, whereas the simpler ones cost several hundred US dollars.
Best 5 Automatic Juicers Reviews
Best Automatic Orange Juice Squeezer
Frucosol F-Compact Automatic Orange Juicer
Efficient Juicing
This automatic orange peeler and juicer can automatically cut and squeeze 10-12 fruits per minute. The fruit width should not exceed 2.7 inches, or else it might get stuck in the gears, or the juice may not be extracted properly.
Automatic Juice Machine
This commercial automatic orange juicer machine does the peeling as well as juicing, so you don't have to spend any time on preparation, simply wash the fruits, load the juicer, and it will do all the work for you.
Commercial Automatic Juicer
This juicer has an advanced design that enables it to perform the juicing process in a way that reduces the bitterness of the juice. This is especially good for juicers that fill kids' needs for juice, like in cafeterias, kindergartens, and so on.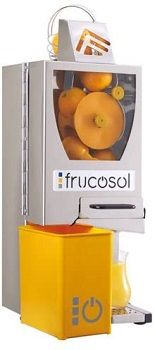 Dishwasher Safe
The removable parts are safe for washing in the dishwasher, but it is recommended to use them with the top shelf rack of the dishwasher only, as some parts might get damaged if left to move around on the lower shelf, where there is room for them to slide and break.
Size And Design
This device's dimensions are 14.5 x 11 x 28.5 inches, and it weighs 55 pounds. It also has a transparent window through which you can observe the juicing process as it occurs. It will also be easy to see if there is something stuck or if the juicer needs cleaning.
Pros:
fully automatic
transparent screen
reduces bitterness
dishwasher safe parts
Cons:
large
heavy
hard to clean
Best Automatic Citrus Juicer
Proctor Silex 66332 Juicit Citrus Juicer
Easy To Clean
All removable parts are dishwasher safe. This means that you can simply put all parts except the motor housing into the dishwasher, and let it do its work. The cleaning time is reduced, as is the effort required of you to clean the juicer and prepare it for future use.
Adjustable Pulp Control
This automatic lemon juicer has an adjustable pulp output. Choose one of 5 settings to decide how much pulp gets mixed into the juice and how much will be filtered out, by simply sliding the control slider on the top of the juicer to the desired setting.
Pitcher Juice Collector
Large juice collector doubles as a pitcher that you can remove and use it independently to take away from the kitchen and use it to pour juice at the table. It has a handle and a funnel spout to help you with distributing juice.
2 Reamers
This automatic citrus squeezer comes with 2 juicing cones of different sizes. You can use the small one for limes and lemons, and you can simply install the bigger one by fixing it on top of the small one, and the big one can be used to squeeze oranges and grapefruits.
Convenient Design
On the base of the juicer, there is a slit that you can use to wrap the power cord onto the base of the juicer for easy and tangle-free storage. This also saves space for small kitchens with limited storage space. This device's dimensions are 7.8 x 9.2 x 7.8 inches, and it weighs 1.8 pounds.
Pros:
cord storage
2 juicing cones
adjustable pulp output
Best Commercial Automatic Juicer
Santos 70 Evolution Commercial Citrus Juicer
Citrus Squeezer
This commercial automatic orange juicer machine can produce up to 13 gallons of juice per hour, on average output. You can squeeze lemons, oranges, grapefruits, or even limes and pomegranates.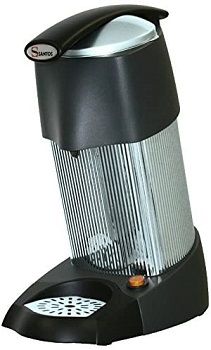 Commercial Grade
This device was made for use in restaurants, cafe bars, cocktail bars, canteens, hotels, and other places that need freshly squeezed citrus juice. The spout is placed at 8.6 inches height so that you can use a jug or a tall glass as a juice collector as well as a regular glass.
350 Watt Motor
This automatic lemon juicer is equipped with a 350 Watt motor, which enables efficient juicing so that you can get a good amount of juice from your citrus fruits. The juicing process is fast and easy, simply put the fruit in and place a glass under the spout.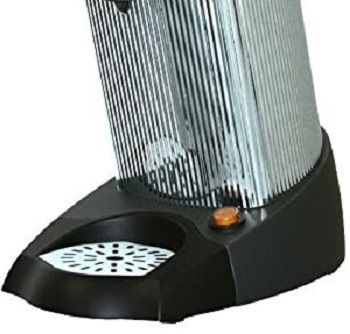 Automatic Start
This juicer will start as soon as you push the lever down into the fruit. The heavy-duty body is durable and safe, resistant to rust and staining and breaking. The motor is made from cast aluminum, and the juice container and juicing cone are made from stainless steel.
Easy Cleaning
The stainless steel bowl, cone, and cup can be removed, which makes cleaning easier and faster for you. This device works at 1700 RPM and is powered by 110-120V electricity.
Pros:
stainless steel parts
heavy duty
fast juicing
Cons:
basic design
small glass stand
Best Fully Automatic Juice Machine
Zumex Essential Pro Orange Citrus Juicer
Fully Automatic Orange Squeezer
The automatic feeder chute takes the oranges into the device, then peels them and juices them. The feeder has a capacity to hold 6-8 fruits, depending on the size. The recommended size of fruits to use is up to 3.2 inches.
Where To Use It?
It is best to use this device in places where there is a medium demand for fresh-squeezed orange juice, as this device can handle it well, but might be prone to overheat and wear out through regular and frequent use.
Juicing Efficiency
This juicer can process up to 14 fruits per minute, which produces about 34 ounces of juice per minute. This makes this automatic orange juicer an efficient juicer. It will start instantly as soon as it detects oranges in the feeder.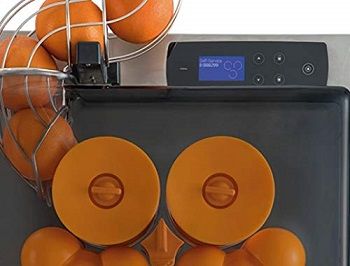 Display Screen
This juicer has a screen that displays the basic information, like the mode it is set on. It also has a digital fruit counter, in case that is something you might want or need to have in your orange juicer.
Dishwasher Safe Parts
It has a removable tank and tray, which thanks to its durability can be cleaned in the dishwasher. The juice is stored in the tank, but you can press the tap anytime to start pouring it into your glass or cup.
Pros:
automatic feeder
display
dishwasher safe parts
Cons:
large
press to pour
heavy
Best Automatic Orange Juicer For Home Use
Juiceman JCJ150S Automatic Citrus Juicer
2 Juicing Cones
This automatic lemon juicer comes with 2 juicing cones of different sizes, the small and the large that fits over the small. The small one is suitable for small citrus fruits, like limes and lemons, and the big one is better suited for larger citrus like oranges and grapefruits.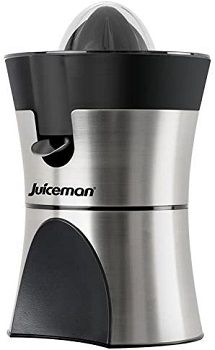 Auto Reverse
The auto-reverse function means the gears change the spinning direction of the juicing cone, each time you press down again. This allows you to extract a good amount of juice from the fruits, making this juicer effective.
Anti-Drip Spout
The spout flips upwards, which will disable dripping when there is no juice collector glass or jug under the spout, preventing a mess on the countertop or table with the necessary cleanup. The spout and the body are made from brushed metal for durability.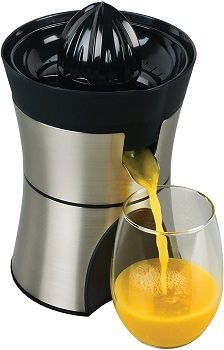 Dishwasher Safe
Some of the removable parts are dishwasher safe, which means you can safely put them on the top shelf on the dishwasher rack and let it do the cleaning instead of you. This will save you time and energy.
Design And Dimensions
In the underside of the base on which it stands, this device has a power cord holder. It allows you to wrap the power cable on it for tangle-free and space-conserving storage. This juicer's dimensions are 6.7 x 6.7 x 10.8 inches, and it weighs 2.6 pounds.
Pros:
metal casing
flip spout
2 cone sizes
cord holder
Cons:
no juice collector
plastic reamer
Conclusion: Which Automatic Juicer To Buy?
In my opinion, the best automatic juicers to buy are the Frucosol F-Compact Automatic Orange Juicer and the Santos 70 Evolution Commercial Citrus Juicer. The Santos is a small electric juicer and relies on you to peel and cut the fruit before juicing it. The Frucosol has an automatic feeder function and does the peeling and juicing work for you. The Frucosol is also a good automatic orange juicer because it can process many fruits under one minute.
If you want to know more about similar types of juicers, read this post on electric juicers, and this one on citrus juicers. In case you are interested in other types of juicers, read this post on juicing machines.