Are you looking for a commercial juicer?
Then keep reading!
Read this post to learn more about commercial juicers, what is it makes them special, and where to buy them. You can also read detailed reviews on several different models, and find the one that suits you best.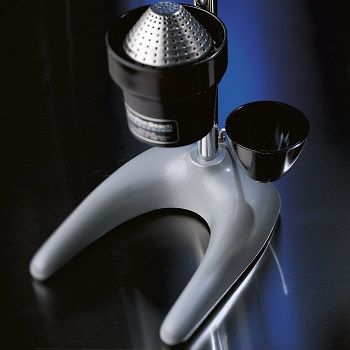 About Commercial Juicers
What Are Commercial Juicers?
Commercial Juicer Machines are juicers that are made from quality materials to be longlasting, sturdy and durable, and withstand frequent use. They are intended for use in bars, restaurants, cocktail bars, coffee shops, and hotels, or even in industrial purposes.
How Do They Compare?
Unlike regular juicers for home use, these ones are almost always made from durable and safe materials, like stainless steel. They are relatively simple to use, and due to their high-quality manufacturing standards, more sturdy and last longer, and also very efficient juicers.
Heavy Duty Juicers
Professional juicers need to be able to work well and give optimal results every time. There is no room for error and they mustn't break even if they are being used constantly every day, to fulfill the demand for juice production. They also filter well, removing the pulp and leaving only clear juice that can be used in cocktails and such.
Finding Commercial Juicers For Sale
You can find these juicers machines online or through their original retailers. If you look for them on Amazon (amazon.com), you can also take the time to see the ratings and read the reviews that previous buyers have written about the device.
Commercial Grade Juicer Price
You need to consider the fact that the heavy-duty build and quality assessment, as well as the high-grade materials they are made of, professional juicers are a league above regular cheap (often plastic) home juicers. However, because of that, they cost significantly more, some ranging even several thousand US dollars.
Best 5 Commercial Juicers Reviews
Best Commercial Citrus Press
Hamilton Beach 932 Commercial Citrus Juicer
Manual Commercial Press
This commercial lemon squeezer works as a manual press that uses a rack and pinion gearing for more leverage. The lever mechanism applies a big amount of pressure (2,000 pounds) on the fruit that gets squeezed between the juicing cone and the pressure cap.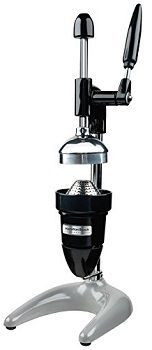 Juicing Efficiency
The squeezing mechanism described above is very effective in extracting all the juice from the citrus fruit, leaving nothing behind except the crust and fibers. The pulp filters out any pulp and skin residue, for clean juice results.
Stainless Steel
The stainless steel strainer cone ensures longlasting components that will not rust even after a long time of frequent use and exposure to acidic juice. The metal construction is resistant to wear and has an enamel finish that is acid-resistant.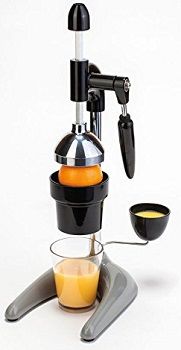 Anti- Drip Cup
A multifunctional drip cup is mounted on a swiveling arm that swings outward to push it out of the way when you wish to place a container under the juice spout and swings back under the spout to collect anything dripping from the juicer when not used or between changing containers.
Easy To Use
The Sure-Grip system feet keep this commercial juice press stable and prevent tipping during use. Some parts are removable for easy cleaning, and the large juicing cup opening allows you to use not only lemons and oranges but also larger fruit halves like pomegranates and grapefruits.
Pros:
stainless steel
good pressure
anti-acid coating
stable
no electricity
Cons:
manual squeezing
plastic parts
Best Commercial Juice Extractor
Nutrifaster N450 Multi Purpose Juicer
Stainless Steel Parts
This commercial juicer has a sturdy aluminum housing, and stainless steel juicing parts that will never rust, will not stain or bend or break easily. They also provide safe juicing with no harmful chemicals leaking (as it could happen with some plastic materials).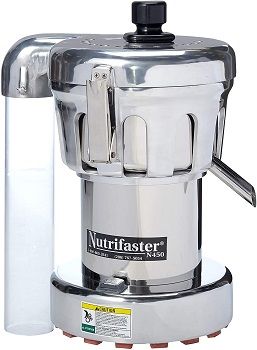 Easy To Use
No assembly is required with this juicer, it comes pre-installed. But you can remove some parts for simpler cleaning, and then easily put them back together and lock in place with side fasteners, to ensure proper installation and safety of the components.
Immediate Pulp Ejection
The automatic pulp ejection allows continuous juicing, with no stops necessary to empty the pulp collecting container. Thanks to the downward-facing tube for the pulp, you can place a large container under it to allow for frequent use without needing to clean up often.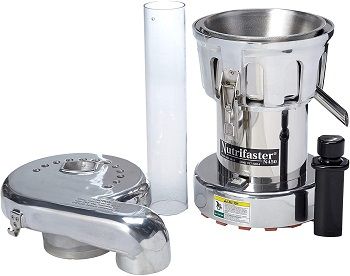 Juicer For Bars
This professional juicer is recommended for use in bars, cafés, juice bars, cocktail bars, restaurants, wellness and gym spaces, and so on. The only downside to it is that it is loud. So, if you have a problem with that, maybe use it in the next room or look for another device.
Powerful Motor
The 1.25 HP motor is powerful enough to get a good amount of juice from the fruits, for greater efficiency and high-volume juicing. This juicer's dimensions are 12 x 16 x 19 inches, and it weighs 64 pounds.
Pros:
stainless steel
continuous pulp ejection
high-volume juicing
Cons:
loud
not all parts are stainless steel
basic visual design
Best Commercial Lemon Juicer
Ruby 2000 Commercial Juicer
Quick And Easy
Produces up to 32 fluid ounces in as little as 30 seconds time. This makes it a good juicer for high-volume juicing and high-demand juice bars, as well as other places where freshly squeezed juice is in high demand.
Strong Juicing
This industrial orange juicer has a 3/4 HP motor, which is very strong and spins the juicing parts at 3450 RPM, for very fast and efficient juice extraction. The automatic pulp ejection allows for longer continuous use before having to empty the pulp collector.
Easy Assembly
You can easily disassemble this device for cleaning, and that is done you can reassemble it back just as easily. It only has a few basic parts and therefore it is simple to assemble, thanks to the latches on the side.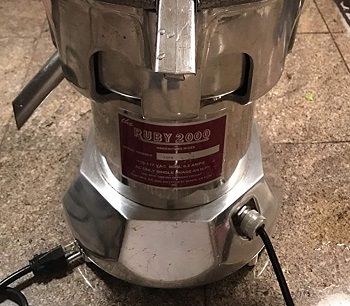 Dimensions And Materials
This device's dimensions are 12 x 12 x 18 inches, and it weighs 55 pounds. It is made from stainless steel, even the heavy-duty construction, which ensures it will not rust or stain and it should be resistant to scratching and breaking. The inside has been coated with epoxy to meet new health regulations.
Adjustable Spout Position
This commercial juicer has 8 spout positions, which lets you place any kind of juice collecting container under it and adjust the spout so that it doesn't drip juice outside of the container.
Pros:
all stainless steel
adjustable spout
coated inside
strong motor
fast juicing
Cons:
unappealing design
heavy
plastic pusher
Best Commercial Cold Press Juicer
Tribest Greenstar Pro GS-P502 Commercial Masticating Juicer
Twin Gears
The magnetic twin gears are made from bio-ceramic and stainless steel, and they give you efficient extraction, even from hard-to-juice fruits and vegetables. They use the cold-press technique to extract juice while preserving all the nutrients from it, like vitamins, minerals, fibers, enzymes, and so on.
Easy To Clean
This commercial cold press juicer comes with a cleaning brush included, to help you clean the removable parts of the juicer. There are fewer separate parts, and the quick latch system allows you to easily remove the gears and auger, and after you are done cleaning, put them back in and secure them with the latches.
Efficient Juicing
Thanks to the new twin gear design, this commercial masticating juicer produces more juice and preserves the nutritional value of the ingredients. The slow 110 RPM extraction doesn't expose the juice to heat and oxidation.
2 Colors
This juicer comes in 2 color variations. The model in each is the exact same device, just the color of the outside casing is different. The two available colors are white and grey, so pick the one you prefer before ordering.
Materials And Dimensions
Tribest Greenstar Pro is made from stainless steel gears and ceramic auger, and the outside casing is made of plastic, for easier cleaning. This juicer's dimensions are 18.6 x 6.8 x 12.4 inches, and it weighs 26 pounds. It also comes with a short term warranty.
Pros:
cold press juicing
bio-ceramic auger
stainless steel gears
Cons:
plastic
slow
small opening
Best Commercial Citrus Juicer
Waring Pro JEX328 Health Juice Extractor
Durable Construction
Waring Pros is a compact juicer with a brushed stainless steel housing that will not rust nor stain, and it will remain sturdy and durable during a long life of juicing. You will not have to worry about the outer casing breaking or bending, or even scratching if it falls.
400 Watt Motor
The high-speed 400-Watt motor extracts juice from fruits and vegetables alike, which means this juicer is not limited to citrus fruits only. It does, however, require juicing filters to be replaced, and you will need to purchase those separately.
Dishwasher Safe
The removable parts are dishwasher safe. This includes the compact strainer, pulp collector, lid, and juice collector. This will save you some cleanup time in comparison to washing them manually one by one.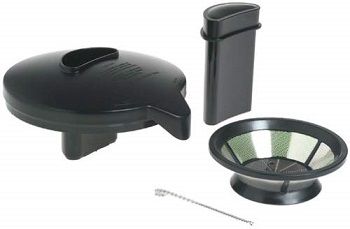 Recipe Book Included
Included with the purchase of this device, you will receive a book with ideas and instructions for making recipes using this juicer. This is a great thing to get you started and give you ideas on what ingredients to combine for making the best tasting juices.
Dimensions
This juicer's dimensions are 14.2 x 12.5 x 10.8 inches, and it weighs 8 pounds. It is made from brushed stainless steel, with black plastic parts, and a simple on/off switch low on the base. It also comes with a stainless steel juice cup.
Pros:
stainless steel
recipes included
steel juice cup
compact
Cons:
1 speed only
plastic parts
Conclusion: Which Best Commercial Juicer To Buy?
In my opinion, the best professional juicers you can buy are the Hamilton Beach 932 Commercial Citrus Juicer and the Nutrifaster N450 Multi Purpose Juicer. The Hamilton Beach juicer is a citrus press made from stainless steel that needs no electricity. The Nutrifaster is a stainless steel multipurpose juicer with a strong motor and continuous pulp ejection. The Nutrifaster also allows for continuous juicing for some time.
In case you want to know more about similar types and juicer models, read this post on citrus press juicers, and this one on masticating juicers. For more information on juicers in general, and some other types, read this post on juicer machines.