Do you want to buy a new juicer?
If you do, you should read this article. Here you can read all you need to know about Aobosi juicers that are available on the market. With the reviews that are in this article, you can choose which juicer would be the best for you to buy.

Aobosi Brand Information
Wide Offer Of Their Products
Aobosi company has a very wide offer of products. They produce useful tools for your kitchen. They offer things like vacuum sealers, pressure cookers, air fryers, juicers, electric hobs, electric meat grinders, souse wide cookers and other products that are helpful in the kitchen.
Where To Buy Their Products?
Aobosi products are all on sale on amazon.com. You will find all of their products on Amazon since they do not have their web site or their shop. This is great because Amazon often has huge discounts and big offers.
Contact With The Company
Aobosi company does not have its official web site. They have a Facebook page and their contact number there. You can also send them a message on Facebook. Amazon sells its products and on the Amazon site, it says to contact them first. Amazon will give you the information and help if you need anything.
Price Range Of Their Products
Aobosi products have affordable prices. They are somewhere between when it comes to prices. They are not the most expensive, but also not the cheapest. Aobosi company offers high-quality products that will be worth the money you spend on them.
Top 3 Aobosi Juicer Reviews
Aobosi Slow Juicer AMR8825 Review
Adjusted And Suitable Design
Aobosi slow masticating juicer extractor has a user-friendly design. This juicer has an LED display and an IMD button. It is made from Tritan material and stainless steel. It also has a safety lock and with it, the juicer will not work if all the parts are not installed right.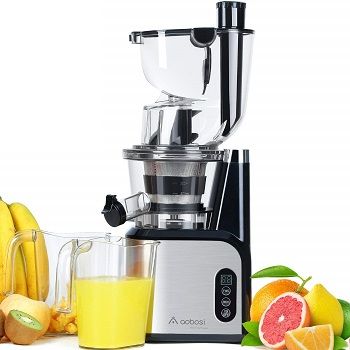 Efficient Low-Speed Motor
AMR8825 has a powerful DC motor. Its motor has 200W of power. It works at a low speed from 47 to 60 RPM. It can continuously work up to 10 minutes. It works under 65 dB which makes it very quiet. It also makes less vibration when working.
Parts Included In The Purchase
When you buy Aobosi slow masticating juicer you will get more things with it in the purchase. You will get a juice jar, pulp jar, brush, user manual and of course Aobosi slow juicer AMR8825. Brush you get with it is specially designed for cleaning this juicer.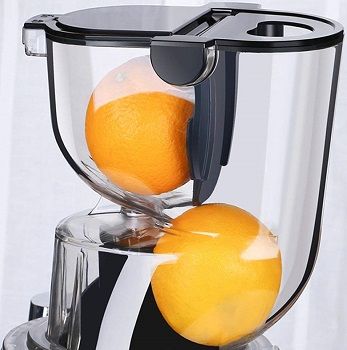 Extra Wide Feeding Mouth
Aobosi slow juicer AMR8825 has an 80mm wide feeding mouth. With this wide mouth, you reduce your preparation time because you do not have to cut your fruit or vegetables into smaller pieces to fit into the chute. This chute is designed to fit the whole fruit and vegetables.
Steps To Install The Juicer
The first step is to align three concave positions with three positions on the main body and put the container into the main body. The second step is to place the filter into the container. The third step is to put the grinder in the center of the filter. The fourth step is to align the feeding chute on the top of everything.
Short Description:
200W of power
LED display
Extra-wide mouth
Suitable design
Aobosi Slow Masticating Juicer AMR520 Review
Powerful And Quiet Motor
Aobosi slow masticating juicer extractor has a powerful motor of 150W. It works very quietly, under 60 dB. It has a reverse function that prevents clogging and also helps with cleaning the juicer. It also has a powerful auger that spins at 80 RPM and with that increases the juice yield.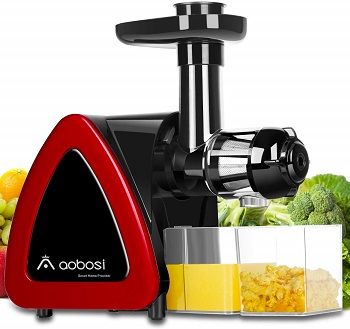 High-Quality Food Grade Material
Aobosi slow juicer is made of Tritan material. Tritan material is a food-grade plastic. This material is BPA free. Material that comes in contact with food must be made like that so the food stays healthy. It is very good that this juicer is made of food-grade material because it will not have any bad effect on the food.
Fresh And Nutritious Juice
Aobosi masticating juicer has the perfect design and all the right functions to make your juice best possible. It will keep high nutritional value and you will get up to 30% more vitamins than you would get with other centrifugal juicers. This juicer will make juice that can last up to 72 hours.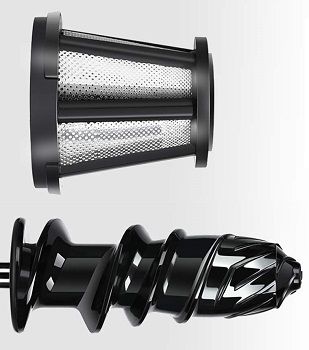 It Is Easy To Clean
Aobosi slow masticating juicer extractor compact cold press juicer machine is very easy to clean. With it, you will get an extra brush to help you clean it. Also, this juicer is dishwasher safe so you can put its removable parts in the dishwasher and clean it even easier.
Warranty And Customer Service
When you buy this slow masticating juicer on Amazon, you will get one month of a free trial, lifelong technical support and 24 hours of premium service. For more information about the product, you can contact Amazon. Also, if you need anything else, you can contact Amazon first and they will help you.
Short Description:
Quiet motor
Dishwasher safe
Reverse function
Aobosi Slow Masticating Juicer Extractor B07P8NSNJW Review
Small Portable Juicer
Aobosi slow masticating juicer is a very small juicer that has a handle to take it easy and place it where you want to. It has only 16.9 x 4.9 x 5.7 inches. Ideally, you can take it by its handle and pour the juice into your cup or bottle.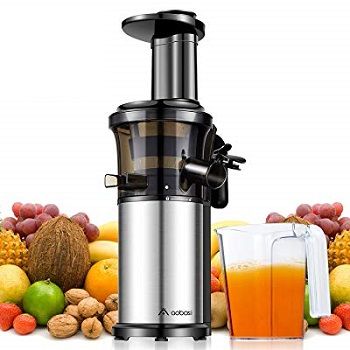 Quiet And Efficient Motor
Aobosi slow masticating juicer extractor has a motor that works at a lower speed from 40 to 65 RPM. It has no heat buildup and makes less oxidation. It works under 60 dB, which means it is as loud as normal speaking.
Better Design Filter 304
Aobosi slow juicer has a much better filter which is made of food-grade stainless steel. This filter has diminishing holes that make your juice purer. The filter improves the juice extraction rate and it has no residue. You can remove the filter to clean it. Also, you get a cleaning brush with it, especially for this filter.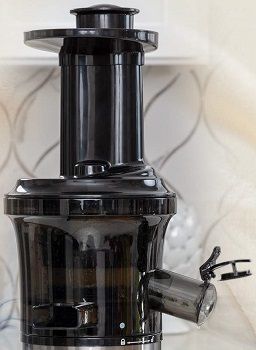 Fresh And High Nutrition Juice
This juicer extracts up to 90% juice yield. It will make no damage to the cell wall and retain the nutrients better. With its system, you will get 60% more of vitamin A, 42& more of vitamin C and 35-50% more juice quality. Your juice can stay fresh for up to 48 hours.
Warranty And Customer Service
If you buy Aobosi slow masticating juicer extractor B07P8NSNJW you will get 2 years of warranty. You will also get one month of the free trial, lifelong technical support and customer service. If you want to know more about it, you can contact Amazon for all the information.
Short Description:
Portable juicer
Food grade filter
High nutrition
2 years of warranty
Low-speed motor
Conclusion: Why To Buy Aobosi Juicer?
Aobosi Slow Juicer B07P8NSNJW is a small portable juicer that will be very easy for you to use because you can take it and pour the juice into your cup. Aobosi Slow Juicer AMR8825 has an extra-wide mouth which is great because it reduces preparation time. It also has a safety lock which helps a lot when juicing.
If you want to read something more about the best masticating juicers, check this out: best juicer offer for sale. In case you want to know which was the best affordable juicer, you should read this: best affordable juicer. If you are interested in an industrial juicer, read industrial juicer machine.