Are you interested in Müeller juicers?
Then keep reading!
In this post, I will tell you more about Müeller juicers and how they work, and you will be able to read detailed reviews on different models of Mueller juicers. Maybe this will help you decide which one you like best.

Mueller Brand And What They Offer
Kitchen Appliance Producers
Mueller (also called Mueller Austria) is a Miami-based company that produces kitchen appliances, mostly focused on food processors. They have on offer an odd iron or water heater, but most of their products are food slicers, graters but also juicers and coffee machines. These reviews will be focusing on their juicers.
Quality Appliances
Mueller appliances are made from high-quality materials, so you don't have to worry about the quality of the products or how long they will last. Some have a limited warranty on parts of the whole device, so if anything goes wrong they will help you repair it.
Award Winners
Certain devices in their kitchen appliance production line have even won them awards for good quality design of the product. That goes to say the company puts a lot of thought into their products.
Where To Buy?
You can buy most of their appliances online, via their official page or via popular online retailers that provide delivery service. Pages such as Amazon (amazon.com), have ratings and product reviews you can read, and that are written by other customers who used the device.
What Are Their Prices?
The price range depends primarily on the type of device you are looking for, and its specific model. However, most of their appliances fit into the affordable price range, which means you can have quality appliances that won't cost you too much.
Top 2 Mueller Juicer Reviews
Mueller Juicer Ultra 1100W Power
Stainless Steel
The modern stainless steel design is sleek and takes up less space than other juicers of the same size. You can make a 16-ounce cup of juice in about 8 seconds, and all that with no clogging and less foaming, which means the cleanup is easier and you don't have to do it so often. This juicer's dimensions are 16.5 x 13.5 x 9.5 inches, and it weighs 2.2 pounds.
Two Speeds
The Mueller juicer ultra has a durable DC motor that uses less energy, lasts longer, and produces 1,100 Watts of power. This model has 2 speed settings: 1 that goes from 12,000-15,000 RPM and is suitable for softer fruits, and the 2 that goes from 15,000-18,000 RPM for harder fruits and vegetables and greens.
Countertop Juicer
This juicer is equipped with anti-slip silicone feet, which will hold it safely in place on top of your counter, with little to no sliding going on. The culinary-grade cutting disc is made of stainless steel and surrounded by a micro-mesh filter, which extracts more juice and nutrients from the ingredients, and it is easy to clean and reassemble.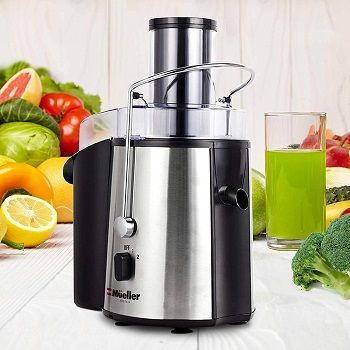 Wide Feeder
The 3-inch wide feeder tube can fit whole fruits without you needing to slice them, and that will save you a lot of time for juicing and food preparation. This device comes with a limited warranty.
Safety Features
Mueller juicer ultra 1100w operates quietly and safely. It has a safety locking arm that keeps the cover in place and is connected to the automatic shut-off system, which won't let the device start until it is properly assembled. If the juicer becomes jammed or overheats during operating, the safety switch will turn it off to prevent damage.
Short description:
1100 Watts
stainless steel
safety lock
overheat protection
anti-slip feet
2-speed settings
up to 18,000 RPM
Mueller Austria Ultra Cold Press Juicer MU-UJ-1
Quality Juicer
Mueller cold press juicer is a product of German design and manufacturing, and it has been tested in three professional-grade testing inspections and proved more durable than most other similar products available for purchase. It also comes with a limited warranty which extends if you register your device with the manufacturer.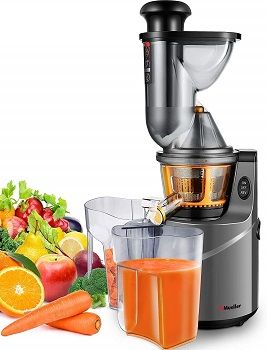 Wide Feed Chute
This juicer has a 3-inch wide feeder tube, which can fit large pieces of fruit or vegetables, which decreases preparation time. It also has incorporated a smaller feed tube for easier pushing smaller fruits and vegetables into the juicer.
Cold Press Juicer
The Mueller juice max pro cold press juicer has a power of 150Watts, with a 60 RPM motor for slow juicing, aka cold juicing, which preserves the nutrients in the ingredients. This is considered to be the healthiest form of juicing and food preparation techniques.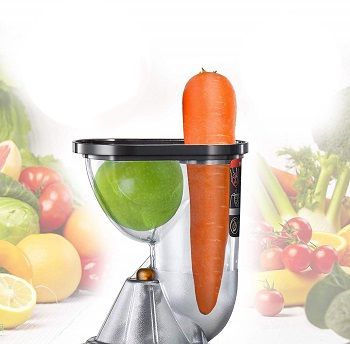 BPA-free Plastic
This slow juice extractor is made from BPA-free plastic. It would be better if it was stainless steel, but plastic is easier to wipe and clean with a cloth. This will make your cleaning time shorter and simpler. Its dimensions are 14.4 x 13.5 x 12.4 inches, and it weighs 12.15 pounds.
Safety Lock
The Mueller masticating juicer has a safety sensor that is built-in to ensure the device won't start until all the parts are properly fitted and reassembled. This reduces the potential risk of accidents and product damage.
Short description:
150 Watts
cold press juicer
safety lock
wide feeder tube
BPA-free plastic
Conclusion: Which Mueller Juicer To Buy?
In my opinion, you can choose either the Mueller Juicer Ultra 1100W Power Machine or the Mueller Cold Press Juicer. Depending on what purpose you have for a juicer, and your juicing preferences, you can choose either one based on what it does best. The cold juicer preserves more nutrients and is slower, and the centrifugal juicer is a lot more powerful and you can use it with a wider range of products, but destroys some of the fiber inside fruits and vegetables.
You can read this article about juicer machines for more information on various types of juicers, and to learn more about different kinds of juicers, read this post on bullet juicers and this one on cheap juicers.