Are you looking for an electric juicer?
You need not look further than this.
In this post, you can learn more about electric juicers, what kinds are available for you to buy, and you can read detailed reviews on several different models. This might help you find the best electric juicer for yourself.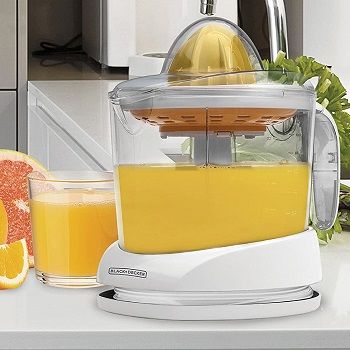 Information About Electric Juicer Offer
What To Look Out For?
When it comes to electric juicers, you can choose between several types, based on the ingredients you want to use (it has to be able to process them), type of resulting juice you want to achieve, as well as versatility and practicality.
What Electric Juicer Types Are There?
You can choose between centrifugal juicers, masticating (cold press) juicers, and citrus juicers. Centrifugal juicers can process almost all ingredients and shred them. Masticating juicers squeeze the ingredients and can also use most ingredients. Citrus juicers are practical for citrus fruits only.
How Do They Compare?
As mentioned above, the three types of juicers each have their own way of juicing. The centrifugal juicers shred the ingredients to produce juice fast but it oxidizes in the process. Cold press juicers use squeezing to produce healthier more nutritious juice but more slowly.
Electric Juicer Machine Price
Depending on the type of juicer, and also the brand and model, electric juicer range through a wide field of quality and price. You can find simpler models, especially citrus juicers intended for home use for less than 100 US dollars, whereas the professional citrus presses cost up to several thousand US dollars.
Where To Buy?
You can find the best electric juicers in stores or online. If you decide to purchase a juicer from online retailers, you can try to look at Amazon (amazon.com). Amazon lets you read through the reviews written by other buyers on that same product, so you can know more about it before you commit and order.
Best 5 Electric Juicers Reviews
Best Electric Citrus Juicer
Aicok Electric Citrus Juicer
2 Juicing Cones
This electric citrus juicer has two juicing ones of different sizes, a small one a big one. The big one is good for juicing grapefruits and oranges, and the small one is more suitable for juicing lemons and limes.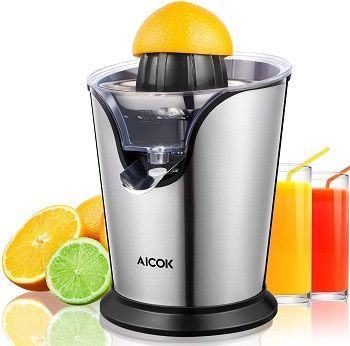 Stainless Steel Parts
The brushed stainless steel body casing promises durability and sturdiness. It will also not rust or stain, no matter how often you use it. The comfortable grip handle and anti-drip spout make using this juicer easier.
Quiet Operation 
The 100 Watt motor makes only 22 dB of noise, which is among the quietest juicers on the market. This means you can bring and use it anywhere, even in the office or at hospitals, restaurants in any low-noise environment.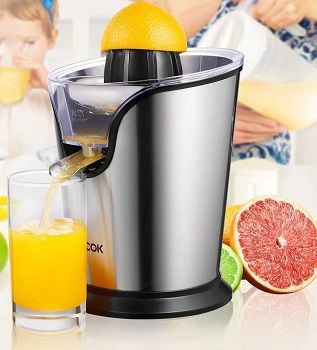 Easy To Clean
All parts of this juicer are detachable and dishwasher safe, so they are easy to clean and you can even put them in the dishwasher and let it do all the washing for you. This will save you some time for cleaning.
Design And Dimensions
The compact design of this juicer makes it more practical to put into storage in small kitchens with limited storage space, and it is easier to transport. This juicer's dimensions are 3.3 x 3 x 4.3 inches, and it weighs 4.12 pounds.
Pros:
stainless steel parts
quiet operation
dishwasher safe
2 cone sizes
compact
Cons:
plastic parts
1 juicing speed
Best Electric Juice Squeezer
Black Decker CJ625 Citrus Juicer
Small Electric Juicer
This electric juicer consists of a large juice collector jug on a base stand, and a lid with the reamer and juicing cone. All of those are made of plastic, mostly are transparent for aesthetic and practical purposes, so that you can see through and know how much juice is in there.
Adjustable Pulp Control
You can choose between 5 different settings to adjust the amount of pulp that will get included in the juice, and the rest will get filtered out in the pulp basket, which you can empty to prevent clogging every so often.
Pitcher Collector
The large transparent pitcher has a volume capacity of 34 fluid ounces and has volume markings on the side to help you determine the amount of juice in it. It has a handle and spout to help you with distributing juice.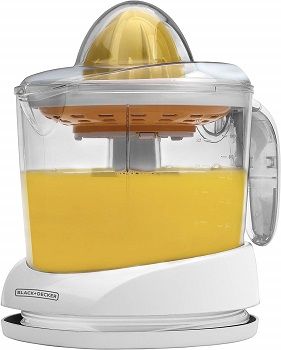 Dishwasher Safe
The removable parts are dishwasher safe, so you can save time on cleaning. Note that you should never expose the electric motor or the motor casing to water, because that may cause injury to you and permanent damage to the device.
Easy To Use
This electric juicer is powered by a 30 Watt electric motor. The juicing starts automatically when you apply pressure on the cone, and stops when you release. When you press again, the spinning direction will reverse for efficient juicing. This juicer's dimensions are 7.7 x 7.7 x 9.5 inches, and it weighs 2.42 pounds.
Pros:
large pitcher
reversible
adjustable pulp
Best Electric Lemon Juicer
Braun MPZ22 Citromatic Deluxe Citrus Juicer
Electric Lemon Squeezer
The 60 Watt motor enables efficient juice extraction with this electric lemon juicer. The strong spinning cone will give you a good juice yield from your normal ingredients. The automatic function is practical as well.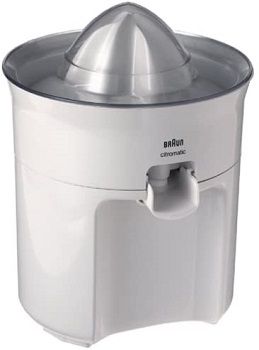 Anti Drip Spout
The adjustable spout flips upwards to prevent dripping and preserve your time from the unnecessary cleanup. It also locks down to enable the uninterrupted flow of fresh juice into a juice collector of your choice.
Accessories
Included with this device you will get a protective dust cover that will keep your device clean and safe for as long as necessary until you use it again. This increases your storage options for small kitchens.
Adjustable Pulp
This juicer has adjustable pulp output, which means you get to decide how much pulp will end up in your juice and how much will be filtered out by the strainer and end up in the pulp basket.
Materials And Dimensions
This electric citrus juicer is made from plastic, which makes it light and portable. The exterior is also sleek plastic which is easy to wash by wiping with a damp cloth. This juicer's dimensions are 5.5 x 5.5 x 8.5 inches, and it weighs 3.9 pounds.
Pros:
lightweight
adjustable pulp
dust cover
Cons:
plastic
only 1 speed
not reversible
Best Electric Orange Juice Squeezer
Breville JE98XL Juice Fountain Plus Electric Juicer
Wide Feeder Mouth
This electric tomato juicer can create up to 8 ounces of juice in just 5 seconds, which means this is a fast juicer, and it can also fit a lot of ingredients more than once, unline the single-fruit citrus juicers you have seen previously.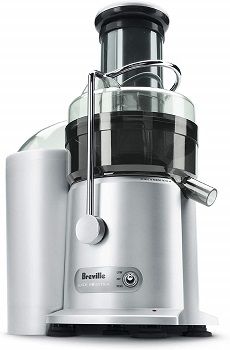 Safety Lock
The safety locking arm ensures all the components fit, and prevents the juicer from running until all the parts are properly assembled and installed. This ensures the safety of the user and prevents any damage to the device.
Quality Parts
The stainless steel cutting disc gives you fast juicing results, and the Italian made micro-mesh filter lets you extract up to 30% more juice, with less pulp and more vitamins and nutrients.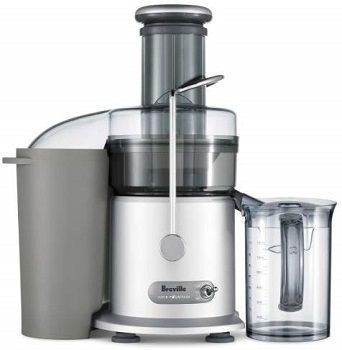 850 Watts
This juicer has an 850-Watt motor and 2 juicing speeds you can choose between, depending on the ingredients that you are using. The lower speed is better suited for soft fruits and vegetables, and the high speed is better for harder ingredients.
Accessories
The pulp collector has a large volume capacity, and the overload protection system prevents overheating of the motor. The parts are dishwasher safe, and include a juice jug. This juicer's dimensions are 13.2 x 16.5 x 18.2 inches, and it weighs 9.92 pounds.
Pros:
stainless steel parts
safety lock
2 speeds
overheat protection
Best Electric Orange Juicer
Cuisinart CCJ-500 Pulp Control Citrus Juicer
Adjustable Pulp Control
Thanks to the adjustable reamer, you can customize your pulp output by adjusting the setting to one of three possible options. You can choose how much pulp gets included in the juice by changing between low, medium, and high pulp output.
Auto-Reversing Cone
The juicing process starts automatically when you apply pressure on the juicing cone. Simply take a halved citrus fruit and press down on the juicing cone to start juicing. Release to stop the spinning, and press again to reverse the spinning direction to extract more juice.
Universal Reamer
With a one-size juicing cone, you don't have to worry about changing the cone to fit the size of the fruits. Instead, this universal cone fits most citrus fruits, from lemons and oranges to grapefruits.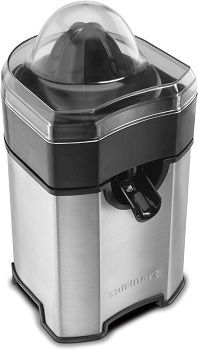 Convenient Features
The juice spout is long and snaps up to prevent dripping and to accommodate various juice containers. The final-spin technology allows this electric orange juicer to extract more juice from the pulp. The device can be disassembled for cleaning and the parts are dishwasher safe.
Materials And Dimensions
This electric orange juicer is made from brushed stainless steel, with BPA-free plastic parts and convenient cord storage. Follow the instructions in the user manual for the correct assembly. This device's dimensions are 6.8 x 7.9 x 12.2 inches, and it weighs 4 pounds.
Pros:
stainless steel casing
anti-drip spout
dishwasher safe
reversible cone
Cons:
plastic parts
some assembly required
Conclusion: Which Electric Juicer To Buy?
In my opinion, the best electric juicers you can buy are the Breville JE98XL Juice Fountain and the Cuisinart CCJ-500 Citrus Juicer. The Cuisinart citrus juicer has a stainless steel casing and a reversible universal reamer with adjustable pulp control. The Breville is a 850-Watt centrifugal juicer that can process all kinds of fruits and vegetables and has a stainless steel filter basket. The Breville also has 2 juicing speeds and dishwasher safe parts.
In case you want to know more about similar kinds of juicers, read this post on citrus juicers and this one on centrifugal juicers. To learn more about other kinds of juicers and various types that exist, read this post on juicer machines.