Did you want to know more about Champion juicers?
Then you'll want to read this post.
In this post, you will learn something about the Champion brand and the products they have on offer. You will be able to read detailed reviews on 3 champion masticating juicers. Hopefully, this will help you reach a decision on which one is best.
Champion Juicer Manufacturers
Champion Juicer Brand
The Champion Juicer company was founded in 1955., and they pride themselves on producing expert juicers ever since. Their juicers are, according to their claims, the world's most durable heavy-duty juicers. The company is family-owned and based in California, USA.
How Do Champion Juicers Work?
This type of juicer works by cutting and squeezing the fruits and vegetables by using a two-stage process. The juice gets squeezed through a mesh and the pulp is automatically ejected. Thanks to its sturdy design and solid parts and components, these juicers do it all with ease.
Does Juicing Preserve All Nutrients?
Juicing is not necessarily better than eating fruits and vegetables. It is true that with careful juicing most vitamins, minerals and nutrients are preserved in the juice. However, some of the healthy fibers from the fruits and vegetables get destroyed during juicing.
What Can A Champion Juicer Do?
The Champion juicers are among the renowned cold press juicers or masticating juicers that appeared over the last decades. Some models can even produce a variety of products from different ingredients, like purees, nut butter, fruit desserts, and others. They are able to do so because the Champion masticating juicers are the only ones that cut and grind the ingredients using a high-speed cutter-auger.
Champion Juicer Price Range
These juicers are definitely somewhere at the higher price range for juicers, costing several hundred dollars per item. However, the famed quality of their devices might just be worth the extra money. Read the reviews to decide that for yourself.
Best 3 Champion Masticating Juicers Reviews
Champion Professional 5000 Dual Auger Masticating Juicer
Variable Speed
This masticating juicer uses a powerful motor with variable speed. Thanks to the variable speed, this is one of the most versatile juicers you can buy. Combined with two augers, you can customize the speed to your preferred one, depending on what you want to make.
Plastic Cover
The powerful motor is encased in a durable polycarbonate plastic cover, which is easy to clean or wipe with a cloth, and since it is plastic it will not rust. It also has a handle for easy transport.
Two Augers
Champion Professional 5000 provides two augers, one for greens and one for grinding. They enable it to work anything from juicing hard to squeeze produce to optimizing the thickness of soups and sauces.
Powerful Motor
This professional juicer uses a powerful 1/3 HP DC motor. This means effortless processing of hard fruits and vegetables, wheatgrass, leafy greens, and to soften nut butter into a homogenized creamy butter, as well as making smoothies and shredded salads.
Available In Other Colors
This model is available for purchase in three different colors, to suit your tastes and fit your kitchen better. The device is the exact same Champion Professional 5000 model in all 3, just the casing color is different. They are cherry red, midnight black, and ivory. The juicer's dimensions are 20.5 x 11 x 8 inches, and it weighs 21.5 pounds.
Short description:
dual auger
variable speed
powerful motor
plastic casing
3 colors available
Champion Classic 2000 Juicer G5-NG-853S
Masticating Household Juicer
The Champion masticating juicer is well suited for household use. It has a large 1.75-inch feeding tube, which can take larger vegetables and fruits without cutting them. It cannot, however, process wheatgrass. Look into other models for that specific requirement.
Heavy-Duty Motor
The motor is a 1/3 horsepower powerful heavy-duty GE motor. It uses standard household voltage to work and has 540 Watts of power, and comes with a warranty.
Available In Other Colors
The champion 2000 juicer comes in several colors. The model is the same device, with the same specifications, just the color is different. It comes in black, silver, almond, and white. This product's dimensions are 17 x 7 x 10 inches, and it weighs 23.2 pounds.
Stainless Steel Blades
The floating cutter separates the pulp from the juice in a single continuous motion, and almost no cleaning is necessary for the meantime. The stainless steel blades are cast into the cutter to improve strength for years to come, with no rusting.
What Can You Use It For?
This juicer can produce over 12 ounces of juice a day and can process all kinds of fruits and vegetables and even softer nuts. You can make ice creams, baby food, nut butter, purees, smoothies, and much more.
Short description:
540 Watts motor
large feeding tube
stainless steel blades
pulp separation
Champion Commercial Heavy-Duty Juicer G5- PG710
Commercial Juicer
This juicer work by having a single auger construction delivering a continuous cool juicing motion with immediate automatic pulp ejection. This will save you time for cleaning and generally reducing your juicing time.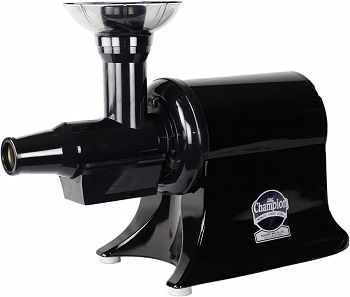 Quality Design
The Champion masticating juicer uses a standard electric input of variable 110/220 volt 50/60 hertz. The good starting torque and updated designs of the front and rear end shield, as well as rear ball bearings, make for a smoother and cooler operation.
Easy Cleaning
This juicer's parts are durable and simple to disassemble for cleaning. Once you clean the parts, you can easily put them back together, but just in case feel free to look at the manual first.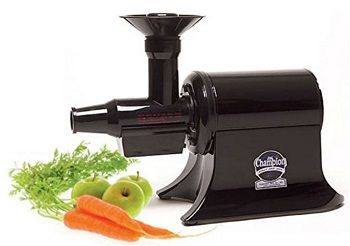 Strong Motor
The quality heavy-duty juicer uses a 1/3 HP motor and a stainless steel motor shaft. They come with a long warranty, which points out how sturdy it is supposed to be. The cooler operation further increased the motor's durability.
Other Colors Available
This juicer's dimensions are 17 x 7 x 10 inches, and it weighs 23 pounds. This exact same model, Champion Commercial G5- PG710 heavy-duty dual auger juicer, with the same specifications and parts, is available for online purchase in 2 colors: black and white.
Short description:
stainless steel motor shaft
easy disassembly
cool juicing with pulp ejection
Champion Juicer Parts And Accessories
Some parts of the Champion juicers are detachable for easy cleaning, and it happens that parts get damaged or lost. For finding the best option, contact the manufacturer or visit the nearest service center to replace the part. For more information about the parts and potentially replaceable ones, please consult the user manuals that come with the device. If you can't find the Champion juicer 2000 parts, check out other places like Amazon for universal parts.
Conclusion: Which Champion Masticating Juicer To Buy?
In my opinion, the best masticating Champion juicers are the Champion Professional 5000 Masticating Juicer and the Champion Commercial Heavy Duty Juicer. The Commercial one is more sturdy and has high-quality parts that last a long time. The Professional 5000 has dual augers and variable speed control, for customizing and optimizing the juicing speed. The Professional one can also process hard fruits and vegetables, as well as wheatgrass.
Should you want to learn more about different types of juicers, you can read this post on cold press juicers and this one on centrifugal juicers. For more information on juicers of all kinds, read this post about juicer machines.