Did you ever want to know more about Bella juicers?
Then read this post!
In this post, you can learn about Bella juicers, read detailed reviews on 4 different models, and hopefully choose the best one for yourself.

Bella Juicer Makers
About The Bella Brand
Founded in 2003., this company believes in making long-lasting quality products and kitchen equipment. It is their philosophy that kitchen experiences should be fun and smart, and that is the starting point in their designs.
What Do They Offer?
They make all kinds of electric kitchen appliances, from ovens and waffle makers to juicers and can openers. If you are in need of a small kitchen appliance, bakeware or cookware, and don't know where to look, take a visit to their official website.
Respecting The Environment
Bella knows that maintaining the health of the environment is very important, which is why they are dedicated to preserving it. The coatings they use don't contain any harmful chemicals, and they urge their customers to responsibly dispose of the products that are no longer operational.
Where To Buy?
You can buy their appliances online, whether you go to the Bella juicer website or through online retailers like Amazon (amazon.com). Amazon grant you the benefit of reading reviews and rating the other buyers have given to that same device you are looking for.
What Is Their Price Range?
The prices for Bella products differ between the device type and model, but it might be safe to say that their overall prices are medium-ranged, going around several hundred dollars per item, in the example of Bella juice extractor.
Bella Juicer Cleaning
When it comes to cleaning and washing your juicer, everyone wishes they had more time and energy. Luckily, most Bella juicers can be simply disassembled, and the removable parts can be put in the dishwasher. It is recommended that you put them on the top rack of the dishwasher, to preserve those parts as well as other items. It goes without saying that you should never expose the motor housing to water, just clean it on the outside with a cloth.
Best 4 Bella Juicer Reviews
Bella 13694 High Power Juice Extractor
Bella 1000-Watt Juicer
The powerful 1000W electric motor makes juicing a breeze. You can put in harder vegetables and fruits and not worry whether this juicer can process them. You can choose between two speeds for better juicing of softer or harder ingredients.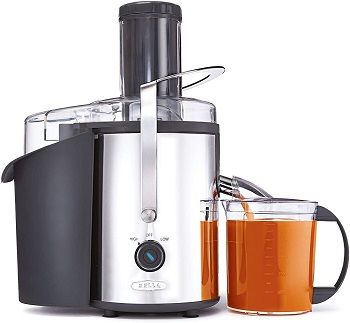 Stainless Steel
The stainless steel housing provides a durable and solid body for your juicer. The stainless steel does not rust or stain, and it is easy to clean or wash or just wipe with a cloth. It also has a closing safety arm to ensure safety and proper assembly.
Easy To Clean
All parts except the motor housing can be washed in the dishwasher. It is recommended you put them on the top shelf od the dishwasher, for safety and practical purposes.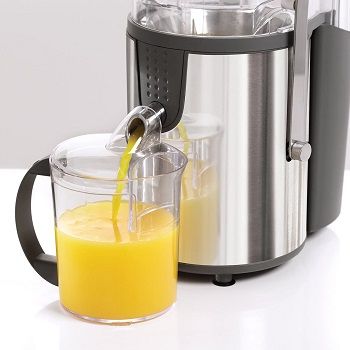 Juice Pitcher Included
The clear plastic juice collecting pitcher is BPA-free and has a splash-free lid that fits perfectly on the juice dispenser spout on the juicer, and that is to prevent a mess from occurring during juicing. This will make your cleaning time easier.
Non-Slip Feet
The Bella high power juicer has rubbery non-slip feet, which will keep your juicer stable on the countertop, without sliding around. The pulp collector is removable and easy to wash. The juicer's dimensions are 14 x 9.7 x 17.3 inches, and it weighs 8.8 pounds.
Short description:
1000 Watts
stainless steel
dishwasher safe
closing arm
separate pulp collector
Bella 13695 NutriPro Cold Press Juicer
Cold Press Juicing
The Bella cold press juicer preserves fibers and vitamins and enzymes and other nutrients thanks to its cold press system. The ingredients get squeezed at a low speed, which ensures the juice will not oxidize nor will the nutrients be destroyed due to heat.
Dishwasher Safe
You can use the reverse button option to unjam the device if necessary, but this can also help you clean it. It is sufficient to rinse it between back-back juicing of similar ingredients, but for washing, you can just remove the parts and put them in the dishwasher (on the top shelf).
Quiet Operation
The motor works quietly, and the noise it makes is somewhere about 60 decibels. (For comparison, conventional juicers typically generate noise of about 95 dB). This makes it a good choice for houses or locations where silent operation is preferred.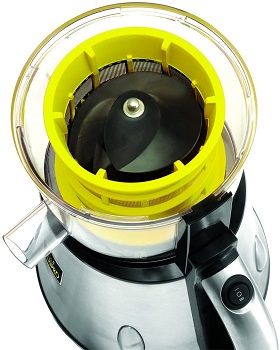 How Does It Work?
The cold press juicers work on the principle of augers pressing down and squeezing the ingredients instead of cutting them with fast-spinning blades (like most conventional juicers do). This preserves the nutritional value of the ingredients with vitamins and minerals and wastes less juice with the pulp.
What Can You Use It With?
You can use the Bella Nutripro cold press juicer to make all kinds of juices and smoothies or milkshakes or even sorbets. This juicer's dimensions are 23.3 x 12.1 x 12 inches, and it weighs 15.16 pounds.
Short description:
slow juicing
low noise
dishwasher safe
Bella 13454 Juice Extractor
600 Watt Motor
The powerful 600-Watt motor is strong enough to process even harder fruits and vegetables, which means you don't have to worry about ingredients like carrots or such getting stuck in the juicer.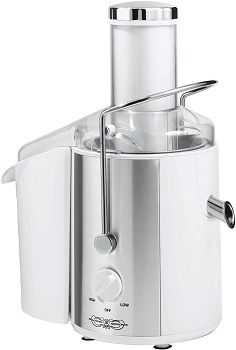 2 Speed Control
With this Bella whole fruit juicer, you get to choose between low and high speeds, and that lets you optimize the juicing process according to your choice of ingredients for juicing.
Easy To Use
Simply plug in the Bella juice extractor, turn the speed knob to your preferred operating speed, and use the wide feeder chute to put in some fruits, vegetables, herbs or leafy greens, you can even add some milk for milkshakes, too. The juicer operates with low noise production, which is also an added bonus.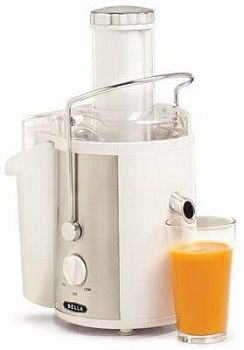 Wide Feed Tube
The feeder chute has a wide mouth and neck, and that lets you put in whole fruits or vegetables, or at least large pieces, which saves you time for cutting and preparation, as well as cleanup. This juicer's dimensions are 14 x 9.7 x 17.5 inches, and it weighs 10.5 pounds.
Dishwasher Safe
Most removable parts are safe to clean in the dishwasher, but you should put them on the top shelf, just so they stay safely in place and don't break or damage other items in the wash. This device comes with a pulp collector that is separable and easy to empty and wash.
Short description:
600 Watts
dishwasher safe
wide feeder chute
2 speeds
low noise
Bella BLA13990 5-Speed Centrifugal Elite Juicer
1000 Watts
The 1000-Watt motor makes this juicer one of the more powerful ones, and it can process all kinds of ingredients you put in it, like hard fruits and vegetables, even celery and similar ingredients that you would normally worry about putting into a juicer with lower processing power.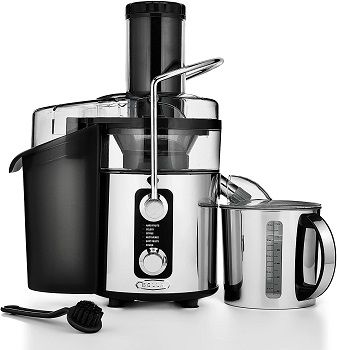 5 Speeds
It is easy to use this elegant Bella 5-speed juicer: simply turn the dial knob to a speed you wish, and use it normally. The dial knob has no speed markings, but the speeds are listed in the form of what they are best recommended for, and each has a light indicator to show which one you are currently at.
Stainless Steel
This Bella 1000-watt juicer is made in a sleek elegant design in stainless steel with black plastic accents. That makes it durable and safe, considering it is sturdy and won't rust over time. The processing basket is also made from stainless steel, but the cover and feeder chute, as well as the pulp collector, are plastic.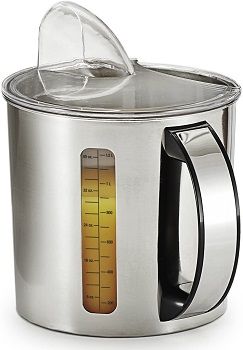 Juice Pitcher
This device comes with a juice collecting pitcher, which is BPA-free and has a lid that covers the dispenser spout on the juicer to prevent dripping. It has a full handle and a transparent window with volume markings to allow you to measure the amount of juice in there.
Other Benefits
The wide feeder chute lets you use larger fruits and vegetables, and when you're done, it is easy to empty to pulp collector and put the removable parts into the dishwasher. This juicer's dimensions are 14 x 9.7 x 17.3 inches, and it weighs 8.38 pounds.
Short description:
1000 Watts
stainless steel
5 speeds with indicator
dishwasher safe
Bella Juicer Manual
In most cases, the user manual for your juicer will be delivered to you along with your newly purchased juicer. However, sometimes you just can't find it, and that is alright. This is why there are manuals online that you can read.
Conclusion: Which Bella Juicer Is The Best?
In my opinion, the best Bella juicers you can buy are the Bella 13695 NutriPro Juicer and the Bella BLA13990 5-Speed Juicer. The Nutripro is a cold press juicer, which means it works at a low speed to extract more nutrients from the ingredients. The BLA13990 is a powerful centrifugal juicer with a 1000-Watt motor and a stainless steel build. The BLA13990 is also dishwasher safe and has 5 operating speeds you can choose from.
In case you want to know more about juicers and their various types, feel free to read this post on juicer machines. For more information on juicers by type, read this post on best juicers for celery and electric juicer.