Are you interested in Omega juicers?
Then keep reading!
In this post, you will learn more about Omega juice extractors and what kinds they offer. You can read detailed reviews on 5 most popular models, to see which one of them you like best.

Omega Brand And Juicers
Omega History
Omega was started by Robert Leo in 1985, and it was first founded under the name Olympic Products. Through the years they developed all kinds of juicers and blenders, and they continue to pride themselves on innovation and quality.
What Do They Offer?
The Omega brand offers several types of juicers and several types of blenders. The juicers range from masticating to centrifugal, in different models with different specifications, and so is the case with blenders as well.
Where To Buy?
They distribute their products through 120 countries worldwide, but you can also look online to find an Omega juicer for sale. Please note that most models you can buy are made to be compatible with North American electrical output sockets (110V), and as such you will require an adapter to use them elsewhere.
Omega Juicer Price Range
Omega Juicer Prices are in the lower-to-medium range, their juicers costing around a hundred dollars per item, though the price, of course, depends on the specific model in questions, as well as current discounts and sales.
Omega Juicer Recipes
If you are looking for ideas on what to make with your new blender, you might want to take a look online, on the Omega website, where they offer a range of recipes you can make using their devices, so feel free to try them out.
Best 5 Omega Juicer Reviews
Omega J8006HDS Slow Masticating Juicer
Healthy Juicing
Masticating juicers produce healthier juice with more nutrients and fibers than regular common juicers do. These centrifugal juicers use a high-speed revolution that oxidizes the juice and blades which shred the fibers and nutrients. With masticating slow juicers like this one, this does not happen.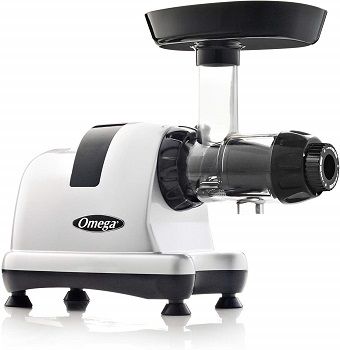 Strong Motor
This juicer is powered by a 200-Watt motor and combined with a strong auger, works at 80 RPM and allows you to juice out even harder fruits and vegetables, even wheatgrass, and leafy greens.
Professional Grade
This efficient Omega masticating juicer lets you extract a good amount of juice from even a small amount of vegetables, fruits, leafy greens, herbs, and wheatgrass, all while preserving the maximum amount of vitamins, minerals, enzymes and fibers from the ingredients.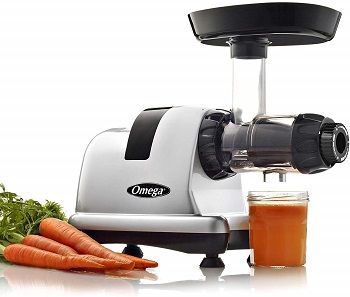 What Can It Make?
Depending on what kind of ingredients you put in it, this Omega slow masticating juicer can make nut butter, pasta, minced or ground herbs or coffee or spices, frozen desserts, purees or baby food.
Recommendation
It may be a good idea to put a thin towel under the juicer (between the juicer and the counter), to reduce vibrations and noise emanating from the juicer while it is operating. This will also protect your counter from scratching and the juicer from sliding. This juicer's dimensions are 14.5 x 6.5 x 15.5 inches, and it weighs 13 pounds.
Short description:
200 Watts
slow masticating juicer
80 RPM
durable augers
Omega NC800HDS Nutrition Center Juicer
Slow Juicing
The slow auger juicing process at 80 RPM ensures efficient juicing without oxidizing and heating the juice, and that preserves valuable nutrients and healthy components from the ingredients.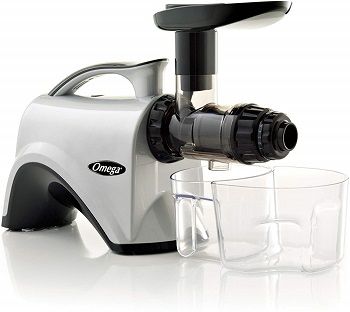 Versatile Device
With the Omega Nutrition center juicer and thanks to its 150-Watt motor, you can make juices, baby food, purees, cream soups, and even things like soy milk from soy, nut butter from all kinds of nuts, and other healthy snacks and foods.
Larger Feed Chute
The large feeder tube lets you put in larger pieces of fruits and vegetables directly into the juicer, decreasing your preparation time as well as your clean-up time.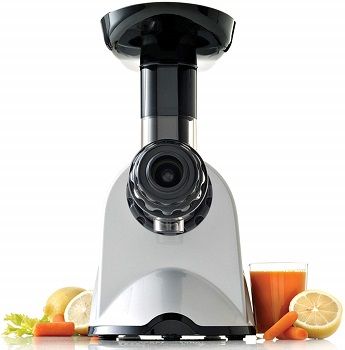 Design And Dimensions
This compact Omega masticating juicer has a handle on top for easier transport, and an ingredient tray on the feeder chute top, where you can place many ingredients at once, and then proceed to push them into the chute with the provided pusher. This juicer's dimensions are 14.5 x 6.5 x 15.5 inches, and it weighs 20 pounds.
Accessories
This juicer comes included with 6 different nozzles and 2 juicing screens. They allow you to produce juice and a wide variety of foods and food items, like nut butter, nut milk, baby food, sorbets, and others, like pasta.
Short description:
150 Watts
wide feeder
80 RPM
handle
Omega NC900HDC Masticating Juicer Extractor
Longer Lasting Juice
Thanks to the slow juicing process, most of the nutrients in the juicer are preserved and the juice doesn't oxidize or heat up during juicing, which lets it stay fresh longer. You can put a lid on your container and store the juicer in the refrigerator.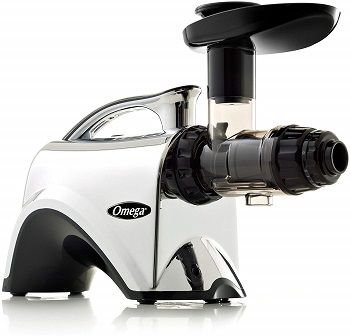 Powerful Motor
The motor with gear reduction is equivalent to a strong motor with 2 HP. The low speed of 80 RPM ensures minimal heating and oxidation, and with best juicing results in terms of efficiency.
Design And Materials
This Omega masticating juicer is similar to the model above, in terms of being a masticating juicer with a handle and a feeder top tray. The main difference is that this one has a shiny metallic coating. The sleek smooth surface makes the outside of this juicer much easier to clean than most, as you can just wipe it clean with a cloth as well as wash.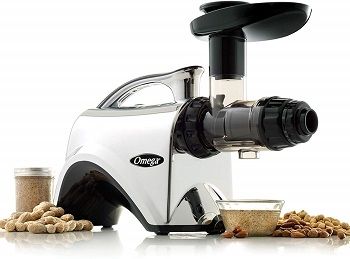 Quiet Juicer
The low operating speed (only 80 rounds per minute) makes this juicer's operation quieter than most, which means you can use it in environments where most traditional juicers would be just a little too loud and noisy.
High Yield
The Omega cold press juicer with a strong motor gives you efficient juicing with maximum juicing yield from the minimal amount of fruits and vegetables and other ingredients. This juicer's dimensions are 14.5 x 6.5 x 15.5 inches, and it weighs 17.45 pounds.
Short description:
150 Watts
80 RPM
handle
feeder top tray
quiet operation
Omega VSJ843QS Vertical Slow Juicer
Slow Juicing
This juicer operates at 43 revolutions per minute, which makes it one of the slowest juicing masticating juicers in the market. When it comes to healthy juicers, the slower juicing is an advantage, because slower juicing produces a healthier juice, without heat and oxidation.
Compact Design
The vertical positioning of this juicer saves space on the countertop, and the sleek surface makes it easier to wipe and clean the outside of the juicer when necessary. It collects pulp on one side and juice on the other. The juice spout has a cap to prevent dripping.
Reverse Option
In case the device jams with a stray seed or a particularly hard ingredient, you can use the reverse option to unjam the Omega vert juicer. You can also use the reverse option to clean the device with warm water.
Easier Cleaning
The Omega vertical juicer features an auto-clean system, which lets you reduce the cleaning time thanks to the screen auto-cleaning system. This device's dimensions are 15.5 x 7 x 15.5 inches, and it weighs 11.5 pounds.
Dual-Edge Auger
Thanks to the dual-edge auger with tighter fit tolerance and the 150-Watt motor with 43 RPM, this juicer squeezes a good amount of juice out of your ingredients, but in a healthy way that preserves nutrients and fibers.
Short description:
150 Watts
43 RPM
easy cleaning system
vertical design
dual-edge auger
reverse function
Omega J4000 Fruit And Vegetable Juicer
Stainless Steel Parts
The blade, basket, and cover are made of stainless steel, which prevents rusting and staining from prolonged use and washing. The working parts were designed for commercial use, and that means it was made to be durable
Continuous Pulp Ejection
This Omega fruit and vegetable juicer continuously eject pulp into a large connected container, so that you don't have to worry about pausing the juicing and emptying it every few seconds. It is also easy to clean later: simply empty the pulp container and rinse it with water and maybe some mild dish soap.
Powerful Juicer
With a 1/3 horsepower induction motor and a 5200 RPM operation speed, this juicer is strong enough to efficiently juice even harder ingredients, faster.
Commercial Efficiency
Thanks to the 250-Watt power and high juicing speed, this Omega juice extractor can produce a large amount of juice in a short amount of time. This makes it useful for use in high-demand households or even commercial use.
Durable Compact Built
The durable compact design of this juicer ensures stability and durability through years of use, and the side clamps enable safe and correct installment and reassembly every time. This juicer's dimensions are 16.5 x 13.8 x 11.2 inches, and it weighs 11.5 pounds.
Short description:
250 Watts
5200 RPM
stainless steel parts
big pulp collector
Conclusion: The Best Omega Juicer To Buy
In my opinion, the best Omega juice extractors you can buy are the Omega J8006HDS Slow Masticating Juicer and the Omega VSJ843QS Vertical Slow Juicer. The Omega masticating juicer has durable augers and works on 200W of power at 80 RPM. The Omega vertical juicer has 150W of power and works at 43 RPM. The Omega vertical juicer also has a self-cleaning screen system and a reverse function option.
In case you want to learn more about similar types of juicers, read this post on masticating juicers and this one on electric juicers. For more information on juicers in general and other types that exist, read this post on juicer machines.