Are you interested in SKG masticating juicers?
You have come to the right place.
In this post, you can learn more about masticating juicers and read detailed reviews on several models of SKG cold press and slow juice extractors. Hopefully, this will help you can compare them and decide which one you like.
SKG Cold Press Juicers And More About Them
SKG Juicer Company?
SKG company was established in China 2007., but since then they have extended their reach with subsidiaries in Germany in 2009., and in the United States in 2010. This company produces various types of appliances, like mist diffusers, water heaters, neck massagers, and masticating juicers, as well as others.
Masticating Juicers
Masticating juicers are also known as slow juicers or cold press juicers. They work at a slow speed and chop and grind the ingredients (fruits, vegetables, herbs, and greens) into juice. This generates minimal heat.
Why Are They Good?
Cold press juicing, popularly called cold juicing, is a good way of preparing juice because it preserves more nutrients and fibers from the ingredients than any other juicing method allows for. This is because the juicing process is slow and meticulous instead of harsh and fast.
How Does Cold Juicing Work?
Cold Juicing is a type of juicing process where the fruits and vegetables (as well as herbs and leafy greens) are squeezed out of their juice through a slow rotation of the juicer's working parts, which generates minimum heat (which could otherwise ruin some of the vitamins and nutrients in the ingredients).
What Are Their Prices And Where To Buy?
The prices for SKG products fit somewhere in the upper-middle-range, with their juicers prices starting at over a hundred US dollars, and going over several hundred dollars, depending on the model. You can buy their products from online retailers, and shops like Amazon (amazon.com) allow you to see the product rating, as well as to read the reviews written by users so far.
Top 2 SKG Slow Juicers & Cold Juicers Reviews
SKG Q8 Slow Masticating Juicer
Has A Reverse Function
This SKG masticating juicer has a reverse function, which makes the juicer sping in the opposite direction. This will allow you to free and stuck pieces of fruits or vegetables, as well as to clean with more efficiency and ease. Simply press the power switch on the "reverse" option and enjoy this convenient feature.
Easy Cleaning And Disassembly
You can easily clean this juicer by taking it apart, which is quick and easy to do, and wash it as you would normally wash dishes. Included with the device you will receive a cleaning brush, which will help you really get into the tiny nooks of the parts and ensure your device is clean and ready for its next use. Note that this device and its parts are not dishwasher safe.
Two Types Of Feeder Tubes
For convenient input of different ingredients of various shapes and sizes, this device comes with two feeder types. There is the turnover feed, which has a wide chute and can take ingredients of larger sizes (like whole apples), and the hopper feed chute is made for inserting long thin ingredients (like carrots).
Comes In Three Colors
The SKG slow juicer is available for purchase in three colors. There is red, white, and silver. The model is the exact same device with the same specifications, the only difference is in the casing color, which is to allow you to match your device to your kitchen decor.
Design And Dimensions
Including the 3.2-inch feed chute, the dimensions of the entire device are 7.1 x 8.8 x 21 inches, and it weighs 13.45 pounds. This juicer is made from plastic, with separate spouts for pulp and juice, whereas the juice spout has a lid to prevent dripping, and there is the handle for easy manipulation and transport.
Short description:
slow juicer
plastic casing
available in 3 colors
not dishwasher safe
SKG A10 Cold Press Masticating Juicer
BPA-Free Plastic Case
The BPA-free plastic casing encloses a juicer made under strict quality control, with all working parts being made from quality food-grade anti-oxidization materials. This device comes with quality assurance in view of the return policy and warranty for service in case your device is not working at its best.
For Various Ingredients
This juicer, like the previous one, has two types of feeder chutes, turnover type for large pieces and a one for long thin ingredients. Please note that some softer ingredients may be harder to squeeze all the juice out of, while some very hard products (like certain nuts for example), might even be too hard for this device and even break it.
Easy Re-Assembly
To assemble this juicer, all you need are a few simple steps. Taking the device apart takes little time, and allows you to thoroughly clean the device. The removable parts need to be washed manually, with the included brush for complete cleaning. This juicer and its parts are not dishwasher safe.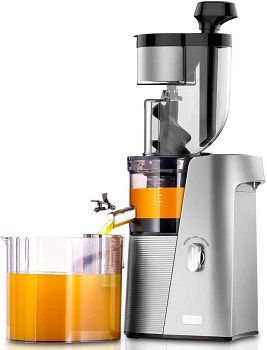 Stong Cold Juicer
This next-generation juicer has a 250W AC motor that operates the juicer at 36 RPM. The low speed prevents oxidation and allows the nutrients and vitamins from the ingredients to be preserved, in a high-quality nutritive and healthy juice. The device's dimensions are 16.5 x 14.1 x 12.5 inches, and it weighs 20 pounds.
Other Colors Available
This SKG A10 juicer is made from BPA-free plastic, with a switch that turns the device on and off, and allows you to use the reverse function, in case the device gets jammed or for cleaning. This model comes in 2 colors available for purchase: silver and white.
Short description:
250 Watts
reverse function
BPA-free plastic
not dishwasher safe
SKG Juicer Parts
As with most other devices, it is always recommended to replace and missing or broken parts with the same parts from the same manufacturer. That means that you can either search online (like on amazon.com) for a replacement part for your SKG juicer. You can also contact the manufacturer and ask about repairs or replacement parts.
SKG Juicer Manual
The SKG juicer manual for the A10 model is available for reading in the pdf format. A printed manual is usually included with the device, but for any further inquiries, please contact the manufacturer customer support or service center. They are the most qualified to answer any questions you might have about their product, whether it is regarding assembly or operating instructions.
Conclusion: Which SKG Cold Press Juicer To Buy?
In my opinion, you can choose either the SKG Q8 Slow Juicer or the SKG A10 Cold Juicer as the best SKG juicer. The two models are similar in build and materials, and they can both be disassembled but not washed in the dishwasher. The Q8 has a handle and is lighter in weight, and the A10 is stronger but heavier and comes with a warranty.
To learn more about different types of juicers, read this post on bullet juicers, and this one on citrus juicers. For more information about juicers in general and their other types, read this post on juicer machines.