Are you looking for the easiest juicer to clean?
Then keep reading.
In this post, you can learn more about cleaning juicers, see how juicers can be washed, and read detailed reviews on easy to clean juicers. Hopefully, this will help you pick out the best one for yourself.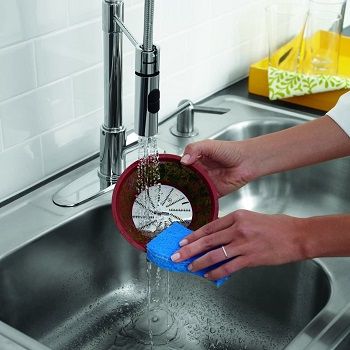 About Easy To Clean Juicers
What To Look For?
The best quality a juicer can have to be easy to clean is having dishwasher safe parts. Next to that, it is a good thing if the juicer consists of only a few separate parts. It can also come with a cleaning brush and be easy to assemble.
Dishwasher Safe
If the juicer has dishwasher safe parts, that is great because it means your cleanup is even easier. Simply place the parts that are dishwasher safe on the top shelf of the dishwasher rack, and let it get cleaned with no effort from you.
Disassembly And Reassembly
If your juicing machine has safety locks, you will need to release them before you attempt to disassemble the device. However, they will later help you put the parts back into their proper place and ensure a good and safe fit.
How To Clean Juicers?
Firstly, you will need to turn off your device and unplug it from the power source. Then, locate any latches and fasteners or locking arms your juicer might have, and use them to release the components from the lock. Then, wash the removable parts manually or put the ones you can into the dishwasher, and let them dry completely. After that, reassemble the device following the user manual.
Types Of Juicers
Citrus juicers are usually simpler devices, and therefore easier to clean and often have dishwasher safe parts. The masticating juicers and centrifugal juicers can require some reassembly, depending od their design and number of parts. Note that you should never expose the motor and motor housing to water, and that goes for every juicer of every type.
Best 5 Easy To Clean Juicers Reviews
Best Cold Press Juicer Easy To Clean
Hurom H101 Easy Clean Slow Juicer
Easy Washing
The strainer in this cold press juicer is equipped with large elongated grooves instead of small holes, which makes it easier to wash and rinse in water, instead of having to scrub the leftovers from the small holes with effort.
Openable Pulp Collector
The pulp outlet can be opened by 180°, which enables you to easily rinse out any leftover pulp from the collector, and make cleaning easier and simpler. You should clean the juicer as soon as possible after juicing so that the remains have no time to dry.
Controllable Pulp Output
This juicer is equipped with a lever for control, and both fine and coarse strainers that allow you to adjust the amount of pulp that you wish to include with the juice and filter out the rest to the pulp collector.
Convenient Design
The tilted chamber and juice outlet are tilted to ensure a good and constant flow of juice, and the spout is equipped with an end cap, which can be closed when there is no juice collector under it to prevent dripping.
Slow Juicing
This easy to clean juicer works at 43 revolutions per minute and extracts juice that is rich with nutrients like vitamins, minerals, enzymes, fibers, and so on. This juicer's dimensions are 15.8 x 14 x 13.5 inches, and it weighs 20.5 pounds.
Pros:
controllable pulp
tilted chamber
new strainer
Best Easy To Clean Masticating Juicer
Oster JusSimple Easy Clean Juice Extractor
2-Speed
Oster juicer has two juicing speeds you can choose between by turning the speed dial to "low" or "high" setting. The low-speed setting is better for soft fruits and vegetables, and the high one is good with harder ingredients.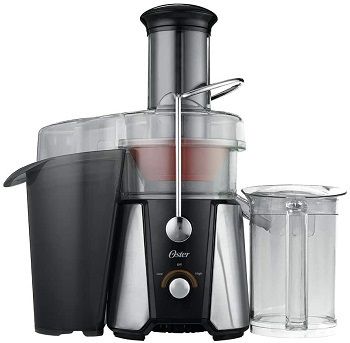 Wide Feed Chute
The convenient Rinse & Ready design lets you easily clean the mesh filter and prepare it for the next use, with minimum to no scrubbing necessary. Your cleaning time is greatly reduced thanks to that.
900 Watts
The powerful 900-Watt motor can process even harder to juice fruits that usually yield only a little amount of juice. This juicer lets you adjust the speed according to the ingredients you are using.
Wide Chute
The wide feeder chute can fit even whole fruits and vegetables, and this reduces any time you would otherwise have to spend on cutting and dicing pieces of fruits and vegetables so that they could fit into the juicer.
Dimensions And Extras
This juicer has a large-capacity pulp collector, which allows continuous juicing for some time, and it also comes with a 32-ounce juice pitcher with foam separator. This juicer's dimensions are 13.5 x 8 x 16.2 inches, and it weighs 7.9 pounds.
Pros:
strong juicer
easy to rinse
2 speeds
Cons:
plastic parts
plastic body
Best Juice Extractor Easy To Clean
Philips HR1897/34 Micro Masticating Juicer
Quick Clean Design
This juicer has no sieve in the juicing parts, which means there is no mesh that needs scrubbing and thorough washing because this design prevents fibers from sticking to the filter. You can rinse the parts clean without much effort.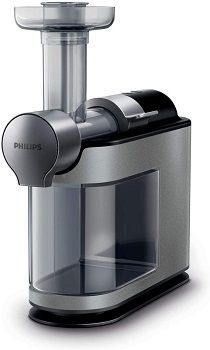 Efficient Juicing
The juice yield in this juicing machine is up to 90% from usual juicing ingredients, like fruits, berries, grapes, oranges, apples, and so on, but it also has high juice yield on vegetables and other ingredients like leafy greens and herbs.
Compact Size
Philips juicer takes up only 4.5. inches of space on the countertop or table, leaving you more room in your kitchen and also providing easier storage options for small kitchens and limited storage space.
Recipe Book Included
A recipe book is included with the package when you buy this juicer. It will help you get started and give you ideas and advice on which ingredients to mix together in order to make healthy and good tasting juice.
Materials And Parts
This slow juicer easy to clean is made from plastic, but the sleek design makes cleaning easier, simply wipe it down with a cloth. This juicer's dimensions are 5.8 x 17.1 x 14.1 inches, and it weighs 11.65 pounds.
Pros:
compact
new sieve design
high juice yield
Cons:
plastic
slow
only 1 speed
Easy To Use And Clean Juicer
Zyliss Citrus Press Lime & Lemon Juicer
Easy To Use
This juicer is a manual citrus press, which means you will need to squeeze it by yourself. There are no electric parts, so it needs no electricity to work, which allows you to use it anywhere, anytime.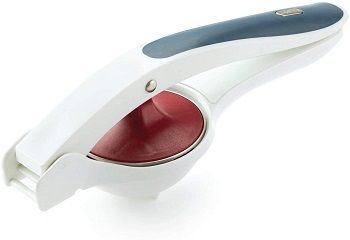 Universal Size
You can fit different sizes of lemons and limes into this juicer, but it might be too small to fit oranges, not to mention grapefruits, so you will need to cut those up if you want to use them in this squeezer.
Easy To Clean Juicer
This is probably the easiest juicer to clean, as you can easily wash this juicer and rinse it under a tap in the sink, or you can put the whole thing into the dishwasher. It is dishwasher safe, and there are no electric parts so you won't have to worry about disassembling it for cleaning. To make cleaning even easier, the top handle can be separated.
Heavy Duty
The heavy-duty stainless steel press plate ensures the juicing parts will not rust or stain, and it will not bend or break easily. The vertical pressing action enables maximum juice extraction with one squeeze.
Additional Information
The built-in strainer separates the pulp as it lets the juice flow through in one simple step, and the juice channels are designed to not splatter. The top handle can be removed for cleaning. This juicer's dimensions are 3.4 x 4.8 x 14.2 inches, and it weighs 9.3 ounces.
Pros:
easy to use
dishwasher safe
easy to clean
Cons:
can only fit small citrus
manual squeezer
Small Easy To Clean Juicer
Hamilton Beach Pro Juicer Machine
Wide Feeder
The wide feeder chute lets you put in big pieces of vegetables, or even whole fruits and vegetables right into the juicer, without needing to pre-slice them. This saves time for cutting and cleanup.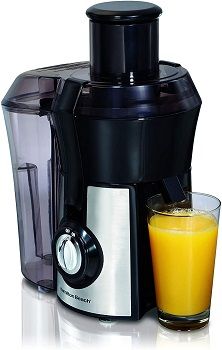 Stainless Steel Strainer
The micro-mesh cutter and strainer are made from stainless steel, which will not rust nor stain, and is durable enough to juice firm and hard vegetables into juice in a short time. The same goes for hard fruits and other ingredients, thanks to the 800-Watt motor.
Large Pulp Collector
Thanks to the large pulp collector bin, you won't have to stop every so often to empty out the container, which allows for continuous juicing for a long time. Just remember to let the motor rest every now and then, to prevent overheating.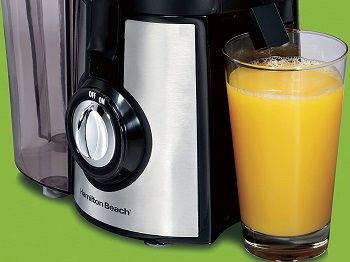 Recipes Included
Included with the purchase of this device is a recipe book, which you will receive along with your device. It consists of recipes and tips on making the best juicing results, for healthy and good-tasting juice.
Accessories And Dimensions
Included with this juicer is also a 20-ounce juice collecting cup. Removable parts are dishwasher safe and BPA-free. This juicer's dimensions are 11.5 x 7.8 x 14.4 inches, and it weighs 7.8 pounds.
Pros:
recipes included
stainless steel parts
BPA-free
dishwasher safe
Cons:
plastic
one juicing speed only
Conclusion: Which Easy To Clean Juicer Is Best?
In my view, the easiest juicers to clean are either the Hurom H101 Easy Clean Slow Juicer or the Hamilton Beach Pro Juicer Machine. The Hamilton Beach is a centrifugal juicer with stainless steel parts and only one speed. The Hurom is a cold press juicer with advanced design and anti-drip spout design. The Hurom also has controllable pulp output.
In case you want to learn more about similar types of juicers, read this post on cold press juicers and this one on citrus presses. If you want to know more about juicers and other types and models, read this post on juicer machines.